A trip to the carnival or fair is a summertime staple that most people don't want to miss. While the rides and excitement can be a strong lure, the food is also a much-loved reason for visiting. Notoriously deep fried, however, it doesn't exactly meet my standards for healthy or a good choice when you are trying to drop or maintain weight. But can you get to the fair, have a bite to eat and not worry about expanding your waistline? Yes, you can! Here are my tips for shopping for food at a carnival and staying healthy.
Tip #1: Know Your Options
It might be tempting to head straight to the funnel cakes, or stop at the first hot dog and fry stand you see, but knowing what your options are is actually the smartest thing to do. Take a look at all of the food stands and browse menus at each. Understand what all of your choices are so you can begin to pick out the healthiest ones. Once you know what you are dealing with, step back and decide what meets the criteria of healthy and delicious in a balanced way.
Tip #2: Stick to BBQ, Steer Clear of Fried
It is entirely possible to enjoy meat at a carnival, in fact it can be a healthy option. Look for stands that offer BBQ meat options -- such as BBQ chicken or a meat kebab. Fried foods offer too much fat, potentially trans fat, and you'll blow your calorie budget for the day with just that small indulgence.
Anytime food is connected with an event of celebration it helps to remember why you are there in the first place.
And while we're talking meat: look for lean cuts of meat, rather than composite meats like hot dogs and hamburgers (made by bringing various cuts of meat together).
Tip #3: Eat Before You Go & Choose One Treat
While a Friday night supper at the carnival does sound fantastic, going into the fair on an empty stomach can really wreck havoc on your diet. Chances are you won't have the willpower to pass on that poutine. Have a healthy, vegetable and protein filled supper before you head to the fair but give yourself permission to choose one indulgence while you are there.
Healthy options include fruit on a stick (I had a delicious mango on a stick the last time I was at a carnival) or a chocolate covered banana. And if the weather is hot, especially, frozen fruit options will satisfy you, cool you down and still make you feel as though you aren't missing out.
Tip #4: Remember What the Event is All About
Anytime food is connected with an event of celebration it helps to remember why you are there in the first place. Is it really about stuffing yourself full of fried dough, or is it about spending time with family and friends and enjoying the sights, sounds and thrilling excitement of the rides and games? It could be that you don't even need the food stands at all; does anyone really remember the brisket? Or do they mostly remember the laughter?
And when all else fails, if you did give in and enjoy the world's best tasting fried treat, adjust your diet accordingly for the remainder of the day and week to account for those extra calories. Be sure to hit the gym the next day to help burn off extra calories.
Follow HuffPost Canada Blogs on Facebook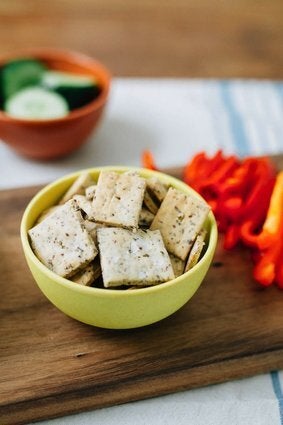 21 Healthy Snacks To Take On The Go