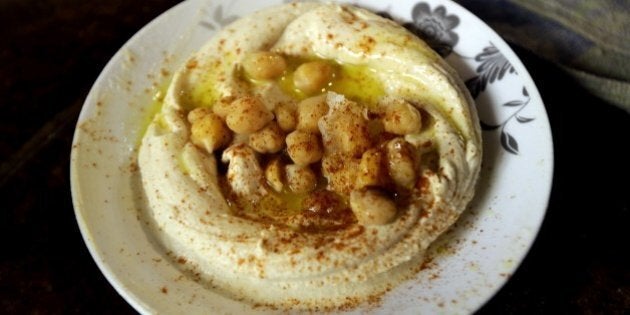 Summer is ripe with fresh food and each weekend brings another excuse to fire up the BBQ and get noshing with family and friends. We often think of summer's bounty as offering up wholesome choices -- fruit and vegetables are abundant, people are grilling instead of frying -- but there are some hidden dangers you need to know about if weight gain is a concern, if you want to take advantage of summer activities to slim down or if you have health concerns that need to be kept in check. Here are four summer foods, disguised as healthy choices, that may actually be causing you to gain weight.
Hummus with a Side of Salt
Hummus is a buzz-worthy food and with good reason; this chickpea puree contains plant-based protein, delivers a flavour punch with its emphasis on lemon and garlic and is a great alternative to creamy dips for vegetables, crackers and tortilla chips.
Most people I meet purchase hummus from the deli section of their favourite store. Few people realize how easy it is to make hummus from scratch, and why you should: store-bought hummus is a processed food full of preservatives. And, as with many processed foods, it contains more than your healthy serving of salt. By making the dip yourself, you can control the amount of salt you add and adjust the other ingredients to suit your tastes. Trust me, once you go homemade on this one, you won't go back.
The Breezy (Calorie-Filled) Summer Cocktail
Nothing feels more like summer than a pitcher of Sangria on the patio. Sangria, and other fruit-juice flavoured cocktails are delicious, and full of a surprising number of calories. I find that a lot of people are simply unaware of how much the calories they drink add to their overall caloric intake for the day. With two to three glasses of Sangria down the hatch, it is easy to exceed your daily allotment by about 500 calories. At a steady rate, you can see weight gain of a pound in two weeks. With as much as 150-200 calories per glass of Sangria, you need to walk 40-60 minutes to work that off.
Try a white wine spritzer instead -- mix sparkling water with white wine for a more modest drink. Or try this healthier alternative.
Salads have a good reputation for being healthy, even when some salads are not worthy of that title. Again, it is about being aware of the added calories when you top virtuous lettuce with calorie-packed blue cheese and bacon, processed lunchmeat or a creamy dressing loaded down with mayonnaise and oil.
Reach for good healthy fats to make your salads super -- a heart-healthy dressing, a few nuts or seeds, avocado slices, beans and a ton of veggies. Try different greens like microgreens, sprouts, spinach and kale.
At potlucks, think twice before serving yourself too much of that potato salad. The concentration of carbs will slow you down, and the creamy sauce means added fat and calories. Be wary of bean salads, too. Many recipes contain too much oil (and salt if you go store-bought). Don't get me started on store-bought, and bright green coleslaws.
The average American eats about 75lbs of red meat a year; I would wonder how much of that is consumed in the summer, at backyard BBQs when burgers are the main fare.
There are advantages to eating red meat: it provides a good dose of iron, zinc and selenium as well as several B-vitamins. It is also a source of protein.
Too much red meat, however, has been linked to cardiovascular disease and diabetes, as well as to obesity. I believe red meat should be consumed in moderation (and that you can have a wonderfully healthy diet without it). It should be eaten less than twice a week.
Take the opportunity to expand your BBQ menu to include fish and poultry, as well as whole food options like grilled tofu, bean salads (homemade, made with heart-healthy oil) and homemade veggie burgers. Portobello mushrooms also make a tasty and meaty alternative to ground beef burgers. These are delicious on the grill.
The key to a healthy summer of BBQ eating is to balance your unhealthy choices with your healthy ones. To do this, you need to know which options will leave you trim and feeling great, and which ones will weigh you (pun intended) down.
And the best summer tip I can leave you with: get out, get active, laugh and enjoy time with friends. Make get-togethers about the spirit of community first, food second. You'll develop a healthy relationship with food, and come to love the foods that nourish you.