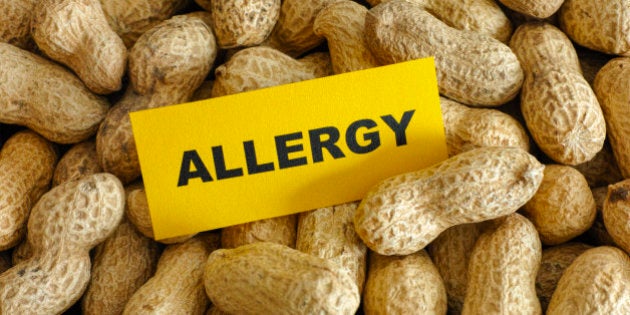 Offering my kids candy or buying them a treat without asking about allergies. Or, sitting close to other children while eating peanuts on busses, planes or at sports games. These seem like harmless situations for most of us; however everyday snacks for some could be lethal for others. There can be a lack of awareness surrounding what foods and environments aren't safe for children living with food allergies, and more can be done to combat this.
As part of their support of the Food Allergy and Anaphylaxis Program at The Hospital for Sick Children (SickKids), Kraft Peanut Butter recently released a study that indicates there is a need for a greater understanding about the risks and challenges youth with food allergies face.
As the mother of two kids with food allergies, I know all too well what these risks are. Not all people have the same level of awareness, simply because it is not something they need to think about on a daily basis, like my family must.
We cannot expect that people will innately know about the dangers that allergens pose, and what constitutes a dangerous situation for allergic children. We cannot expect that others will know the worry and anxiety that arises in children who are in close proximity to their allergen. We cannot expect others to know how worrisome new situations can be for kids with food allergies. But we can provide information to promote this awareness.
Kids are feeling it too. Approximately half (51 per cent) of youth with food allergies who were surveyed don't think that people really understand the risks and challenges they face. We need to ensure all our children feel safe in every environment. Greater education, compassion and empathy for those living with food allergies are key to accomplishing this.
The same study found that many Canadians are unaware of the extent of the risks and challenges that food allergies present, and many don't know how much worry kids with allergies face on a daily basis. Three quarters of children (76 per cent) with food allergies surveyed said that having an allergic reaction makes them "very worried." In comparison, only one third (37 per cent) of adults surveyed think that having an allergic reaction causes them extreme worry.
Researchers at SickKids believe that the situation is improving. With approximately one child in every classroom affected by food allergies, children are becoming empowered to advocate for themselves and their friends, families and communities are providing greater support, and schools have really stepped up to help fight this cause. But there is always more that can be done.
Mothers wish they could be there to help their children navigate new interactions and situations, and possibly even more so when those children live with life threatening food allergies. Broader understanding amongst the general public would help kids like mine navigate their social worlds with decreased amounts of worry.
By supporting initiatives like the Food Allergy and Anaphylaxis Program at SickKids, partners like Kraft Peanut Butter who are committed to helping more Canadians come together without worry, play an important role in helping to make more places feel as safe as a child's own home. Along with individual donors and other corporate partners, we can all help in this fight.
Many Canadians are not aware of the possible implications and outcomes of food allergy exposure. Let's make an effort to know more.
Here are some easy ways to help make the lives of kids with food allergies easier:
Ask guests if they have food allergies before preparing food for others - a quick phone call can save an uncomfortable moment or even a potentially fatal reaction.
Wash your hands with soap and water before and after every meal to help prevent cross-contamination, the transfer of a substance from one surface, like a utensil, container or food, to another. Even a tiny amount of an allergen can cause a reaction.
When dining out, visit the restaurant website and review the menu and allergy policies in advance. If possible, phone ahead and talk to the restaurant manager or chef. If eating with friends, tell them in advance about your food allergy and what to do in an emergency situation.
Educate yourself by visiting sites like InOnly10Years.com, which shows what life is like for kids with food allergies.
Follow HuffPost Canada Blogs on Facebook