Here in British Columbia we are going into the fourth month of the teachers' strike. Everyone involved -- teachers, affiliated school workers, parents, kids, government officials, and bosses of parents (just to name a few) -- are all strongly affected.
Everyone seems to have an opinion, one way or another, about this strike. This article is not about opinions but about dealing with this time of uncertainty.
As a mother of a nine-year-old boy in the public school system and a working physician, I am seeing the effects of the strike on many of my patients. I feel it in their moods when they walk in and I see it on their faces when we talk about their lives. I feel the stress in my own home, as my son waits and wonders when he will return to school.
I have compiled a list of five steps for all of us dealing with this time of uncertainty. The growing level of stress has prompted this article, the contents of which I'm trying to share with my clients, my family, and myself!
1. On kids' education and catching up: Many parents and kids are worried about the impact this has on the education and the ability for students to finish the school curriculum in the allotted time. At the time of writing this article, kids have missed three-and-a-half weeks of teaching so far (two weeks from last school year and one-and-a-half weeks from this year). The teachers are smart and know what needs to be covered. The kids are smart and will catch up. They will either catch up right away or over a few months.
2. On this long summer: Almost every summer, my clients and I always lament that the summer passes so quickly. This year, however, with the extra time off for my son plus the bonus of exceptional weather, has left us with a longer than expected summer. Since we have no power over the strike, we might as well enjoy the bountiful sunshine in British Columbia. We never know if this will happen again!
3. On strong opinions and the growing frustration: Many of my clients and even bosses of parents who are stuck at home have very strong opinions, one way or another about the strike. Many times, they try to rally me, my staff, and really anyone who will listen, into their point of view. We have no control over the strike talks and the speed with which this will end. When we gain momentum over frustrating topics, we feel more defeated. These conversations increase a feeling of anger, despair, resentment, and fatigue, which only affects us. Nelson Mandela has said that "resentment is like drinking poison and hoping it will kill your enemies." The less we can get wrapped up in things we cannot control, and use that time to breathe, laugh, and smile, the healthier and happier we will be.
4. On financial stress: The strike has been challenging on many people financially. Stress about returning to school or not is heightened by the dollars in the bank. The biggest thing I tell people is that focusing on this lack will just create more havoc. The less we can focus on this, and the more we can focus on our breath and the moment, the easier each day will go. Trying to shift into a state of calm, knowing that this will end eventually, can really help.
5. On anxiety: So many people are experiencing heightened anxiety about the whole situation. They want to know exactly when this will end. This anxiety is affecting many people's lives and bodies. I always remind people that anxiety is not about the situation, but is a trained way of responding with our minds. If we think back to our lives 12 months ago, we were probably anxious about something back then, too. In studies, it has been shown that most of us do not remember what we were anxious about a year ago, and in the vast majority of cases, that situation has been resolved.
Hopefully these tips will help you. Before we know it, the kids will be back in school and asking us, "Mom, how many more days till Christmas break?" We might as well enjoy the time now.
Today and this moment is really all we have, so try to breathe, sit back, and smile while the powers that be sorts this out.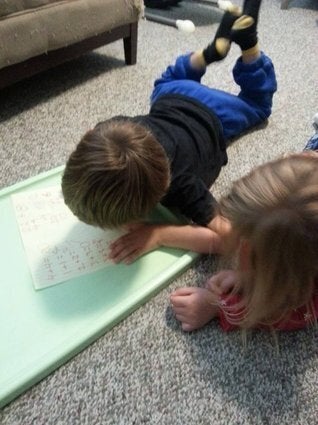 'First Day Of School' For B.C. Public Students, 2014