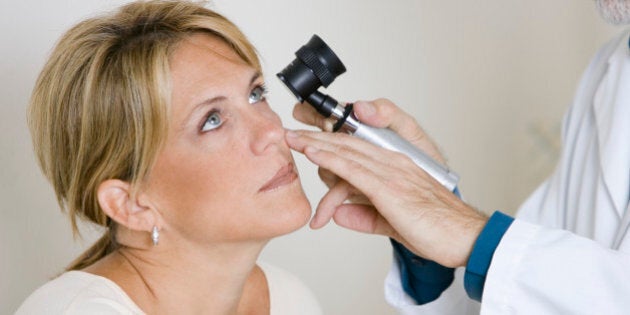 It's that time of year when you either use it or lose it -- when it comes to your work benefits, that is. There are a lot of fantastic benefits that go unused for a variety of reasons, but it's important to really take a look at some of the services that are available to you and your family before the end of the year.
In most cases, benefits packages from your employer typically offer a wide range of health services for which you can be compensated throughout the year, including dental, massage, chiropractic and naturopath. Most importantly (in my humble opinion), are eye health and vision care benefits. These benefits often cover the cost of a comprehensive eye exam by an optometrist and in many cases; you can receive compensation for the purchase of eyewear if required. That means you can purchase glasses, UV protected sunglasses and contact lenses, and have them expensed by your insurance/employer -- depending on your coverage limits.
Using your benefits to receive a comprehensive eye exam is especially important, given that these exams are not usually covered for adults in Ontario between the ages of 20 and 64. So when you really think about it, using your benefits to cover the costs of an eye exam now is only logical.
Why do eye exams matter?

The chance of blindness or partial sight doubles in Canadians over the age of 40. It triples at age 75. Getting older means an increase in eye-related conditions such as macular degeneration, cataracts and glaucoma.

Seventy five per cent of vision loss is preventable or treatable, if diagnosed early by an optometrist.

Optometrists evaluate factors that can affect your vision and eye health. We review your case history, conduct an external and internal exam of your eyes and measure visual skills, such as eye movements and coordination, sharpness of vision and peripheral vision. We also evaluate your ability to adjust focus and to see colour and depth normally.
But still, getting your eyes checked sometimes falls to the bottom of the list of "cool" benefit services to use. It's hard to compete or argue that people would rather use the massage service or the fitness allowance that's offered to them. But sometimes we forget or take for granted the gifts in life that our eyes and vision provide us. Regular, comprehensive eye exams are crucial to ensuring that you have consistently healthy eyes, even if you have 20/20 vision. Why not have healthy eyes to go with that perfect smile the dentist gave you?
Aside from having healthy eyes and good vision, optometrists play a vital role in your overall health care. My patients often tell me, "I didn't know you could check for that," because most people don't know that as optometrists, we can identify other health conditions early such as diabetes, elevated cholesterol, MS and high blood pressure, which can often be first detected through an eye exam.
The Ontario Association of Optometrists (OAO) recommends that the following groups schedule routine comprehensive eye exams with an optometrist:

Infants between six and nine months of age (at least once);

Children between two and five years of age (at least once);

Children five years of age and older (every 12 months);

Adults over the age of 65 (every 12 months);

Diabetes patients (every 12 months);

Patients with systemic diseases that have vision complications, such as hypertension, thyroid disease, rosacea, arthritis and multiple sclerosis;

Patients taking medication with known vision side effects;

Patients experiencing short periods of vision loss or visual disturbances (i.e. flashing lights, floaters, etc.);

Patients who wear contact lenses (every 12 months);

Patients experiencing red or inflamed eyes;

Every Ontarian who has not had a comprehensive eye exam within the last two years.
So how about that benefit-covered eye exam with your optometrist? It's worth the trip. Make the most of your benefits plan by scheduling an appointment with your local optometrist before the new year.
Dr. Jeff Goodhew enjoys seeing patients of all ages and is an active part of his profession and currently serves as the President of the Ontario Association of Optometrists. He also serves as the co-chair of the National Public Education Committee for the Canadian Association of Optometrists and is a partner in Socialpractice.ca, a social media consulting firm helping health care providers leverage the power of social media. Outside of work he is passionate about running, cycling, snowboarding and spending time with his wife Dr. Tina Goodhew and their two teenage sons Camden and Braedon.