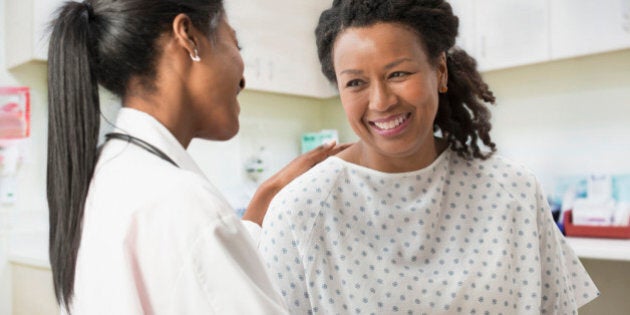 For many people, visiting a primary care provider isn't just about receiving care for an isolated injury or illness in the moment that matters. It's about building a long-term relationship -- one that gradually unfolds and many involve working together with several other specialists to address different ailments or chronic conditions that could potentially arise over time.
Yet, a new report from Health Quality Ontario shows that this ideal isn't always the case. In provinces across Canada, care coordination isn't delivered as uniformly or consistently as it could be. Among the biggest challenges facing family doctors: Connecting patients with home care and community services.
The report, Connecting the Dots for Patients, highlights many common barriers that primary care providers may face when coordinating care for their patients. It touched a chord for me; as a family doctor, I understand the stories behind the data and have experienced some of the obstacles related to care coordination cited in the report.
For example, one of my patients -- a man in his 50s with multiple chronic conditions -- regularly interacts with more than eight doctors and several other health care providers. He is on 15 different medications, almost none of which I've initially prescribed, and has a steady stream of investigations at centres across the city. As his family doctor I am often his first call when he has issue.
In this instance, providing care not only takes a lot of time and effort, it requires the seamless involvement of many different people to connect all the dots. Still, it's not a given that every family doctor has the time or team to support patients with these type of needs. And while there have been significant efforts made by many primary care providers and health care professionals to ensure good care coordination, this report shows there is more work to be done -- not just in Canada, but across the world.
The report uses data from the 2015 Commonwealth Fund International Health Policy Survey of Primary Care Doctors, which combined and analyzed the responses of thousands of family doctors from across Canada and 10 other counties, including Australia, France, Germany, the Netherlands, New Zealand, Norway, Sweden, Switzerland, the United Kingdom and the United States.
In Canada, there is wide variation in the percentage of family doctors who report routinely communicating with home care and community services. Just 29% of Ontario family doctors report regularly communications with case managers or home care providers also involved in their patient's care. Compare that to Saskatchewan, where 62% of family doctors report the same. In fact, Saskatchewan's percentage of family doctors is more consistent with the percentages of family doctors surveyed in other countries, such as Norway (63%), the Netherlands (56%) and the US (52%).
The results are similar when we take a closer look at the ease of communications between providers. While 55% Saskatchewan family doctors report it is "easy" or "very easy" to coordinate patient care with social services or other community providers -- one of the highest percentages of the countries surveyed - Ontario and Nova Scotia family doctors report some of the lowest, at 36% and 45% respectively. The highest-rated country in this metric was Switzerland, with 74% of family doctors reporting convenience of communication with community services.
Elsewhere in Canada, there are areas showing more positive results -- especially in the coordination between primary care providers, hospitals and specialists. More than half of family doctors in Ontario (71%), Alberta (63%), Saskatchewan (61%), Manitoba (58%) and Quebec (52%) report that they "always" or "often" receive notification when a patient is discharged from hospital. And 85% of family doctors across Canada say they "always" or "often" receive a report back from specialists with all the relevant health information for their patients. This puts the percentage of Canadian family doctors in this metric above family doctors in the United States (76%) and Sweden (56%).
These pieces of data are important, because they provide us with stretch targets to strive toward. They show where there is room for improvement, and they provide insights into different obstacles that many primary care providers may face in their day-to-day practice.
Care coordination is an essential element of patient-centred care -- and it's a role that often falls to primary care. But it takes dedicated effort on behalf of everyone in the system to improve the way we coordinate and communicate care. Ultimately, it needs to be easier to do the right thing for patients.
Follow HuffPost Canada Blogs on Facebook