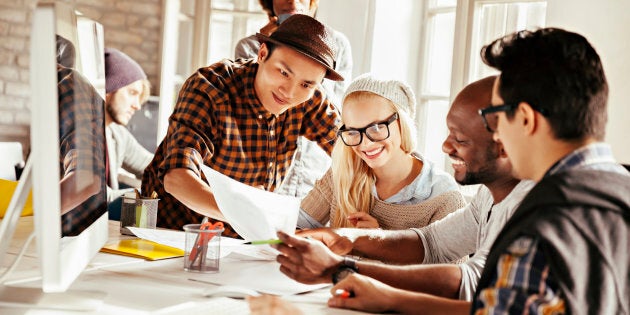 One of my staff members, a millennial, recently joined the board of governance of a local non-profit organization. When I asked him his reasons for joining, he simply told me he "wants to make a difference." His modest response actually told me quite a bit about his motivation: he wants to do his part to contribute to a more compassionate society. In our current sociopolitical context, it is critical that we all do our part to support the greater good.
As my friend Senator Ratna Omidvar puts it, one way to do this is by instilling more pluralism in the leadership and governance of non-profits. Canada is currently presented with a unique opportunity to stand on the global stage as a role model for equity and inclusion. As the next generation to lead this country, I present this challenge to you, millennials: join a non-profit board. The following are a few reasons why you should consider this challenge.
Sitting on a board will also give you the authority to affect change.
Fulfill a purpose
It has been reported that your generation is highly driven by purpose. Instead of seeking employment opportunities with a lucrative salary, you look for jobs that offer a sense of meaning. The Deloitte Millennial Survey 2017 claims that 77 per cent of millennials are in some way involved with a non-profit or charitable organization. Take this engagement one step further by joining that organization's board. Not only will this offer you the opportunity to have social impact, but sitting on a board will also give you the authority to affect change. A non-profit board typically consists of anywhere between six to 14 members. As a voting board member, you will have a significant voice. Moreover, you will also acquire the added benefit of a new perspective on a cause that you are passionate about.
Protect Canada's identity
Canadians should take great pride in the fact that our country has the second largest non-profit and charitable sector in the world. As we observe the unease occurring in our southern neighbour, this is a perfect time to assert our national identity. At its core, Canada is a diverse, generous and humble country. As millennials, you have a responsibility to protect this identity. If you are a visible or invisible minority, I humbly ask you to consider this challenge with extra weight. We need to celebrate and demonstrate the diversity of our country through a range of opinions and perspectives in governance positions.
Fortunately, there are programs to help you build capacity and match you with the right opportunity. DiverseCity onBoard offers governance training and board-matching services to members of underrepresented groups. Some corporate boards, such as the Bank of Montreal, have an explicit mandate to recruit members that reflect the diverse populations that they serve. Quoting our national anthem, let's show our country some "true patriot love."
Become a 'boss'
Young people often ask me for advice on how to best ladder their skill set and education to acquire a position in management. My answer is clear: join a non-profit board. Some examples of the leadership skills you will acquire from sitting on a board include: learning how to ask for money, experience with budgets and fiscal responsibility, and developing focus and patience. Another major benefit is the mentorship you will receive from more senior professionals on the board. Furthermore, board experience is an invaluable way to network with influencers and develop some truly career-defining skills. Demonstrate your courage and take hold of these opportunities.
Millennials: modern governance and inclusive leadership in Canada is in your generation's capable hands. By joining the board of a non-profit, I firmly believe that you will be contributing to the prosperity of our great country. A study published in the Journal of Personality and Social Psychology in 2012 named millennials the "Me Generation." I argue that this hypothesis is not only completely outdated, but also incorrect. For all of the reasons identified above, I believe that your generation will inspire the social change we all want to see in this world. So take a leap, and join a board!
Follow HuffPost Canada Blogs on Facebook