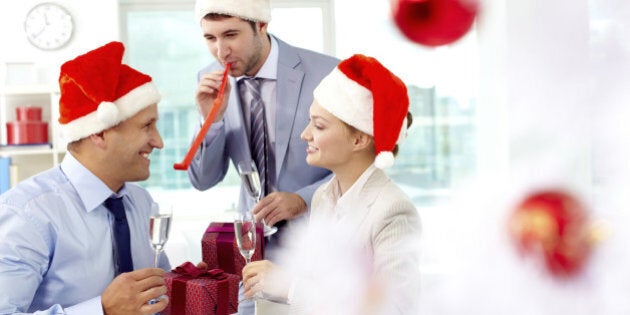 One of this season's biggest film releases depicts a riotous, messy, and downright debaucherous office gathering. While I would not condone the types of extreme behavior portrayed in Office Christmas Party, the film does call to attention an important ingredient of a productive holiday season: networking. Ask any career advisor -- the holiday season is a perfect time of year to both expand your professional network and foster existing connections.
Here are some strategies for making the most of the season:
1. Attend as many events as you can
Before you walk through the door, however, create a target for how many new connections you plan to make. Perhaps push yourself to meet 10 new contacts, or exchange 20 business cards. Are you hesitant to approach someone you do not know? Consider asking questions to break the ice.
Ford R. Myers, an award-winning career coach and author of Get the Job You Want, Even When No One's Hiring, recommends preparing three neutral questions with which to approach unfamiliar people. Consider asking, 'how are you affiliated with the host and/or organization?' Or 'what other kinds of events have you attended this season?' These questions are good conversation starters, and they set the tone for a career-related discussion. Keep in mind--that person is also likely at the event to network. Make it easier to connect by coming prepared.
Find a secular greeting card to send to everyone in your network. Greeting cards are a great way to let members of your network know that you are thinking of them. This is also a good exercise for ensuring you stay on their radar. Wishing contacts a nice holiday season and a happy New Year is a friendly sentiment that everyone will appreciate.
According to Ellen F. Brown, Americans send 1.6 billion cards each holiday season. In Christmas, Inc.: A Brief History of the Holiday Card, Brown discusses how the tradition of sending holiday cards has evolved in the past century. While she is uncertain about the future of sending cards through 'snail mail', she is confident that the act of sending holiday sentiments will remain a part of our culture for generations to come. Show your network that you are a thoughtful person.
3. Finally, enjoy the 'festive' feeling
The Oxford Dictionary defines the word 'festive' as "relating to a festival". Anyone who knows me is aware that I am very proud of my Greek heritage. And I will be the first to tell you--Greeks love a good festival!
The next time you are scheduled to attend a holiday party, or you are sitting down to write your holiday cards, consider that word, festive. Regardless of your cultural background, try to channel what it means to you. I guarantee that it will evoke nothing but joyful feelings. Be that person that people enjoy reconnecting with at social events, or the person others look forward to receiving a greeting card from. We all know and respect those people.
It is no secret that the key to finding new career opportunities is in the strength of your connections. An ABC News poll found that 80% of jobs are acquired through the act of networking. In today's increasingly competitive job market, I would argue that number is now even higher.
At The Chang School, we offer participants the opportunity to network with like-minded industry experts and peers through our Experiential Learning Exchange (ELX) program. Networking events feature a panel discussion on a variety of engaging topics such as social media engagement and personal branding. These types of events and resources allow you to stay engaged and networking all year long.
So this holiday season, I encourage you to attend that holiday party (always maintaining a professional composure, of course!), and attend all those other parties, too. And then make it a New Year's resolution to solidify and foster the new connections you made over the holidays.
Follow HuffPost Canada Blogs on Facebook