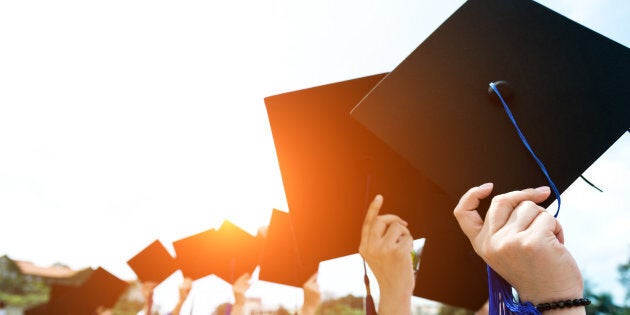 There is something truly magical about walking a university campus in the month of June. The milder weather is a welcome treat; the trees and plant life are in full, beautiful bloom. The sound of chiming bells from Ryerson University's clock tower marks the start of another Convocation season. Smiling graduates are moments away from walking the quadrangle in their robes and crossing the stage to receive their certificate or diploma.
Watching from the audience are the beaming faces of grads' families and friends, spouses and children, as they watch that special graduate cross the stage. It is a truly inspiring sight for the next generation to watch a family member or friend achieve their learning goals, knowing they were simultaneously balancing a number of other responsibilities. It is a time of endings, complimented by the promise of new beginnings.
As a dean, this is the most fulfilling time of year for me. This is when I get to see enthusiastic lifelong learners fulfilling their goals. This is also when I get to see promise for our future and the potential for innovation. To the Class of 2017, I have three heartfelt pieces of advice that I encourage you to consider as you enter (or return) to the workforce.
When Mark Zuckerberg, founder and CEO of Facebook, gave his commencement speech at Harvard University in May, he encouraged the graduating class to find their 'purpose'. At a time of significant political, economic and social unease, Zuckerberg urges millennials to find a communal meaning for their generation in this world. He continues to offer three ways in which millennials can find this purpose, including collaborating on meaningful projects, building a global community, and ensuring that everyone has an equal right to finding their own personal purpose. I think this last point is especially poignant; we need to rise above oppression and intolerance. Understanding that Mr. Zuckerberg has a reputation for being somewhat aggressive in his business approach, it is crucial that we maintain harmony in the global workforce. Be relentless in pursuit of your goals, but stay principled and remember what is right.
Margaret Atwood's classic novel, The Handmaid's Tale, was recently adapted for television to high critical acclaim. The series has also become a trendy subject for both watercooler and critical discussion on account of its relevance to our current sociopolitical context. In a disconcertingly high number of literature on the series, writers remark that the depiction of a totalitarian future hits close to home. In order to ensure that this dystopian vision never becomes our reality, I firmly believe that we need to leverage education.
Everyone needs to commit to lifelong learning; this will help confirm that we are making informed decisions. New graduates, I encourage you to stay abreast of what is happening at your alma mater. Right now, there is a lot of discussion in both the workforce and in post-secondary institutions about the need to prepare professionals for an automated future. Among other learning opportunities, it will be critically important that we all have the knowledge and skills required to use technology. This is known as digital literacy.
As they grow, parents want to see their children surround themselves with friends and peers who are a positive influence. Bill Gates, co-founder of Microsoft, took to Twitter to give his own advice for the graduating class of 2017. In my opinion, the weightiest tip he offered new graduates was to surround themselves with people that challenge them. As Melinda Gates is for Bill, and Mr. Zuckerberg's wife Priscilla is for him, it is highly meaningful to have a strong support network that both loves and pushes you to be your best self. You really can tell a lot about someone's character based on how they treat others. As we become increasingly dependent on our smartphones and other digital gadgets, we cannot forget about the value of human relationships. I encourage you to attend networking events and social engagements and meet people. You never know the value of these tangible relationships that you may form.
And so, graduates of 2017, those are my humble pieces of advice. It is up to your generation to uphold a certain standard not just in the workforce, but also in your everyday activities. It is no coincidence that Mr. Zuckerberg and Mr. Gates are not only two of the wealthiest people in the world, they are also two of the most strategic. And they are also both tech moguls. Digital literacy will soon become mandatory for every working professional. As we grapple with this evolution, my hope is that we proceed with heart. Incorporate this into your purpose. To quote Mary Oliver's The Summer Day, "tell me, what is it you plan to do with your one wild and precious life?"
Follow HuffPost Canada Blogs on Facebook