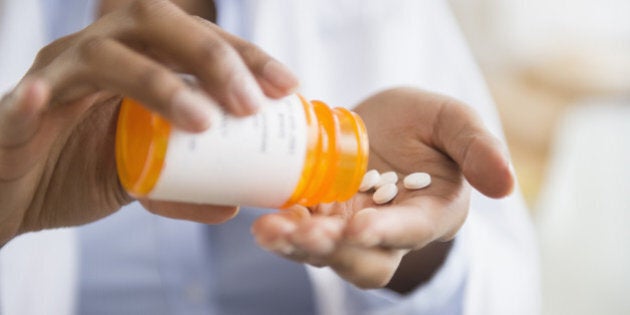 Chronic diseases, such as diabetes, asthma, and arthritis are a growing reality in our aging society. The statistics are startling: one in three Canadians live with chronic disease, three out of five hospitalizations are a result of chronic diseases, and two thirds of healthcare costs in Canada are a direct result of chronic diseases. The increasing prevalence of chronic disease puts an ever increasing burden on the healthcare system.
Medications are a mainstay for managing chronic diseases, yet Canada is the only country in the world with a universal healthcare plan that does not include pharmacare for all its citizens. If you are not fortunate enough to have a benefits plan through your employer, drug costs are a significant barrier to best practice care for chronic disease.
Demographics are such that drug plans are becoming increasingly expensive and, as costs go up, businesses are forced to make trade-offs that impact covered employees. Increases in co-pays are shifting costs to employees and their families. So it is in all our interest to do everything we can to keep these plans affordable. Working with physicians to select effective drugs that are cost effective is one way to keep drug plans affordable. Another is to use best practice in managing chronic disease, as having less chronically ill would make the largest dent in the problem.
The reality is that healthcare spending is going to focus more and more on the growing segment of the population living with chronic disease, so it is critical that we consider new and innovative ways to improve efficiencies and create the capacity that will help ALL Canadians stay healthy.
I had the opportunity to hear Dr. Danielle Martin, Vice-President Medical Affairs & Health System Solutions at Women's College Hospital, speak on this topic at the Toronto Region Board of Trade. She shared several insights that are important for all Canadians to know:
"20 drugs could save a nation": if Canada's universal healthcare plan were expanded to include pharmacare and the government paid for the top 20 drugs associated with chronic disease, it would significantly reduce the cost to our entire system, which would allow for more effective investments to bring better healthcare to all Canadians.
Know your meds, and why you need them: one in 10 Canadians do not take their prescription drugs properly. Recent research* indicates that 31 per cent of all prescriptions are never filled at the pharmacy, often due to the high cost. That means people aren't getting the treatment they need to stay healthy.
Using new technologies can lower costs: With new technologies and innovation that exist today, we can effectively track, monitor and manage our health and wellness. This can keep people out of hospital, which relieves pressure on the healthcare system and ultimately reduces the cost.
Whether or not a universal pharmacare plan ever becomes a reality in this country, the message is clear: we need to take advantage of the available tools and technologies that will allow us to manage cost, which benefits ALL Canadians.
Online prescription management tools allow patients to manage and learn about their medications resulting in fewer visits to the clinic or pharmacy and less time spent on the phone. Integrated electronic medical records (EMRs) that allow physicians to understand the insurance coverage information of their patients at the time of prescribing have the potential to improve the selection of affordable drugs and ultimately medication adherence. Home health monitoring solutions can reduce costs and hospital visits for chronically ill patients, the "frequent flyers" of the healthcare system.
It's time we took more responsibility for our health, and use the technology available to us to lead healthier lives -- both for ourselves, and for the benefit of all Canadians.
*Robyn Tamblyn et al; Ann Intern Med. 2014;160(7):441-450. doi:10.7326/M13-1705