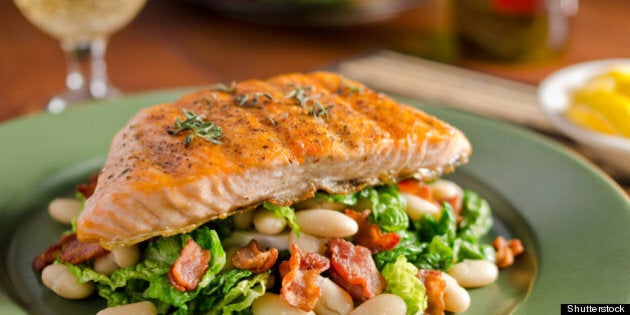 While summer time can bring sunshine and vitamin D, fresh fruits and vegetables, and more time spent in the great outdoors, it can also introduce more unhealthy eating habits. At your next outdoor barbecue, reach for some of these heart-healthy summer eats:
1) Barbecued Cedar Plank Sesame Teriyaki Salmon: Looking for a red meat substitute to throw on the grill? Try fresh salmon. Marinade fish in sesame/teriyaki sauce for two to three hours and barbecue it on a cedar plank for about 10 minutes for a great barbecue dish. Rich in omega 3, salmon reduces blood pressure and clotting. If you aren't a salmon fan, other oily fish like sardines, tuna, herring, and mackerel pack similar nutrients.
2) Avocado: Add avocado to a salad -- or even your burger -- for a delicious and heart-healthy boost. Technically considered fruits, avocados contain "good fats" and lots of fiber, which may help lower your cholesterol.
3) Quinoa mango salad: Whole grains like quinoa are the way to go. Packed with cholesterol-lowering dietary fibre, as well as many other nutrients, whole grains are a much healthier alternative than processed grains. Quinoa is a power-grain that has all the benefits of whole grain, lots of protein; pair it with mango, cucumbers, almonds, and a light dressing for a fresh summer salad.
4) Nuts: According to the FDA, "eating 1.5 ounces per day of most nuts...as part of a diet low in saturated fat and cholesterol may reduce the risk of heart disease." Throw some almonds or walnuts into your salad, or just grab a few handfuls for a filling and healthy snack.
5) Pomegranate juice: Jam-packed with antioxidants, pomegranate juice has been shown to exhibit antiatherogenic, antihypertensive, and anti-inflammatory effects. Add a splash of pomegranate juice to seltzer for a breezy spritzer.
6) Red wine: Sipping on merlots and cabernet sauvignons may reduce the risk of heart disease. Resveratrol, which can protect the heart against cardiovascular disease, is found in the skins of red grapes, and also in a glass of your favorite red wine.
7) Olive oil: This versatile oil is a key component of the "mediterranean diet," a nutritional lifestyle inspired by the eating habits of the Mediterranean, which includes legumes, fruits, vegetables, oils, moderate consumption of fish and dairy, and low consumption of meat. Olive oil is great for a marinade and salad dressing for a summer barbecue.
8) Grilled asparagus: Full of antioxidant and anti-inflammatory nutrients, asparagus can reduce type 2 diabetes and heart disease. They also taste great on the grill. Coat asparagus in olive oil, season with salt and pepper, and grill for a tasty summer side dish.
9) Dark chocolate-hazelnut mousse: Flavonols found in cocoa beans (in dark chocolate more than milk chocolate) have antioxidants and can help lower blood pressure and improve vascular function. Use fat-free whipped topping and unsweetened cocoa to make a cool and delicious mousse.
10) Black and green tea: Drinking tea may reduce the risk of stroke and heart disease by 10-20 per cent. Add ice for a cool summer drink.