Summer is almost behind us and it's been anything but a boring one for electronic music fans, from torrential rain at Burning Man to drug deaths at VELD. With festival season drawing to a close we're bringing you our report from Shambhala on the Bundschuh's farm in the Kootenay Rockies. HuffPost Canada made the trek to the property near Salmo, B.C. with 13,000 or so others to take in the 17th edition of this innovative spectacle. The breathtaking setting provided the foundation for encounters with musicians such as Moby, Andy C and A Tribe Called Red, as well as the backdrop for a collection of life-changing moments -- literally.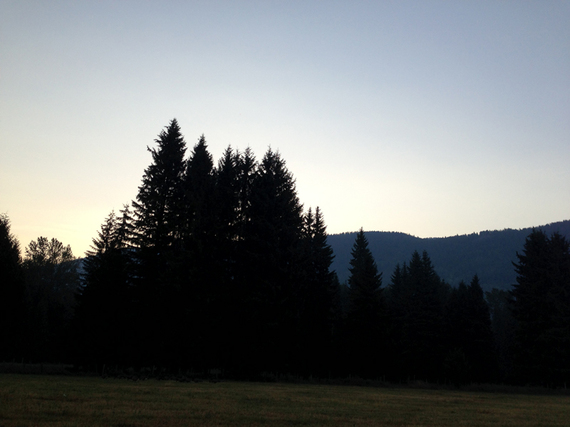 Pt. 1 > Moby Pops his Shambhala Cherry
On Aug. 3, just days before Shambhala 2014 was to kick off, Moby took a spacey drive through the Coachella Valley from Palm Springs headed 172 km west towards Los Angeles. His stereo emitted ambient morsels from Brian Eno, Harold Budd and Boards of Canada's Geogaddi album. While the electronic music veteran may be better known for his pop persona and dance anthems, it's this more chill strain of music he's adopted as his favourite genre for listening.
Rolling past windswept shrubs and dusty hills it may not have been the only thing floating through his head, but at least part of his oh so esoteric consciousness couldn't help but look towards the coming Shambhala music festival in the Kootenay mountains of British Columbia, more than 2,000 km to the north.
Since Moby started making dance music in the late '80s he has seen the full spectrum of music festivals. Now, as he settles into a more mature approach to creating and performing, he's cultivated a strong affinity for a particular type of spectacle. This year he specifically reached out to the organizers of the Salmo event because it seemed it would be right up his alley.
"One of the things that I've really come to love are what I call 'alternative festivals' -- you know, these festivals that are not just about the bottom line of selling all the tickets but that really foster a sense of community and have a spiritual underpinning," he said in the dim lighting of the VIP lounge prior to taking to the decks for his DJ set at the Pagoda stage. "I consider this to be one of those festivals. It's not just big and urban and corporate. It really seems like the art and the community are an integral part of it."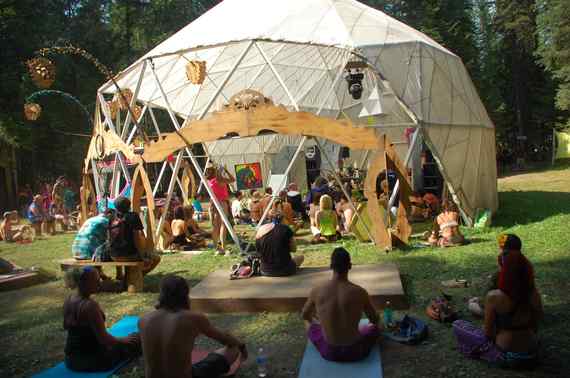 While Moby only got to take in a single day of Shambhala, he made it count, exploring the grounds and taking pictures. He arrived at about 3 pm Friday, just in time to head to the Grove area to give a talk on music therapy. He acknowledges an absence of medical training but says he wants to do what he can to promote the healing properties of music. During the workshop he implored listeners not to dismiss the positive emotions and sensations brought on by music. These days even most mainstream hospitals are engaging in therapy based on playing and creating rhythm, melody and harmony. It's something the rest of us can learn from, he told the audience.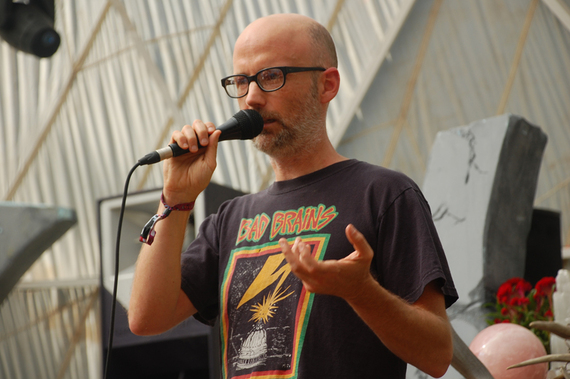 "In our lives we exist sadly in a state of near-constant stress," he said. "We wake up in the morning and the first thing we do is look at our phones, which triggers a stress response. For the rest of the day we sit in traffic and go to jobs that we hate and get in arguments."
Eating unhealthy food and spending time in front of a a screen for recreation doesn't help, he continued. "So we're constantly barraged with all this stimuli that creates stress, and not surprisingly we get sick because stress hormones really compromise the immune system."
While Newtonian physics has provided a solid basis for interpreting the universe over the past few centuries, it's important to look at higher levels of connection with the people and the world around us, he said.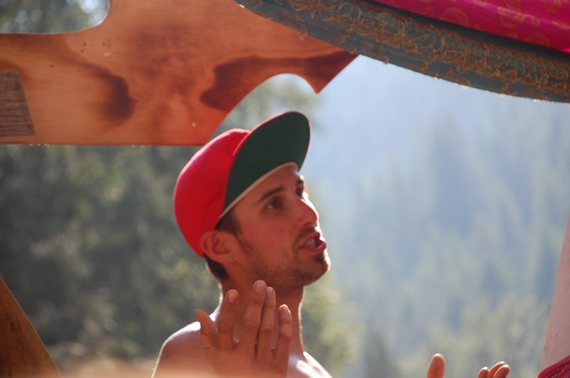 While the 300 artists at the festival are primarily artisans of the musical persuasion, organizers explicitly program other elements. "We've had a long history of providing spaces for speakers and workshops focused on music and healing," explains Shambhala's communications director Mitchell Scott. "We create interesting spaces throughout the grounds focused on introspection and meditation. What we see a lot of is love."
For the rest of the weekend it was as if all the "Shambalovelies" had taken a cue from the ideas presented themselves at Moby's chat, as they explored musical collective consciousness and probed the rhythmic substance of our similarities on a cellular and molecular level with each beat pounded out, each set woven together, and each new friendship formed. The reason it's possible for this kind of growth to happen is precisely because of the fertile environment created when people arrive with the right mindset and organizers allow creativity to flourish, Moby explained.
"One thing I've always loved about Electronic Dance Music is that it's exposing people to things that are ostensibly unfamiliar," he said. "The DJs are allowed to play whatever they want to play; it's incredibly open; it's incredibly eclectic; and the audience approaches a festival like this expecting to hear new things. You know, people don't come to a festival like this expecting to hear Beyoncé remixes -- which is not to malign Beyoncé remixes. They come here with a much broader eye."
After the sun set Moby climbed the steps to the DJ booth where he launched into a heavy electronic offering that brought forth dance music classics with a twist. Sounds from records like Tiësto's "Adagio For Strings" with a reformat of his iconic "Porcelain" number formed a musical entree for the Shambhala crowd. Moby prepared the onlookers for the intense sked of top-tier artists they would face the next few days, leaving his mark in the process.
Pt. 2 >> Of Drugs and Such
On Saturday night, Beats Antique packed Pagoda with a crowd that appeared like the dancefloor equivalent of an upscale bazaar. And the music suited the environment. Thousands jockeyed for positions in advance of one of the most anticipated acts of the entire weekend: Bassnectar, who has played nearly every year.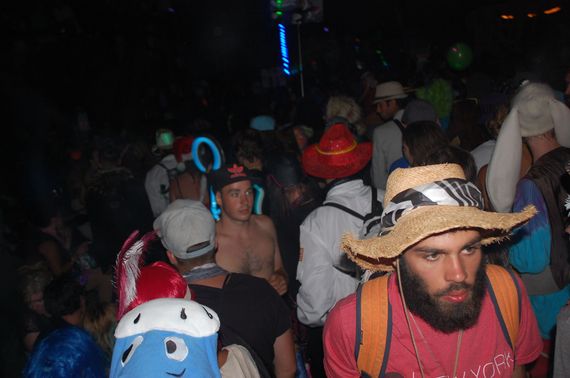 Each Shamb, this bass music innovator commands an impressive presence and this time was no different. The man known to his mother as Lorin Ashton bounced up and down to melodic blasts and interesting mixes. One raver held a sign that read "WAIT.... THIS ISN'T BROCHELLA?!" while another waved a large BC flag from side to side.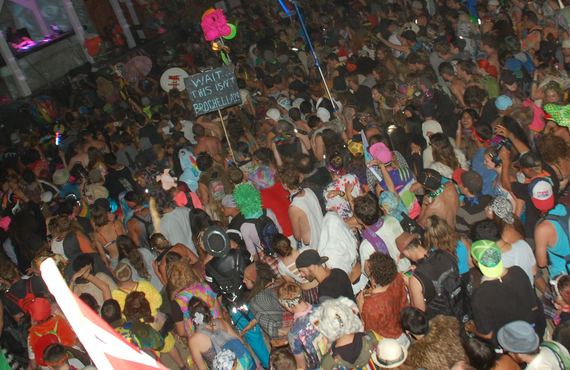 Around 11:30 pm a man with a concerned look on his face but a calm demeanour walked swiftly to the guard at the entrance to the backstage area. A partier had "gone down" at the front left pillar, he told the female guard at the VIP gate. Her eyes lit up with recognition and she sprang into action.
"Get back!" she shouted, tossing both her hands in the air as if shooting out a protective burst of energy. "We have a first aid situation!"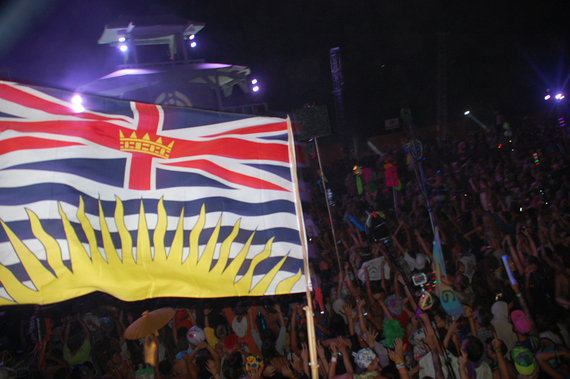 The Canadian festival calendar has been marred by multiple fatalities this year and it's captured the nation's attention. This year dozens of Boonstock attendees were sent to hospital and Lynn Tolocka, a 24-year-old woman from Alberta is thought to have died of a drug overdose just a few hours away from Salmo, in Penticton, B.C.
That wasn't the hugest surprise given that organizers got the boot from their previous home in Alberta after last year's event in Gibbons led to 56 arrests, traffic snarls on nearby thoroughfares and gun complaints. There was also a change of security in the lead-up to the B.C. incarnation of the fest. Two employees of the new security company brought in by Boonstock were later fired in connection with a liquor store theft caught on camera.
At an EDM fest in Toronto's north end -- VELD -- 15 people were hospitalized and two people died. Both victims, Willard Amurao, 22, and Annie Truong-Le, 20, had taken party drugs at the event. The bad press kicked off with the news that Nick Phongsavath, 21, had been found dead in his tent at Pemberton Music Festival earlier in the summer. Originally that death had been treated as suspicious, though the music festival had been allowed to continue. Foul play was later ruled out.
In contrast, over the course of Shambhala 2014 only a reported seven people were taken to hospital, though not necessarily for drug related incidents. There have been no fatalities.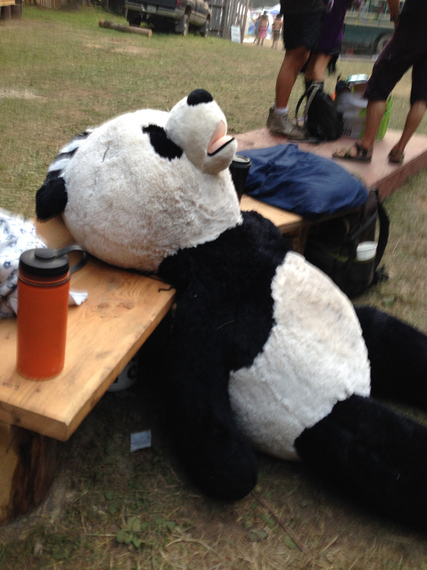 Harm reduction strategies have long been one of Shambhala's hallmarks and organizers have developed a solid working relationship with the RCMP. Mid-way through the festival police announced they had caught people they believe were responsible for scamming would-be Shambhala ravers by selling fake tickets. And officers even publicly applauded festival organizers for their efforts to make the festival safer. Glass, fire, generators, lasers, illegal substances, motorized vehicles, pets and weapons are banned at Shambhala, as is -- perhaps most importantly -- alcohol, which was allowed at each of the three Canadian festivals that suffered fatalities.
Increased safety measures were added in recent years in the wake of the first two official deaths in the nearly two decades of Shambhala. Only one, the passing of Mitchell Joseph Fleischacker, was confirmed as a drug overdose (at least one other person has died during transit to or from the festival, and organizers have now extended event hours to allow partiers more time to recover).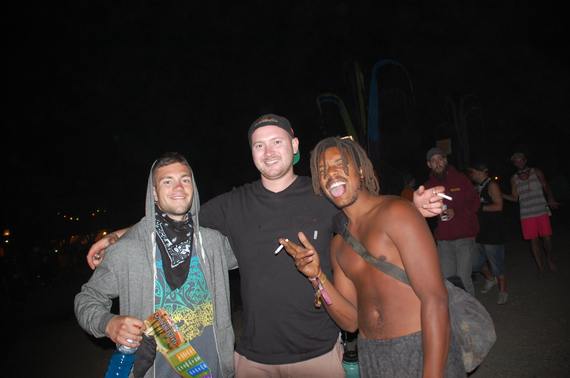 While some ravers may choose to co-opt the broader vision of Shambhala for their own drug-fuelled experience, the festival is more about the overall energy generated when the festivalgoers come together in a crisp and naturally raw kind of way, according to Scott, the festival's spokesperson.
"When you've seen all the hugs and the love and the smiles and the unabashed dancing, that's what really resonates," he said. "Sure, some people go too far, but those instances are so few and far between that it's not something you can dwell negatively on."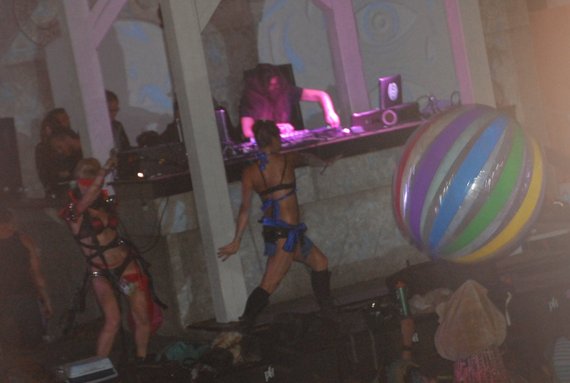 Back on a wooden platform overlooking the continual eruption of the crowd at the Bassnectar performance, frequencies from tracks like "Bass Head" and "Amorphous Form" warped their way out into the audience. Security staff had long since raced to the side of the partier who had hit the ground near the stage. Like well-trained commandos they ushered the bass music enthusiast to safety.
It was packed, yes, but there was no mosh-pit style crush. And the people rocking out shoulder-to-shoulder made sure to look out for each other. "I came a long way to see this," said one young dude who was covered in sweat from jamming out, as the lights came up. "I'm one very happy guy!" The masses dispersed across the open field and into the forest, supercharged for the long night of emphatic dancing ahead.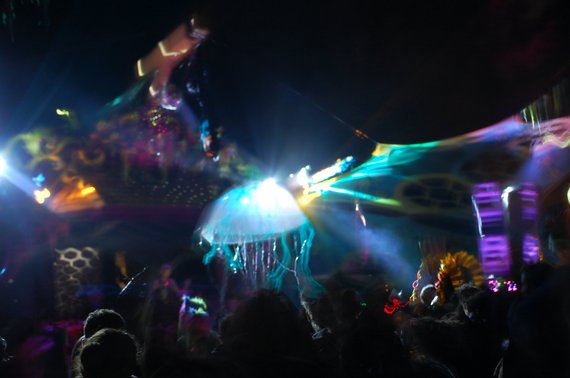 Pt. 3 >>> In a Good Place
It's been interesting to watch Shambhala evolve over the past few years. As dubstep captured the attention of the mainstream dance community and began to infect pop music at large, most electronic acts took note and many switched genres outright to try their hand at something new or attempt to cash in. Shambhala wasn't an exception to the rule, and at one point it seemed dubstep was blasting like an air horn with emphysema from all stages at once, fuelling a churning carnival of mayhem. It was definitely novel, but got old fast. The aggro energy attracted the coked out Fort Mac set and scared off some of the faithful. Meanwhile, the electronic flavour du jour morphed from dubstep into the more generic "EDM" category, which has been dissed for being too formulaic and hype driven.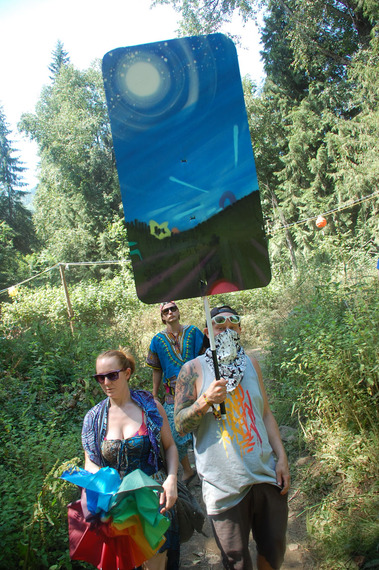 It seemed like this year Shambhala attempted to eschew the more trendy EDM crop, hand-picking true critical favourites alongside promising up and comers. Compare that to a festival like Toronto's VELD which payed typically EDM artists like DVBBS, Calvin Harris, Zedd and Martin Garrix to show up and entertain the crowd (the name even references a Deadmau5 song).
In an effort to compete with the increasing number of electronic music festivals, Shambhala organizers shelled out more than ever before "by quite a large margin." They say controlled growth is the name of the game, and are pleased with the 10 per cent boost in ticket sales over last year.
Dubstep's influence was not barred from the big show by any means, it's just that for the most part the wah wah wub wub wub techniques were incorporated in a more mature manner to broader musical formats and ideas. For example Ollie Jones, aka Skream (one of the artists most responsible for popularizing dubstep in the first place) played an involved set Friday that retained some of the darker tones characteristic of dubstep on the house music journey to which he invited the crowd.
It was a similar story with trap, another darling of a genre in dance's collective consciousness as of late. There was certainly enough for the trap heads (plenty of hype surrounded What's So Not, for one), and many artists flirted with their rapid hand clap gangsta tendencies by dipping their toes into the genre via track selection. But it wasn't a caricature of itself by any means. Plus, there was always the Fractal Forest stage to pass on by if you were in need of some upbeat funk in the trees or the Living Room stage for a dubby experience by the river to balance things out.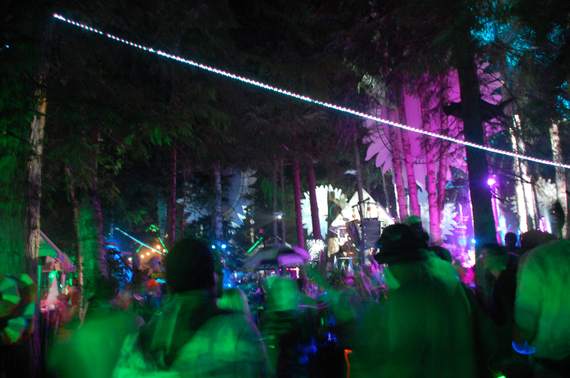 One artist that may be more emblematic of this year's Shamb melange than most other DJs was B.Traits, who fired up the crowd prior to Gorgon City's performance. Brianna Price, 28, was born just a handful of kilometres away in Nelson and has gone on to make it big internationally, including scoring gigs on BBC Radio 1 and in Ibiza. Though she played straight-ahead house during her Sunday set (including a nod to fellow Canadian up-and-comer Keiza) she's known for her ability to blend UK funky, garage, drum n' bass and much more with ease.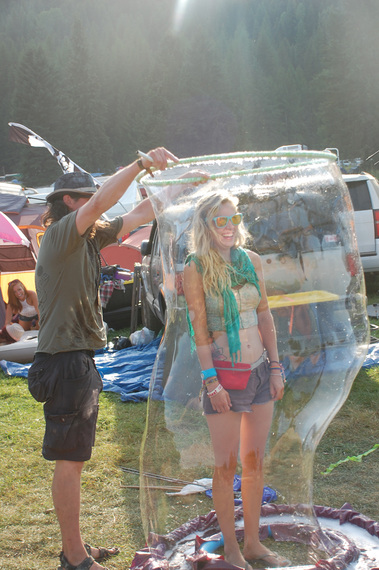 Besides the availability of free WiFi, the biggest win of the year was the switch of the Labyrinth to the Grove -- removing nearly all psytrance elements and inserting a wide range of Earthy beats with complex but grooving rhythms. There was even a complementary art gallery in the forest. Think a transformation from Matrix-inspired triplet-loving cyber hippies to vibing wanderers with a love of complexity.
Just off to the side was a second stage in the area enclosed in a geodesic dome used for yoga, workshops (including the Moby talk) and moody electronic sets. Not a bad place to go to recharge, consider future missions or meet up with a friend.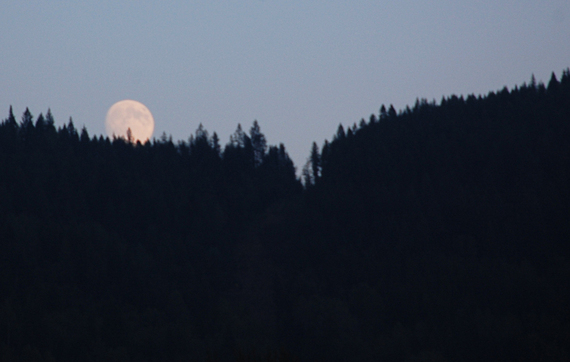 As the Fractal Forest switched into night mode DJs performed harder sets to a crowd that stretched out in 360 degrees under hanging geometric shapes and visuals effects. Time itself seemed to have all but disappeared as A Tribe Called Red took to the stage. DJ NDN pounded his chest and mouthed the words to The Partysquad and Boaz's "Oh My," drawing on a deeper well of emotion.
"Oh my, look up in the sky and you will see me fly/I said/Oh oh oh oh oh my y y/No I'm not afraid, I'm not afraid to die." The group's newest member, 2oolman, grabbed samples mid-set and reworked tracks on the fly. Later, DJ Bear Witness said he thought the Fractal set-up was amazing, adding it was cool to actually get to hang out at the festival for a couple nights (they played a follow-up set at the Amphitheatre on the Sunday) instead of just popping in for one performance.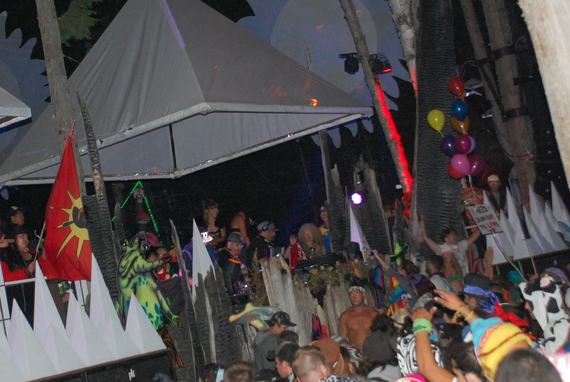 Pt. 4 >>>> Attack, Decay, Sustain, Release
If you keep your eyes open you'll witness the entire cycle of life on display at Shambhala. One couple who got married on the grounds just a couple years ago was back to spread a sister's ashes around the property. They wanted to give her the opportunity to experience in death what she had never been able to see while she was alive. Another pair had decided to embark on their lifelong journey the previous day. Dean Saling, 29, was on a walk with Rachelle Cogbill, 26, his girlfriend of four years, when things took a serious turn.
"Being here at Shambhala just puts everything into perspective of who we are as a couple and where we've come in the last four years. We were just talking about that and he got down on one knee," she said. "My heart stopped."
She said yes.
Now they look forward to getting married in Indonesia and Cogbill can't wait to take his last name. "See, for us it's always about the memories and we've been building and building and building," Saling said. "To do something here in this event is huge in our lives. We love this type of shit. This is us at our best -- the music, the vibes, the people, the scenario and the fact that it all fell into place really easily."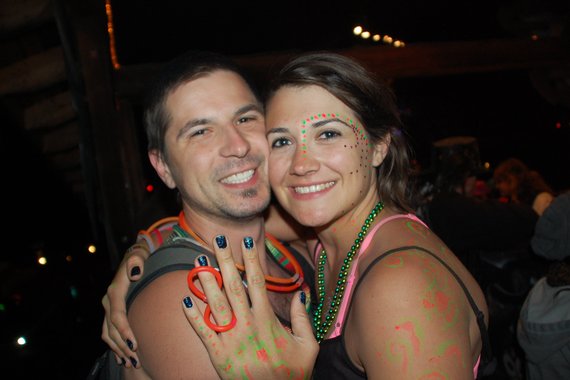 Shambhala is such an immersive experience and you really can't help but go through the full range of emotions. From the frustration of losing track of people amid the chaos, to the bliss of golden moments with friends and lovers, it's all part of the ride. Just like the amplitude envelope used in many synthesizers the overall flow of the weekend seemed to follow an Attack, Decay, Sustain, Release pattern.
You go hard on the first night or two out, attacking the dance floor with pent up vigour. So by the wee hours of Saturday morning no matter how much of a old hand you are, you would undoubtably feel the inevitable decay and need to reformat. This is where the positive downtempo and reggae yoga came in for more than a few souls. After the initial hype things start to become familiar and late into Saturday night it's all about sustaining the momentum built up over previous encounters and electronic music sets. Sunday's the day to give'r one more time in a final glorious release.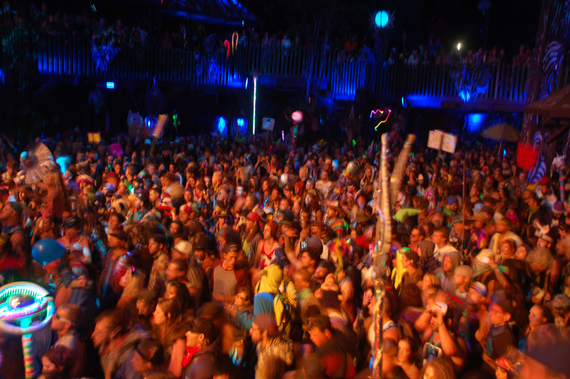 So it was that the masses gathered to rock out to Andy C's balls-to-the-wall jump up drum n' bass at the Village as the calendar shifted to Monday morning. Everyone went mental. Singalong chants permeated the air as junglists from far and wide united. "Ah! Let me see you shake in your boots./Come back to the old school, back to your roots!" came one anthem. "Born as a soldier, born in the streets./Born, we born as a rudeboy," arose another. Things shifted into overdrive as he played his remix of Major Lazer's "Get Free."
"It was unreal," Andrew John Clarke, the Brit behind the decks, said afterwards. "I knew a festival like this in a place as beautiful as British Columbia would be unforgettable."
Andy C has returned to Canada time and time again thanks to what he calls a "magical" vibe present among the Canuck massive. "There's just a connection with everyone here and the music I play -- it's special," he said. "So to be able to do this with this backdrop and in these surroundings was fantastic. Everyone is so up for it, and the effort that goes in from the crowd, the attention to detail from the organizers, the stages and sound systems is, as I say, magical." Like many other first-timers, Andy C couldn't help but get lost in the forest for a few hours before it was time for him to hop a couple planes and head to Ibiza.
Eventually all the ravers had to head their own direction, too. There was no helping it, you were headed back to real life after the weekend's musical plateau. But there were new friend requests to accept and fresh notifications to go through on social media. It was time to face familiar challenges and chart a fresh course -- only this go around armed with a bit more spring in your step and inspiration in your heart.