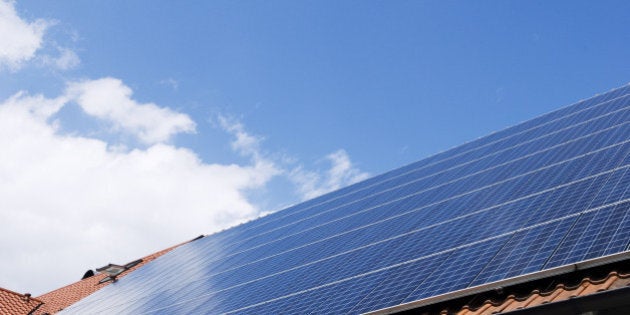 The US solar photovoltaic (PV) numbers for 2015 are massive. The US installed 7,286 megawatts of solar PV in 2015, a new record. And for the very first time the US installed more solar than natural gas capacity.
The residential solar market boomed, it grew 66 per cent year over year and for the first time the rooftop solar industry installed more than 2000 megawatts of projects in a single year. It's just as dramatic in graph form.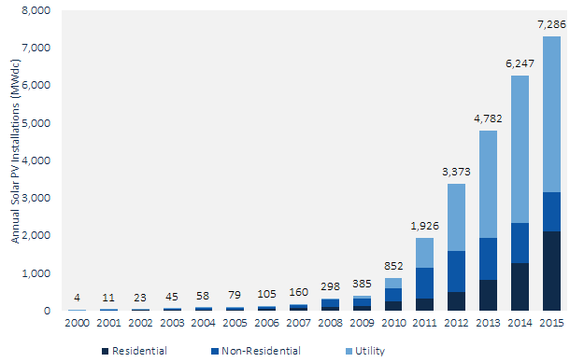 So what does all of this have to do with Alberta? Well it's clear that we're just at the start of our solar growth curve here in Alberta
Here's the data for where Alberta's solar market is now and where it's going.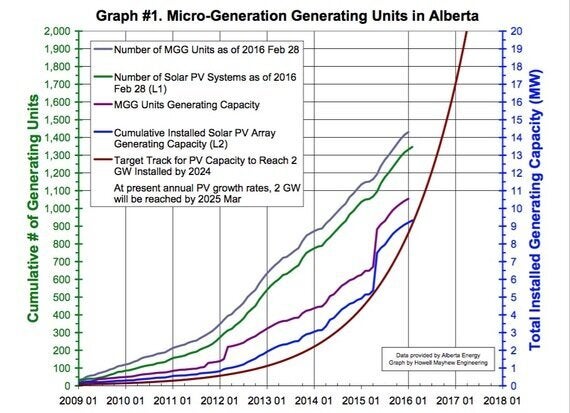 Right now we don't have a whole lot of solar PV. Only 9 megawatts, but the most important part of this graph is the dark red line. That's the growth projection for solar PV in Alberta. And according to Gordon Howell we will have 2000 megawatts of solar by spring 2025.
Now human minds aren't really built to understand exponential growth curves but we are right at the beginning of one. The size of the solar PV market in Alberta has increased by 107 per cent in the last year. Based on what's in the development pipeline this little graph will look very different in just a couple of years. There are many different projects in various stages of pre-development that would bring 385 megawatts of solar PV online.
Town of Devon: 23 MW at the brownfield site of Imperial Oil's former Leduc Gas Conservation Plant
Suncor: 80 MW at Hand Hills. This is combined with an 80 MW wind energy project
Suncor: 80 MW at Forty Mile. This is combined with a 200 MW wind energy project
Suncor: 80 MW at Schuler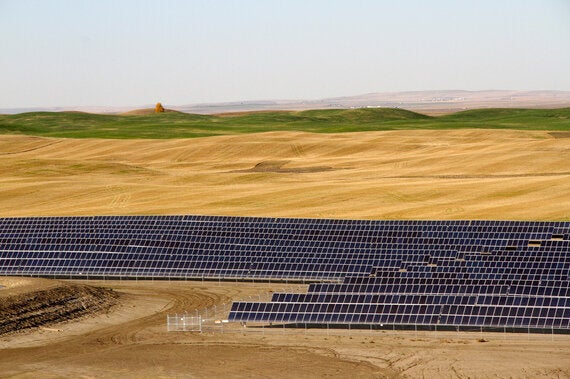 Of course the likelihood that all of these projects get built is small. But according Jared Donald, the vice-president of business development at Amp Solar Group there is easily three times that number of projects in development that just haven't been publicly announced yet.
Donald is based in Okotoks and is a solar industry veteran. "Amp was the largest rooftop solar developer in Ontario and we see a huge opportunity for that in Alberta, pending policy."
"2000 megawatts by 2025 would be a non-issue technically. Absolutely doable, we're building 7 gigawatts a year in the US so doing two gigawatts in Alberta in nine years should be no problem. But a lot of it is up to the province and we have the advantage of being able to take advantage of extremely low prices - solar PV module prices are low, there is a lot of available skilled labour and we have the best solar resource in Canada."
Kent Brown is the founder of BluEarth Renewables and another Albertan renewable energy veteran. He believes that what the government does on this file is going to be really important when it comes to building our solar industry. "We have to ensure that we have a clear pathway for solar and really you have to be willing to break the power of the incumbents," says Brown.
"Based on Amory Lovins analysis the levelized cost of solar eats natural gas for breakfast. Solar is cost competitive today and no one really knows it."
And while we'll have much more detail on how we're going to build out solar and wind by late spring the underlying factors all point to an incoming Alberta solar boom - PV module prices are low, there is a large pool of available skilled labour and Alberta has the best solar resource in all of Canada. You combine that with a government that's phasing out coal and aiming to replace the majority of it with renewables and we have the beginning of something big.
Follow HuffPost Canada Blogs on Facebook