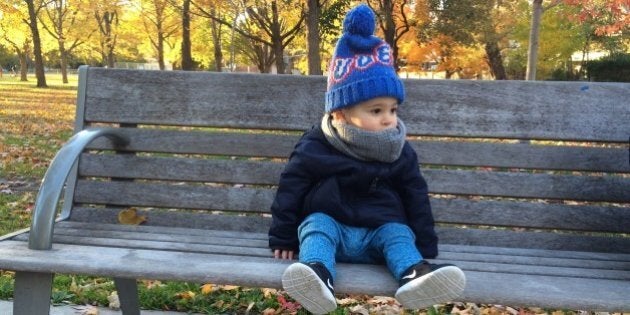 We can avoid the truth all we want, but we know it's coming. Winter is just around the corner. And the only thing more overwhelming than minus 20-degree weather is attempting to bundle up your new babe for the first time. With so many products on the market, many coming with hefty price tags, what is a new parent to do?
As a shopping expert and a new mom, I've come across a few great ways to save that can help keep growing babies from shrinking your bank account.
1. Hunt down the best discounts. From swaddles to sweatpants, you will be surprised by the savings you can rack up on sites like Old Navy, Carter's Osh Kosh, Amazon.ca, and Zulily.com. In addition to the great deals, these sites offer added benefits like free shipping and returns and cash back so you can stack your savings. As a new mom, Well.ca has become my go-to site for our everyday needs. With weekly sales and new clearance items added each week, it's a great place to shop and keep on budget. Plus, with natural products like The Honest Company and Burt's Bees -- I can feel good about using products that are chemical free.
2. Buy gender neutral. Purchasing simple unisex styles means that your son or daughter (or even future ones) can share the same clothes. Think grey, navy and ivory and if you're picking up some patterns pieces, stick to classic prints like stripes, stars and gingham.
3. Buy gently used. It's no shocker -- kids are messy. No matter how hard we try to keep them clean, they're going to destroy everything we put on them. So, that makes it hard to justify buying them nicer clothing. Solution: Jump onto Facebook and join a local buy and sell group. You'd be surprised by the high quality secondhand clothing you can find for a fraction of the original cost. Kids Contemporary Exchange is one of my current favourites, stocking gently used and never worn items from hot brands like NuNuNu, Munster, Joah Love and much more.
Also, you might not think it but Ebay.ca can be a mom's secret weapon. It's a great place to score brand new clothing (some with tags still on). Make sure to always check the "play condition", which means the clothing has noticeable marks or shows signs of wear and tear.
4. Size Up. Buying slightly roomier clothing for your little tyke is ideal for the cold winter months. A little wiggle room is always helpful when dealing with your multi-layer strategy to avoid overheating (for them and for us). And let's face it, it seems as though our babies grow every time we look at them. Buying a size up will save you money by skipping the size they may only need for a month or two.
5. Shop online. Avoid the stress of bundling up a moving target! Stay at home and let your fingers do the work. Visit sites like Ebates.ca that have special offers from a variety of retailers. They work with hundreds of your favourite brands like The Gap, Joe Fresh and Indigo.ca. You can quickly find the discounts and promo codes you need as well as earn cash back on just about everything you buy online.
Sari Friedman is the Marketing Director of Ebates.ca and resident shopping expert. Ebates.ca is Canada's largest cash back shopping site. As a fashion enthusiast and new mom, Sari has an eye for finding and sharing amazing deals on the hottest trends and must-have styles.
Follow Ebates Canada on Twitter for the best Canadian deals, cash back offers and online shopping tips @EbatesCanada