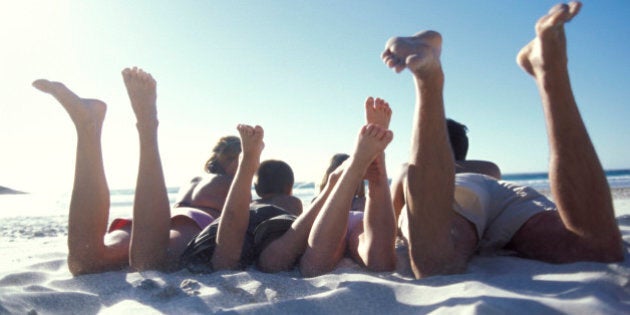 Newborns come packaged with a certain amount of chaos; spit up, diaper disasters, stress and sleepless nights are the dark side of every new parent's reality. Dads may not go through labour, but more than ever today's generation are taking an increasingly proactive role in caring for their offspring, proudly sporting BabyBjorns and being hands-on.
With Father's Day around the corner it's the perfect time to acknowledge everything men do too, from emotional support and foot rubs, to running errands and baby duty. Whether he's anxiously awaiting the delivery or already taking his new role in stride, new dads need all the help they can get, and a thoughtful gift can go a long way.
Canadians find Father's Day shopping to be a lot harder than shopping for Mother's Day, according to a recent poll by Ebates.ca. If you're stuck for ideas, check out these fun Father's Day gifts that any new dad is sure to appreciate.
1. "How To". Babies can be a little scary, especially since they don't come with an instruction manual. Except now they do, thanks to books such as Show Dad How, a useful yet playful guide to help harried first-time dads quickly get up to speed in any situation. They'll appreciate the low word count and fun approach; practical wisdom is doled out through fully illustrated (often hilariously), step-by-step activities on topics including childproofing a home, handling diaper disasters, and even inventing fairy tales.
2. Survival Kit. New dads will be super-appreciative of a handy kit filled with items that are practical, just plain enjoyable, or both. On the useful side, stock it with things like Tide-to-Go, baby wipes, energy snacks and Advil for those sleep-deprived headaches. Or, help them enjoy an escape moment by including items like a cigar, premium craft beer, a Starbucks gift card (they'll need the caffeine) and the latest issue of their favourite magazine.
3. Cool Gear. Being a new dad doesn't suddenly mean being uncool, and no man wants to carry around a diaper bag adorned with floral prints that screams effeminate. From retro messenger bags to backpacks - with all the requisite pockets and compartments - Toys'R'Us carries a wide selection of manly bags that will keep him organized - and his ego intact.
4. Rock On. One of the things new parents crave is sleep - and time to get stuff done. But that means baby has to be sleeping first. Enter the rockaRoo, a sleekly designed infant seat that uses a front-to-back gliding motion that lulls baby into the zone. Its small dimensions make it ideal for small spaces and the smart design caters to dads who place an emphasis on style.
5. Hands Free. Two hands often aren't enough when toting around a little one. Whether making a call or keeping baby entertained, busy dads will dig a universal smartphone cradle rack for strollers, like this one on Amazon.ca. The inexpensive but oh-so-useful gadget allows the phone to be unclipped easily from the adjustable mount, while a rubberized grip band ensures baby can't toss the phone like a grenade.
6. Time Out. Whether he's sporting a requisite hipster beard or designer stubble, most men will love the indulgence of a classic barbershop shave - the male equivalent of a spa treatment. Consider gifting him a service; not just for old-timers of yore, the classic shave is now an experience of cultivated cool. Or, give him a do-it-yourself shave kit from Menessentials.
7. Custom Photos. Give dad a unique way to display his new family portrait by having an image printed onto birch wood. The innovative process uses ink that fuses the image to the natural wood grain, resulting in a fade and scratch resistant photo with texture and a vintage feel. Your gift will stand out at the home or office, and others will ask where they can get one, too.
8. Phone Sanitizer. Lots of parents use their smartphone as a way to keep kids entertained, but kids are also little germ magnets. Clean freak dads will appreciate the Easycare UV Phone Sterilizer, which uses ultraviolet light to kill bacteria in just six minutes. It can also be used for a variety of small objects including Bluetooth earphones, watches and child-size cutlery.
Sari Friedman is the Marketing Director of Ebates Canada and resident shopping expert. Ebates.ca is Canada's largest cash back shopping site. As a fashion enthusiast and new mom, Sari has an eye for finding and sharing amazing deals on the hottest trends and must-have styles.
Follow Ebates Canada on Twitter for the best Canadian deals, Cash Back offers and online shopping tips @EbatesCanada