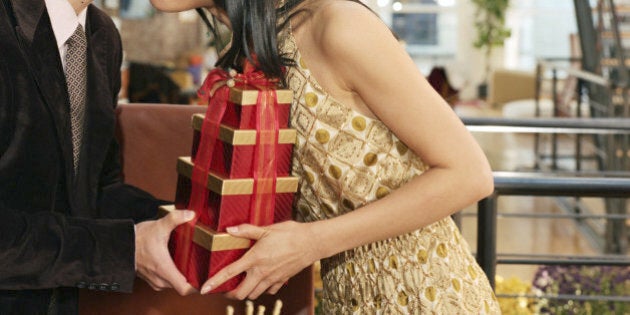 Tis' the season of get-togethers. Whether you are invited to a holiday lunch at your in-laws or to a cocktail party with your best friends, nothing says gracious guest quite as well as bringing along the perfect thank-you gift.
No two hosts are created equal, so show up with a personally tailored gift that shows that you care and gave it some thought. Here are a few memorable gift suggestions for every kind of host.
For the hostess who loves to cook
Personalized kitchen items are the way to go. From quirky holiday aprons to initialed mugs, napkins, or kitchen utensils, these are items that any home chef will love. Online retailers like Etsy.ca offer an eclectic selection of kitchen gadgets that can be monogrammed or inscribed.
Bring something FOR the event -- think specialty snacks, oils, dips, or compotes. These can be expensive and something people don't often splurge on themselves -- so they make great gift ideas that guests will enjoy as well! Well.ca carries a variety of gourmet goodies to please a sophisticated palette, including my favourite find - Chocolate Peppermint Pistachio Peanut Butter (yum!).
For the friend or family member who loves to stay in
Think DIY. Over the cold winter months, cozying up around a fire and watching Netflix has become a favourite Canadian pastime. What host wouldn't want a DIY movie night gift basket? Be sure to include gourmet popcorn, a few sweet snacks such as their favourite chocolates, a cozy throw blanket, or even a few items to keep the host toasty, such as a festive onesie or wool socks.
Maybe you have a host who is the consummate partier with a living room outfitted with a full bar -- always ready to serve up a trendy cocktail or two. Put together a collection of both classic and holiday drink mixers to take their cocktails to the next level. To complete the gift -- scribble down cocktail recipes on index cards and place everything a vintage ice bucket or wine box to create your own gift basket.
For the social media lover
Add to the fun and create a party selfie package. Create personalized signs or pick up a few props, such as mustaches, wigs and hats that go along with the theme of the party -- a perfect way to document and make your party Instagram-worthy. Don't forget to share the party's hashtag with all attendees!
Think about the kiddies! Be sure to bring gifts or activities such puzzles and colouring books that will keep the kids busy while the party is happening. This is great idea to allow mom and dad to relax, unwind and enjoy their company (and earn you some extra brownie points).
Sari Friedman is the Marketing Director of Ebates.ca and resident shopping expert. Ebates.ca is Canada's largest cash back shopping site. As a fashion enthusiast and new mom, Sari has an eye for finding and sharing amazing deals on the hottest trends and must-have styles.
Follow Ebates Canada on Twitter for the best Canadian deals, cash back offers and online shopping tips @EbatesCanada