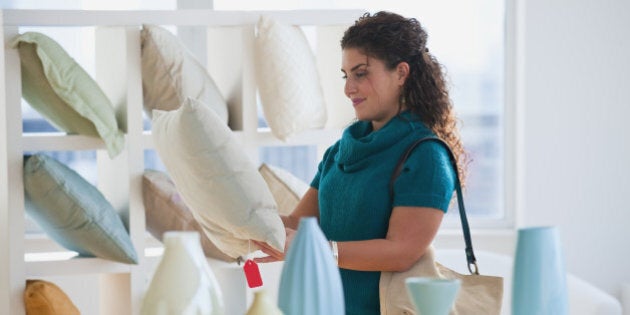 What's the most dreaded word in home decorating? You guessed it: budget!
With the demand for interior decorating and design increasing sharply in recent years, never before have so many people made such efforts to create functional and beautiful living spaces. How do you bring spring into your home and get a designer look on budget? Here are a few tips and tricks get the look you are after without breaking the bank.
Create a wish list. From a budgeting perspective, it's always helpful to create a list of your top priorities for home renovations and décor. Pinterest is a great place to start for inspiration and you can start to create and track your wish list online. Once you have your list in place, you can begin to narrow down what are your top priorities for the year and determine what your budget can afford.
Shop around and compare. Once you have a plan in place, you can determine what a realistic budget will consist of and see where you can get the most bang for your buck by researching online or in store and comparing price, quality and even the delivery option is something to consider as it may impact your budget. Select stores offer a buy online, shop in store option so you can shop for your items and get Cash Back and choose a location to pick-up your goods. This is a great option when shopping with Home Depot, Chapters-Indigo, Sears, Lowe's & more! It's also a great way to save on shipping costs for bigger, heavier items.
A fine balance. it's important to keep a balance and really determine what you can get away with when it comes to high-price points versus lower price points. Sometimes all is takes is a big 'wow' item to make or set the tone for a room, and these items are often worth the splurge. Invest in statement pieces like a striking cushion headboard in your bedroom or a rustic wood coffee table in your living room. On the other hand -- you'd be surprised with what you can get away with when it comes to finding great bargain pieces either online or at a local antique shop. Check out your neighbourhood garage sale - these often lead to some awesome hidden gems for a fraction of the cost anywhere else!
Accessories are king. While you may be thinking it's time to get a new couch that's on trend, or upgrade your dining table to something a little more modern, you can achieve the look by opting to purchase trendy accessories instead of investing in big piece purchases. Search for throws blankets, decorative pillows, and unique wall storage to freshen up your decor embellishments. Retailers such as Anthropologie and Etsy have beautiful statement accessories you can purchase to create a whole new look without burning a whole in your wallet.
Get crafty. DIY never gets old! Plus, it can look great and help you stay on budget. Bring the outdoors in by creating your very own terrarium. Geometric patterns are in this season, so look for a terrarium in brass or search for a terrarium kit available for all your materials. Try your hand at budget-friendly DIY decor projects like a wooden crate ottoman, painted vases or a blanket ladder.
Sari Friedman is the Marketing Director of Ebates Canada and resident shopping expert. Ebates.ca is Canada's largest cash back shopping site. As a fashion enthusiast and new mom, Sari has an eye for finding and sharing amazing deals on the hottest trends and must-have styles.
Follow Ebates Canada on Twitter for the best Canadian deals, Cash Back offers and online shopping tips @EbatesCanada
Follow HuffPost Canada Blogs on Facebook