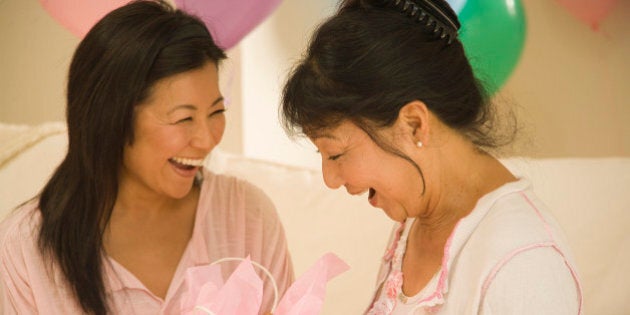 Canadians plan on spending an average of $63 on gifts for Mother's Day this year, according to a recent poll by Ebates.ca. But where are your dollars best spent?
Here are a few tips on how to give mom a break this Mother's Day while staying on budget.
Homemade for mom. Take over cooking duties this Mother's Day and plan a home cooked meal with all of your mom's favourites. If you need a few heart-warming recipe ideas, check out new mom and author, Chrissy Teigen's cookbook; Cravings. Not only can you use the recipes from a cookbook, but you can also give it to mom as a gift. Sari takes you through some of the recipes she has her eye on from Chrissy's book in her most recent vlog here (like the French toast casserole with salted Frosted Flakes - YUM!) . The best part is, you'll save money by cooking from home and might even have leftovers!
It's the thought that counts. If you are thinking of going the route of purchasing a store bought gift, make it extra thoughtful by purchasing items that are on her wish list. Whether it's that Coach bag she's had her eye on from Hudson's Bay, that amazing Chloe fragrance set from Sephora or the Floral scarf from Indigo that she would adore, these are great gift ideas that are always appreciated.
You can also opt to create the spa at home experience, by picking up a few body care products which can include a sea salt body scrub, bubble bath and perhaps a face mask such as the AHAVA Purifying Mud Mask.
Retailers specializing in spa and body care products often have great promotions over leading up to Mother's Day. Keep an eye out for BOGO deals, gift with purchase deals and online only discounts!
Make it an experience. According to the survey results, after store bought gifts, the second ranked gifts for moms are experiences such as dining out or doing an activity. There are a number of fun ways you can plan a fun day or night for mom.
Whether you make reservations at a gourmet restaurant or plan a fun day with the family - coupon and discount sites like Groupon can save you a few dollars on your plans. Search for deals that will help give Mom a break like a spa package, mani-pedi treatment or yoga classes!
Take mom on a weekend escape. Finding the time to take a vacation can be difficult for busy moms on the go. That's why a fun weekend getaway is the perfect way to give mom a quick break to refresh for a few days. Planning a relaxing escape to a quaint town or nearby city is also a great way to spend quality time together and will surely be appreciated and memorable.
Sari Friedman is the Marketing Director of Ebates Canada and resident shopping expert. Ebates.ca is Canada's largest cash back shopping site. As a fashion enthusiast and new mom, Sari has an eye for finding and sharing amazing deals on the hottest trends and must-have styles.
Follow Ebates Canada on Twitter for the best Canadian deals, Cash Back offers and online shopping tips @EbatesCanada