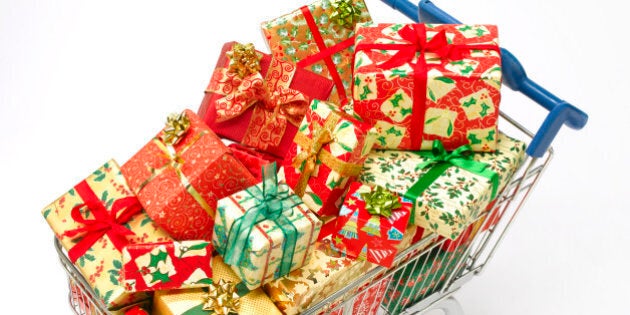 Get the coffee brewing and put your game face on! Thanks to our American neighbours, Black Friday and Cyber Monday sales are about to kick off the busiest shopping season of the year, with deep discounts and exclusive online offers. And Canadians are feeling pretty generous this holiday season, with 84 per cent saying they plan on spending almost $200 more than last year, according to our recent Ebates.ca poll.
And whether looking for deals in Canada or across the border, more Canadians are turning to online shopping to avoid the chaos, with 82 per cent saying they will make at least some holiday purchases online.
But while you won't need a helmet and elbow pads to score a deal for these two big shopping days, a little preparation and some savvy strategies will help make sure you stay ahead of the competition - and within your budget.
Don't believe the hype. The best way to know whether a deal is really a deal is to do your research beforehand. Make a list of items that you're interested in, and then do some recon to compare prices, features, quality and special offers across various retailers. You may find a similar item to what you're looking for that is a better deal, or at the very least, you'll have a solid back up choice that you can still be confident buying.
Limit your spend. It's easy to get carried away in the chase for a deal, but it's important to set yourself limits or you risk blowing your budget - game over. Stick to the items on your budgeted list and avoid impulse purchases. That 'blowout' price may seem cheap in the moment, but is it really worth it if your purchase sits in your closet or on a shelf, unused?
Sign up ahead of time. Time is of the essence with online shopping so get the admin work out of the way beforehand. If you haven't already, create accounts with the online retailers you'll be buying from and fill in billing and shipping info so it's saved in your profile. Also, many retailers usually offer a 10% discount code just for signing up to their newsletter, and you'll be on the list for any email alerts of flash sales.
Use your rewards. There's a range of strategies you can use to stretch your holiday shopping budget but a no-cost way to shop is to redeem loyalty program points for holiday gifts. Make a point of using cards that accumulate points throughout the year, or sign up for loyalty programs with your favourite retailers - you shop there anyway so may as well earn something while doing it.
Save with social media. Retailers will often post flash sales or discount offers on their social channels before they roll them out on their website or email. "Like" them on Facebook, and follow them on Instagram or Twitter to be in the know as early as possible.
Apply discounts wisely. Another tip is to search for discount codes, promo codes or coupons. And if you are able to stack discounts, it's usually advantageous to apply percentage discounts first, followed by a dollar discount. Why? You'll get more savings by applying the percentage discount to a larger amount, and then taking off the dollar amount.
Get paid to shop. Another savvy shopping strategy is to look for ways to earn cash back on your purchases. Compare your favourite retailers and see where you can earn the most cash for purchases you would make anyway through Ebates.ca. With more than 200 retailers offering double Cash Back on Black Friday and Cyber Monday, there is no need to fight the crowds at the malls or drive across the border to save extra cash on top of the deepest discounts you'll find all year long.
Sari Friedman is the Marketing Director of Ebates Canada and resident shopping expert. Ebates.ca is Canada's largest Cash Back shopping site. As a fashion enthusiast and new mom, Sari has an eye for finding and sharing amazing deals on the hottest trends and must-have styles.
Follow Ebates Canada on Twitter for the best Canadian deals, Cash Back offers and online shopping tips @EbatesCanada
Follow HuffPost Canada Blogs on Facebook