Spring is the perfect time to open the windows and freshen up your home -- as well as your decor. From deciding on what colour to paint your bedroom to finding the best deals on your favourite art pieces, decorating a home can be an exciting process for many homeowners and renters alike. Luckily, it doesn't necessarily take a team of designers and a small fortune to give your home a fabulous facelift.
Here are five ways to make your home décor 'spring' to life this season with some professional advice from Sabrina Smelko, design expert on HGTV Canada's new show, $ave My Reno.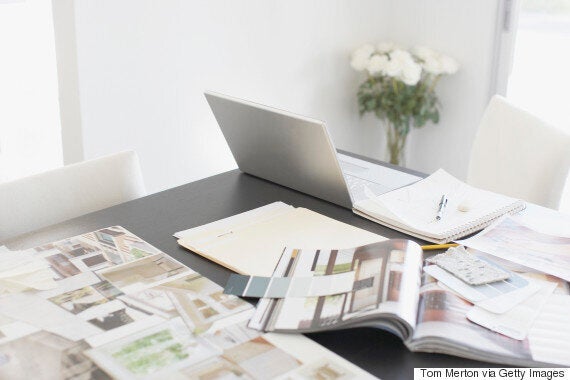 Get inspired. If you're having difficulty pinning down what you want for a given room or space, draw some décor inspiration from different avenues, whether it's something you've seen at a friend's home or online. To help pull it all together, Smelko recommends thinking bigger picture when deciding on how to decorate or design a space, and her approach is to "craft and create a mood, and a cohesive aesthetic vision."
Even if you have multiple influencers for your décor ideas and style, Smelko believes that the more inspiration you gather, the more your work will look truly unique and your own.
Know when to save and when to splurge. When it comes to decorating your home, creating the perfect space can be overwhelming. And with so much inspiration to choose from (thanks, Instagram) how can you decide what's worth the splurge and what's not?
It makes sense to splurge on longer-term pieces, such as a good sofa, as the foundation that can be elevated by layering in less expensive decor and art. And rather than buying pricey sets, consider mixing and matching.
"When it comes to furnishings, scour auctions, thrift stores, and antique shops - and do so regularly. When I first bought my home, I set alerts on online classified sites and I'd get a pop-up notification on my phone the moment something was posted. You have to move fast and take advantage of good deals!"
Rules of thumb. While using décor to spruce up your home is a great way to freshen up the overall look, the price tags can really add up and if it's too trendy or not functional, you may decide to ditch it in a year. Rather than chasing trends or styles, Smelko advises, "commit to a vibe and feeling and, once you've defined your vision, pick furniture before the paint. It's far easier to find paint that matches your sofa or bedding, than it is to find furniture and décor that goes with your walls."
Use different textures. When it comes to décor, it's not all about colour. Consider using a few different textures as well to add depth and interest. This will apply to anything from cushions and bedding to accessories and tableware. "Load up on textiles!" advises Smelko. "Drapes and blinds are often overlooked, but they not only serve a purpose, they ground a space and make it feel complete, cozy, and finished."
Colour coordinate. When it comes to colour schemes, Smelko prefers dark and moody colours but, for her, a successful colour scheme also takes into consideration the corresponding materials. "Deep, dusty and moody blues and dark greens look fantastic with brass and gold, and natural rattans and wickers."
Sari Friedman is the Marketing Director of Ebates Canada and resident shopping expert. Ebates.ca is Canada's largest cash back shopping site. As a fashion enthusiast and new mom, Sari has an eye for finding and sharing amazing deals on the hottest trends and must-have styles.
Follow HuffPost Canada Blogs on Facebook