It's hard to resist the siren song of spring fashion. Suddenly clothes are bright and light again after a long, drab winter. But with all the new styles to choose from, how do you know which trend is best, and how can you afford what you want?
The designs on the catwalk during fashion week can be so crazy, so out-there, that it feels almost impossible to determine which trends for that season will filter down to us, the masses. An online search or a flip through fashion magazines will tell you the "top trends" and each writer will have a different take on what stood out. Eventually you can find the commonalities and determine what catches your eye -- and what suits you best.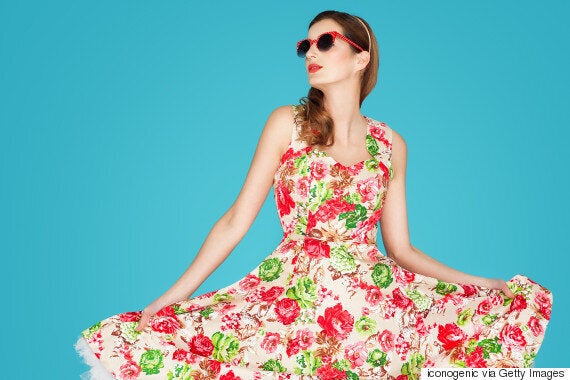 Spring 2017 trends include dresses with bold wide stripes, ruffled blouses, florals from head to toe, bra tops, platform shoes, all types of athleisure outfits, and a bit of '80s glam. Follow these tips and you can easily, and affordably, introduce some of these styles into your existing wardrobe.
Know the retail sales cycle
All retail stores generally receive new inventory shipments every four to eight weeks, at which time the existing inventory will get marked down. The new spring clothing usually arrives in stores in February, but there's no need to grab the newest item as soon as it arrives. By the time the warmer season actually begins, most items will already be discounted. Also, look for seasonal sales, pre- and post-holiday sales, online-only sales, special offers, coupons, etc. If you pay attention, there's really no reason you should ever pay full price.
Make a list and shop when you have time
Are there certain items that you really want? Take the time to think through your needs and where it makes sense to splurge or save. For example, it's worth spending more on a quality, staple item that will get more wear, but look for deals on trendier pieces that will likely be out of style in a few months. Set aside some time to evaluate what you need, and how new items will work with your existing outfits, then make a list. Even if it's on sale, an inexpensive shirt that you never wear isn't a bargain. And impromptu decisions can lead to a wardrobe of random pieces that don't work together.
The switch from one season to another is the perfect time to assess your wardrobe. Pull out your spring clothes, pour a glass of wine and have your own private fashion show. What do you still like? What fits? Do you feel emotionally attached to a jacket you never wear? Let go of the items that don't work for you. This will also help you figure out what you really need and want. Plus you'll avoid spending too much on something that may be gorgeous, but doesn't enhance your wardrobe.
Check out a clothing swap
Once you have edited your wardrobe and determined what is no longer needed, why not try out a clothing swap? Whether through an online community or just with a group of friends, swaps are a great opportunity to trade your cast-offs and re-vamp your wardrobe with very little expense. Another person's giveaways might be exactly what you're looking for to complement your wardrobe. With the money you save, you can then buy any new pieces that you may still want.
If you feel like you don't know how to put together an outfit based on your closet, just look to the internet, television or magazines for advice. There are so many resources available that there is no excuse for resorting to yoga pants or sweats as your go-to outfit. Inspiration is only a Pinterest board away. There are all sorts of easy tricks such as combining prints in unexpected ways, or pairing moto boots with an elegant dress. Once you can see how to style your existing clothes, it's easy to see where you can best add in something new and trendy.
Get updates from your favourite stores
One of the easiest ways to save money on your wardrobe is through email subscriptions and following your favourite stores on social media. You'll get emails when sales are on, and sometimes even early access to exclusive sales. Following your favourite store on a social media accounts like Instagram can also keep you up-to-date on deals and sales.
Sari Friedman is the Marketing Director of Ebates Canada and resident shopping expert. Ebates.ca is Canada's largest Cash Back shopping site. As a fashion enthusiast and new mom, Sari has an eye for finding and sharing amazing deals on the hottest trends and must-have styles.
Follow Ebates Canada on Twitter for the best Canadian deals, Cash Back offers and online shopping tips @EbatesCanada
Follow HuffPost Canada Blogs on Facebook