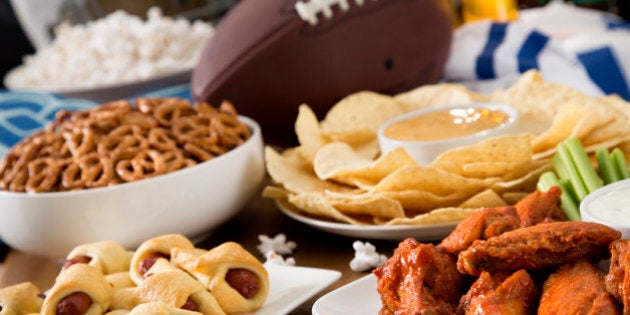 Hot wings, high-fives and friendly wagers will fill the rooms of pubs and homes during this year's highly anticipated Super Bowl.
Whether or not you are a football fan, this exciting sports event offers something for everyone. If you are gathering a big crowd for a "home-gating" party or watching with family, here are a few tips on how to gear-up for one of the most-watched TV events of the year.
Get geared up! Girlfriends, boyfriends, moms, dads, kids and even the pets can all look the part for this year's Super Bowl event. Who are you routing for? Whether you're cheering on the Carolina Panthers or the Denver Broncos (or neither) you can join in on the fun by getting dressed up in your teams clothing and accessories.
If you are looking for an item that you'll wear once, then cheaper is better and I recommend looking online for some great deals where you can get cash back or gear at the NFL Shop, Lids Canada, Shop.ca, Champs or Amazon.ca.
Make it personal. Get into the game with personalized t-shirts made for your friends and family and opt for the colour of the team you support. Incorporate nicknames or even team slogans to make your shirt standout.
I'm here for the Half-Time Show. If the NFL really isn't your thing -- you're not alone! But that doesn't mean you can't dress up for the occasion. This year's show includes an exciting line up --Beyonce, Coldplay and Bruno Mars so dig up your favourite concert tee and standout in the sea of jerseys.
Get physical! Organize a friendly game of touch football with neighbours before the festivities and be sure to have finger foods and BBQ goodies ready for the start of the show!
Young pride. Your kids may have a favourite team of their own, but no matter who they are cheering on, get them excited with the idea of designing and colouring team logos that will keep them busy and make them part of the fun!
Host a home-gating party. While it would be nice to go out and join the vibrant city atmosphere on the eve of the Super Bowl, you can also show pride while enjoying the game from the comfort of your own home.
There are some "Pinteresting" ideas on the popular site, including recipes and tips and tricks on throwing the ultimate Super Bowl party. I personally like to keep it simple. Sticking to finger foods that you can order in or buy frozen at the grocery store is the way to go! Buffalo wings, veggie platters and nachos are all mouth-watering crowd-pleasers that will leave you with little leftovers. If you want to get a little sweet and creative, a few party hits include football cake pops, cookies and cupcakes that you can make yourself at home or order from a local bakery.
Sari Friedman is the Marketing Director of EbatesCanada and resident shopping expert. Ebates.ca is Canada's largest Cash Back shopping site. As a fashion enthusiast and new mom, Sari has an eye for finding and sharing amazing deals on the hottest trends and must-have styles.
Follow Ebates Canada on Twitter for the best Canadian deals, Cash Back offers and online shopping tips @EbatesCanada
Follow HuffPost Canada Blogs on Facebook