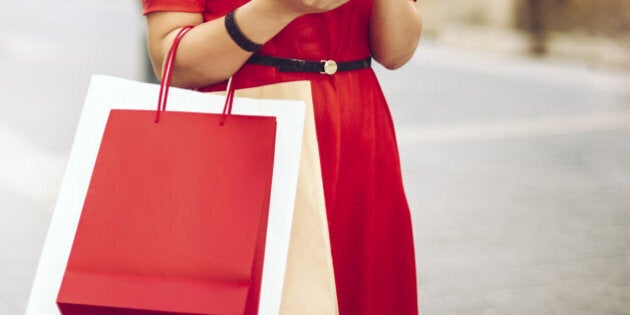 Whether you're ready for it or not, retailers have already started rolling out their fall fashion collections. But what are the season's best trends, which ones should you jump on and how can you get the looks for less?
Here are a few style tips and shopping hacks for updating your wardrobe with the season's trends -- without breaking the bank.
Fall 2016 highlights. Retailers take inspiration from the catwalk, but their interpretation is usually much more approachable so that regular folks like us can wear it in real life. This fall season, some of the top trends include grey plaids, pinstripe suiting, sheer black tops, duster coats and lush velvet blazers, while the colour palette runs from dusty rose and rich taupe to mustard and rust red. Whatever your style (and budget), you'll find retailers are all offering their take on the latest style trends that everyone can afford.
The 60/40 split. A good rule of thumb to keep in mind while shopping is to spend the most on quality classic staples, which should make up 60 per cent of your wardrobe, and less on the rest made up of trend pieces. By their nature, trendy items usually stick around for only a season or two, so they're not worth investing in nearly as much as a classic tailored blazer or wool pencil skirt that you'll keep for years to come. Look to the runway for inspiration of some designer fashion styles that can be achieved with pieces from your favourite stores! You can find some great investment pieces at stores like Club Monaco and Banana Republic that will stick around in your outfit rotation.
Choose wisely. Just because something is trendy now doesn't mean it's a realistic choice for you. Consider cut, shape and colour and think about whether that particular trend suits you. Where and how will you wear it? Something that looks great but doesn't go with anything you already have will likely sit unworn in your closet, translating into wasted money. Try to choose few trends that can easily be incorporated into your existing wardrobe. This can save you from diving too deep into trends (and into your wallet).
Be creative. Trends can and should often be incorporated laterally rather than literally. Incorporate the look in smaller ticket items to save some money. For example, leopard print may be overkill in a blouse or coat, but works nicely as a subtler detail on a glove or belt. And if you love this season's dusty rose or mustard colours but it clashes with your skin tone, you can still make it work by introducing it in a less expensive accessory such as a bag or socks.
Host a clothing swap. Everything old is new again. Save money by hunting through your friends' second hand goods. You never know what gem you might find in their closet that may no longer fit or suit them, but totally works for you. Another great option is to check out Facebook groups to trade items. Why you'll love this: get rid of pieces you don't wear, more room in in the closet for new-to-you finds and more budget to buy the few items you are coveting but did not find at the swap.
Shop online. One of the great advantages of online shopping is that we can check out dozens of stores in a fraction of the time. But even better is the opportunity to earn cash for purchases you would make anyway from any of your favourite retailers like Anthropologie, Steve Madden, Saks Fifth Avenue and more.
Sari Friedman is the Marketing Director of Ebates Canada and resident shopping expert. Ebates.ca is Canada's largest cash back shopping site. As a fashion enthusiast and new mom, Sari has an eye for finding and sharing amazing deals on the hottest trends and must-have styles.
Follow Ebates Canada on Twitter for the best Canadian deals, Cash Back offers and online shopping tips @EbatesCanada
Follow HuffPost Canada Blogs on Facebook