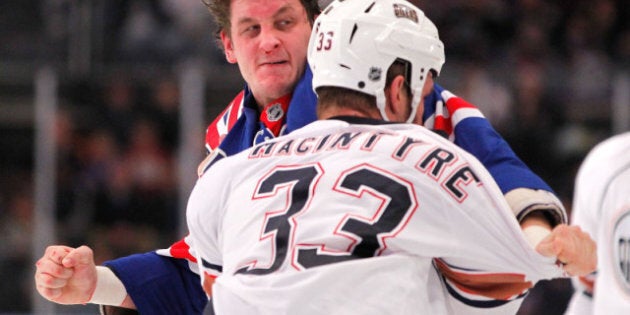 "Would you still watch hockey if fighting was banned?"
I put this question to my 22-year-old son, a dedicated hockey fan and nhl.com gamer. I asked him just after National Hockey League President Gary Bettman declared, brutally, that the findings of new research on chronic traumatic encephalopathy, or CTE, are premature.
"I don't know. Fighting is cool. But if there was no fighting, they'd have to change the game in some other way," our son replied. He wouldn't be happy, but he's open to a new solution.
So am I. I played junior hockey and grew up in the traditional culture of the sport. And I want the NHL to ban all fighting -- any time, everywhere, forever.
What is really premature, of course, is hockey's tough guys dying far too young, their brains decimated by repeated blows to the head, their bodies wracked by pain and addiction, the circumstances of their deaths tragic beyond imagination. The latest in the news, Derek Boogaard, was only 28.
However, the owners want to maintain fighting as part of the game. They believe that's why their fans buy tickets.
And their enforcers will continue to die young.
The owners "are trading money for brain cells," said Chris Nowinski, a former football player and professional wrestler who co-directs Boston University's Center for the Study of Traumatic Encephalopathy.
The centre would probably find serious damage in the NHL's corporate brain, too. Riven by decades of greed and conservatism, the league has shown itself utterly incapable of mounting serious responses to the real issues it faces in the 21st century; allegations of steroid use, rampant homophobia and racist incidents, and an epidemic of concussions are four big ones.
The NHL's failure to effectively address these and other issues is eroding hockey's credibility and relevance. And it is rapidly losing ground to other sports.
Across North America, the number of kids playing minor hockey is declining. Yet the number of young people opting to play soccer and basketball is growing fast, and breathtakingly so in many urban areas.
Taken together, all these factors mean that the long term doesn't look good for the NHL -- that is, unless the league makes some serious changes immediately.
But it looks like that won't happen. And that, too, is tragic.