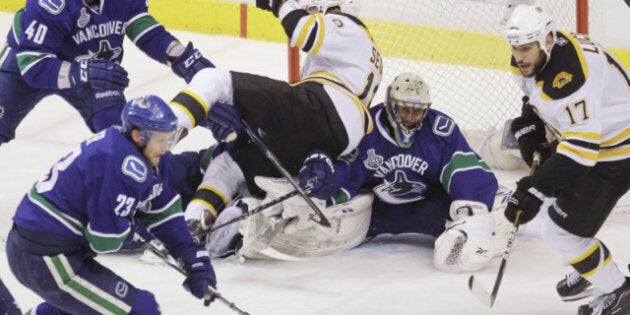 In addition to having really tall captains, and superb defensive skills, Stanley Cup champions, the Boston Bruins, and NBA champions, the Dallas Mavericks, have something else in common.
Their veterans came through in the playoffs -- big time.
For the Bruins, forward Mark Recchi recorded a goal or assist in each game of the final series with the Vancouver Canucks. He's 43 years old and, after hoisting the Stanley Cup, made it official that he'll retire. Nice exit.
Even more spectacular for the Bruins was the play of their goaltender, Tim Thomas, who shut the door on the Canucks at every turn. At 37, it's been a long road for Thomas, who even had to win back his starting role earlier this year. Thomas was chosen series MVP.
For their part, the Mavs benefited from the fine performance of guard Jason Kidd, 38, whose distribution of the ball and three-point shooting were key Dallas assets. It was Kidd's first championship after a long Hall-of-Fame career.
But the real star of the NBA final playoff was 32-year old Dirk Nowitzki, the seven-foot forward whose ridiculously consistent shooting from the floor and from the free-throw line led the Dallas offence and devastated their opponents, the Miami Heat. If there were questions earlier in his career about his ability to come through in the clutch, this time Nowitzki sent a loud message with his energy and leadership. He won it all. And he was voted the MVP of his series.
Both winning teams were obviously close-knit, communicated continuously and held each other accountable. They trusted each other. They sacrificed their bodies, playing through an array of injuries. But all this could be said of their opponents, as well.
There was something else, though. In both cases, the champions played with less hubris and more honour.
The Canucks opened the final playoff series diving and otherwise embellishing for the referees; one Canuck even bit a Bruin during a scrum. The Bruins weren't angels, and did some trash talking. But, overall, they complained less and their work ethic and will to win drove them to victory. Theirs was old-style, defensive hockey, and it worked.
For their part, the Mavericks often found themselves in the media shadow of their noisier, more flamboyant opponents. With their three superstars -- Dwayne Wade, LeBron James and Chris Bosh -- the Heat attracted greater public attention externally and, internally, had to work harder to manage the different egos and styles of their young leaders.
The quieter Mavs simply went about their business and let their actions do the talking. Also an old-style, defensive team, they displayed less ego, more discipline and better focus.
The 2011 Bruins and the 2011 Mavericks -- powered to the top by humility and hard work.
And by their veteran players. This year, old guys rule.