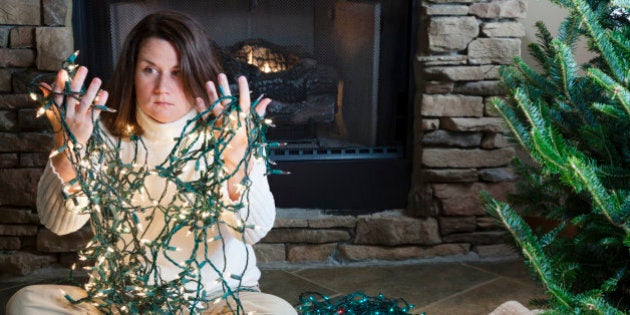 Tick tock, tick tock. Do you hear the winding of the clock as we near the end of the year? Is that ticking ramping up or slowing down for you? If you are like most of us, it's still hustle and bustle as you race to the finish line -- completing work assignments, making plans for the holidays and getting ready for the year ahead.
Oh yeah, 'tis the season of rush! The end of the year can be a wonderful time but it can also be hectic and stressful. Here are tips to help you manage the year-end season of rush with more ease.
One of the key principles outlined in my book, Ease: Manage Overwhelm in Times of Crazy Busy, is to get the loads out of your head but keep them top of mind, with strategies such as writing things down. Trying to remember all your tasks and to-dos creates a sense of chaos and can trigger that "yikes" (stress) response, which further compromises your brain's ability. With heavier loads you really do need to take heed not to overwhelm your brain by trying to remember it all. Instead, write things down; create those lists and have a visible road map to keep you on track this holiday season.
In arecent episode of the Good Wife, the character Alicia Florrick was asked by a reporter how she handles the loads of being a parent, a busy lawyer with her own practice and now running for public office. She said something like this: "Like all busy, working parents, I've learned to triage." Well said! In times of crazy busy, we all need a repertoire of prioritizing skills, and during excessively busy times, we need to ramp this up further. Triaging is prioritizing on steroids! With the demands amplified at this time of year it is impossible to do it all. Identify the absolute essentials and commit to those first. Then park or reschedule other things that can wait.
Saying no is difficult for many people but saying yes to more than you can handle will do you and others no good. The holiday season can bring more work, more stress but also more invitations (to the good stuff) that you might be able to handle. When your time is limited recognize when there might be too much of a good thing. Know your limits and learn to say no or at least "not now."
Don't Grinch out on Self-Care:
With the extra loads and ramped up schedule, it's easy to skimp on sleep, exercise and proper eating. But this is the time when self-care is most needed. Who needs to get sick during the holiday break? Be mindful of getting ample zzzz's, exercise and good nutrition, because you'll need all the resilience and energy you can get to keep up with the pace and enjoy the holidays too.
Enjoy the season but set appropriate boundaries.
This is a season to enjoy. That said, boundaries are a good thing too. Pay attention to how much you indulge because the New Year is just around the corner. To ensure you start the New Year off right, preempt regrets from over-indulging in food, drink, spending by setting appropriate boundaries. Your waist, wallet and well-being will be grateful to you!
Eileen Chadnick (@Chadnick) is a work-life and leadership coach and principal of Big Cheese Coaching in Toronto. She is the author of Ease, a book offering strategies to manage overwhelm in times of 'crazy busy'. See her at www.facebook.com/bigcheesecoaching