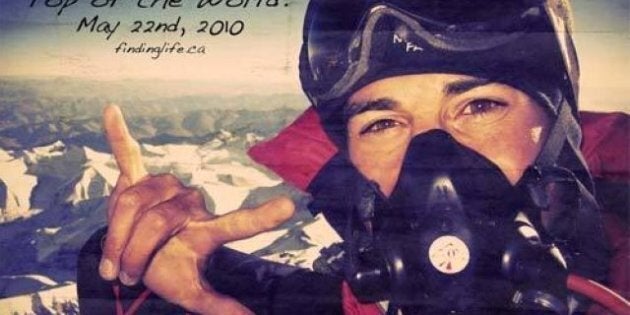 "In that moment, amongst the serenity of the high Himalaya, the crackle of a radio could be heard through the breast pocket of my down suit. I had completely lost myself in the moment at 8,800 metres above sea level , 50 metres from the highest point on Earth also known as "the death zone".
You see, climbing Everest with Sean Egan's spirit, my mentor who died trying to become the oldest Canadian to summit Everest, wasn't the only reason I was there. I decided, after two failed attempts, each within 500 feet of the summit plateau, that if I was to climb Everest one last time, that I would share it in a way that had never been done before.
It hadn't been done this way likely because it simply wasn't possible! Not only physically, but technologically. That is, until now. I was broadcasting a near real-time experience to thousands of students back home in Canada. Twenty thousand students to be precise. Using HD cameras, high-altitude laptops, video conferencing, geo-mapping software, helmet cams and social media platforms such as Facebook and Twitter, my team and I successfully transmitted a broadcast quality web series online to Canadian classrooms day to day from Everest base camp to the top of the world."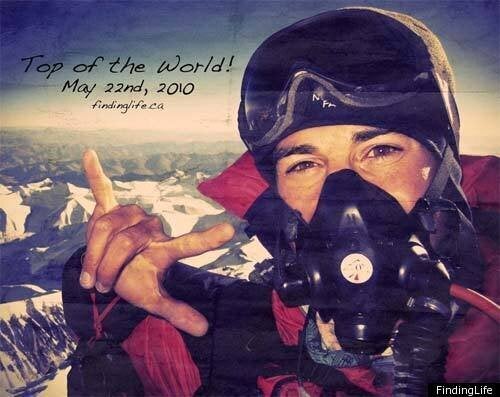 Monday, 4 p.m.: Completion of a television series shoot for Fox Sports in Los Angeles entitled "We Live Soccer." (Paying my bills is always a good thing!)
Monday, 11p.m.: Overnight flight from LAX to Detroit -- Sleep for two hours.
Tuesday, 3 a.m.: Sleep on airport floor for three hrs (lose three hours sleep -- EST).
Tuesday, 10 a.m.: Flight from Detroit to Ottawa.
Tuesday, 1p.m.: Surprise motivational speech. I arrive just in time.
"On May 22, 2010, at 6:22 a.m., Sean's spirit, along with all of you, had finally reached the top of the world."
The auditorium roared with applause. I was speaking at grade 8 graduation ceremony in Ottawa, Canada. These students have been an integral part of my life, not only as an adventure filmmaker but as a human being. These students have been following my FindingLife adventures in the classroom since 2007. Teachers from Vincent Massey Public School were innovative enough to believe in my ideas of using technology and social media to connect students to cultures, life inspiring people and adventures all across the globe. From the highest peak in South America, remote regions in Africa, to the highest peak on planet Earth. We educate, we inspire and we create positive change. It's all part of a non-profit organization called FindingLife.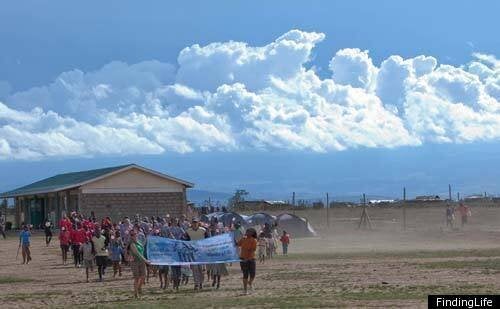 So why does it all work? What is it that inspires a young Canadian anywhere from six to 17-years-old to want to make a difference in the world? How do you manage to inspire youth to start thinking about other people, in other countries, in an age where the iPod, the cellphone and text messaging rules their every instant and seems to take away any presence they have in their lives? How is it that youth from Ottawa have raised over $30,000 to build classrooms in a remote of Kenya? It's simple. Active participation in experiential learning adventures.
By trade, I am a filmmaker. But the truth is that 90 per cent of my time is invested volunteering my time running my non-profit organization FindingLife. We combine adventure, film, technology and charitable initiatives to inspire youth and create positive change. The formula has been to engage youth on an emotional level. To bring stories to life that are raw, real and accessible. Whether it's my own story as a struggling teenager hitting rock bottom and climbing from the streets to the top of the world, or stories of disadvantaged children in Kenya struggling to learn in makeshift classrooms in desert like conditions. Through my craft and passion for film making, I've managed to bring these real-life stories to life.
I deliver personal presentations to youth and challenge and engage them by asking for their help, helping them realize that no one is too young to make a difference in the world. As one team, including hundreds of other students, we embark on a journey together and the youth participate via social media and connect with the cultures in near real time. They meet the people they are 'helping,' they live the struggles with us as we challenge ourselves and they draw parallels between our journey and their own.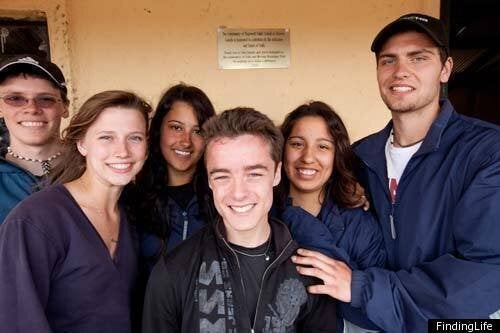 By making the students an integral part of the expedition, not just as spectators, but as participants, they feel connected to the project and realize that it is because of their contribution that a difference is being made, no matter how small an action. The initiatives become a school-wide initiative where everyone participates. Teachers have shaved their heads and spray painted their hair to raise money with their students. We've seen bake sales, community bazaars, dog walking, allowance donations, bracelet creation and more. Teaching our youth that regardless of their age, they too can make a difference in the lives of others.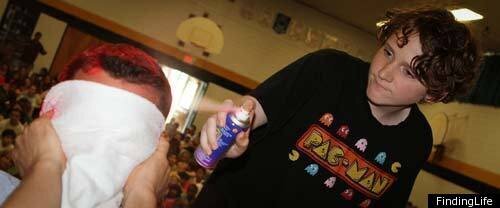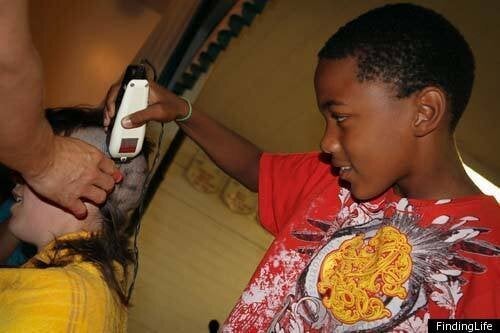 A well was constructed for orphaned children in Nepal, we've supported an orphanage in India and we've recently built two classrooms in Kenya through the work of an organization called the Moving Mountains Trust. The philosophy is to empower the young people and place the responsibility of the action in their hands. As much as some may want to believe that social media and technology is disconnecting our youth from human interaction and quality connections with others, I believe we need to see it through another lens. It is an incredible catalyst for change. What's often lacking is the creative vision of how to utilize it.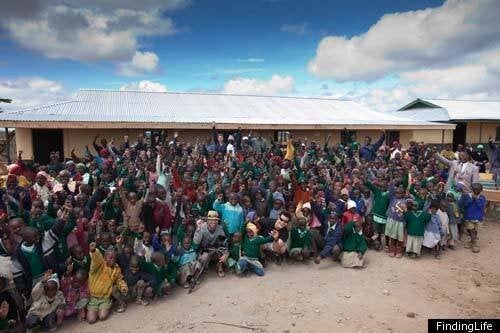 As I stood on stage and prepared to deliver my final few lines, I stared down at the audience of grade 8 students, parents and teachers with the utmost pride. Every single human being in this school contributed to raising money for a classroom for children on the other side of the world, learning along the way about altruistic values that will mold and shape our youth into the citizens that we all should become.
A society that works together for the betterment of their neighbor and their global citizen. "We do what we do because we realize the importance of giving back. At 14-years-old you've contributed to the education of children on the other side of the world and throughout the journey, you've unknowingly made an incredible difference of your own -- discover, search, find and Inspire. In the words of my fallen mentor and friend Dr. Sean Egan, 'Ad Astra, Always Aim High!'"