Shutterstock / Alexander Raths
</p>
The role of genetics in identifying women at high risk
Elisabeth Baugh, CEO of Ovarian Cancer Canada
Since Angelina Jolie-Pitt went public about her preventive surgery to reduce risk of ovarian and breast cancers, there has been a spike in awareness about the impact of genetics on a person's overall likelihood of developing cancer. As many will recall, Jolie-Pitt discovered that she had a hereditary predisposition to cancer; specifically, a mutation to her BRCA1 gene. Having lost her mother, aunt and grandmother to the disease, she decided to have a double mastectomy to reduce her chances of developing breast cancer, and more recently underwent surgery (a salpingo-
oophorectomy
) to remove her ovaries and fallopian tubes, reducing her risk for ovarian cancer. Publicity surrounding her choice put genetics on the map, giving rise to what is now being referred to as the "Angelina effect." What's more, information about
ovarian cancer
made international headlines -- for the first time, by my recollection. Awareness is indeed crucial. Jolie-Pitt's story taught us that when it comes to ovarian cancer, it is important to know your family history and your risk factors. That said, all women have some chance of developing this fatal disease. So, for all the women in our lives, it is vital that we discuss the issues surrounding ovarian cancer to make way for greater understanding. Because this disease claims the lives of five Canadian women each day.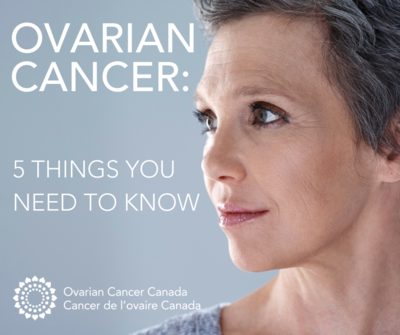 Here are five important things all women should know about ovarian cancer:
Ovarian cancer is the most fatal of all women's cancers in Canada

With the highest mortality rate of all female cancers, ovarian cancer claims the lives of 1,750 Canadian women every year. In Canada, approximately 2,800 women are diagnosed annually. Yet there is no reliable screening test or vaccine for this disease.

Because its symptoms are so often confused with those of less serious conditions, ovarian cancer is usually detected at a late stage. Typically, treatment starts when the cancer has already spread. This leads to a devastating mortality rate with more than half of women dying within five years of a diagnosis.

All women are at risk - some more than others

Research shows relying on symptoms to detect ovarian cancer simply isn't reasonable. With symptoms that are often confused with other health issues, the disease is easily overlooked, making genetic testing that much more important for those at high risk.

You may be at higher risk for ovarian cancer if you:
Are 50 years of age or older
Have a family history of ovarian, breast, endometrial or colorectal cancer
Are of Ashkenazi Jewish descent
Have a hereditary predisposition, such as a BRCA gene mutation, which is associated with ovarian cancer
Gene Mutations
BRCA1 and BRCA2 mutations can be inherited from either parent.
While most women have a 1.4 per cent lifetime probability of developing ovarian cancer:

o Women with a mutated BRCA1 gene have a 25 to 65 per cent chance of developing ovarian cancer in their lifetime.
o Women with a mutated BRCA2 gene have a 15 to 20 per cent chance of developing ovarian cancer.
Family history plays an important role
If you have a family history of breast or ovarian cancer, genetic counselling and testing can help identify if you have an increased likelihood of developing these diseases.
Your doctor can assist with determining your eligibility for genetic screening, and like Jolie-Pitt, the results may contribute to an informed decision that helps manage your health. Women who test positive for a BRCA1 or BRCA2 gene mutation should talk to their doctor about options that can reduce the risk of cancer.
Certain factors help lower the risk
The following factors reduce the risk of ovarian cancer:
Use of oral contraceptives
Full-term pregnancy
Removal of the ovaries and/or fallopian tubes
Tubal ligation
Talking to your doctor about possible risk factors and life stage is vital to understanding your best options for prevention.
Progress is being made and resources are available
With ongoing research focused on prevention, we know more about ovarian cancer than ever before. Additionally, new targeted treatments are bringing hope to those living with the disease, particularly those with a BRCA gene mutation. But there is much to be done. Ovarian Cancer Canada is the only national charity in the country that's dedicated to overcoming this disease. To do so, the organization provides support, increases awareness and funds vital research. For more information on how
Ovarian Cancer Canada
is changing the conversation about the country's most fatal women's cancer, visit
ovariancanada.org
. There you will find more facts about this disease and plenty of ways to help give this important issue the awareness it deserves.
MORE ON HUFFPOST:
Celebrities Touched By Ovarian Cancer