Between 1231 and 1259, the Mongol Empire invaded Korea nine times. Death and pillage followed the hooves of Mongol cavalry. During the fifth invasion, an army of Mongols arrived at a castle. Most of Korean nobles had either fled, or refused to fight. Only few brave warriors, untouchables, and slaves stood ground. The commander promised them freedom. He burned all of their slave documents. Promise of freedom gave them a courage to go outside the gate and fight against the world's strongest army. Unable to regroup after the surprise, the Mongols retreated.
Throughout history, people's desire to be freed from tyranny and enslavement has achieved the impossible. The 2016-17 Candlelight Revolution is no different. In a society dominated by a handful of elites and business conglomerates known as chaebol, Koreans faced numerous challenges against the inhumane, cruel status quo.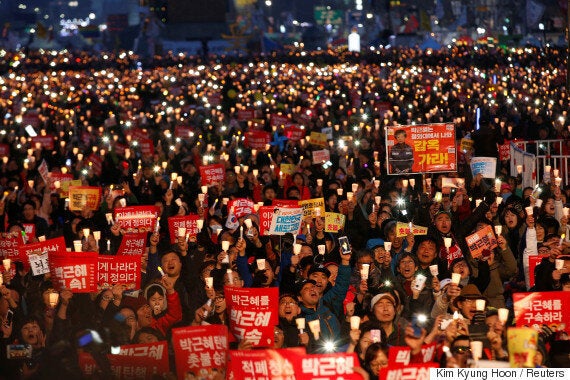 There are many corrupt and ignorant elites in the world but South Korea has some of the worst. Numerous incidents of the Korean elites revealing their disdain for the ordinary people had occurred in past. A while back, a senior official from the Ministry of Education had compared the South Korean 99 per cent to "dogs and pigs."
The impeached president Park Geun-hye has clearly shown that she thinks the same about Korean people. No incident shows her lack of empathy better than the Sewol ferry disaster. While over 300 passengers, mostly teenagers, were drowning inside the sinking ship, her whereabouts during the first seven hours after the incident still remains in secret. Worse yet, she even compared labour and human rights activists to ISIS.
Even dogs and pigs know more of empathy for the sufferings of others.
Ordinary Koreans have proven to their leaders that they are not "dogs and pigs." Rather than letting Park and her friend Choi Soon-sil go unpunished, they went out to streets and demanded justice. With candles in their hands, and glowing courage in their hearts, millions of people stood at the square for almost half a year. Millions of candles symbolized people's desire to be freed from the inhumane elites. Many protesters also wore the yellow ribbon -- a symbol of solidarity with the families of Sewol victims demanding justice and truth.
The protesters were not out in the streets because they had plenty of time and sympathy to share. South Korea has the second highest working hours among OECD countries, next to Mexico. South Koreans are some of the unhappiest people among OECD countries. In other words, the majority of protesters were preoccupied with their own problems. But unlike Park's supporters, who accused the victims' families of being communist proxy of North Korea and organized food binge party to mock the families on hunger strike, they were able to put their priorities aside, and cry with the families. In this era of inhumanity, they have proven that humanity has yet perished.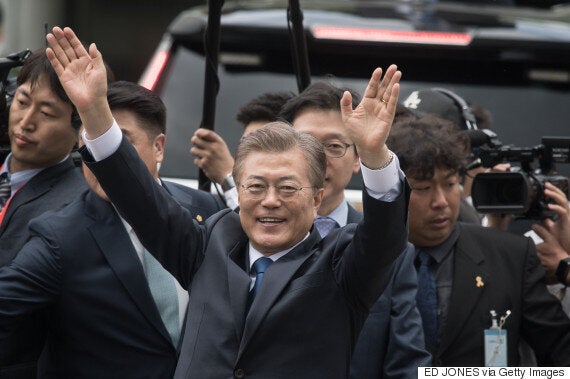 For the first time in decade, South Koreans voted for humanity, not for greed or nostalgia. Like millions of Candlelight protesters, Moon Jae-in is one of the few candidates who have remained on the side of humanity. As a student, he was jailed for protesting against Park Jung-hee's dictatorship. He later became a human rights lawyer and spent years fighting for workers, students and activists. While Park, and her supporters were busy mocking the families of Sewol victims, he wore the yellow ribbon and joined the hunger strike.
Moon's presidency has just begun. Yet there already has been a great shift. Like his predecessor and friend, Roh Moo-hyun, he calls for peaceful relations with North Korea. The impressive credentials of the appointees to key position in his government shows that he is willing to take great efforts in reforming various ministries that took part in Park's scandal. His first presidential order was to create a special committee for creating more and better employment for Koreans. He has also stressed on the importance of conducting a thorough investigation on Park's scandal and Sewol incident.
The French philosopher Albert Camus wrote: "A living man can be enslaved and reduced to the historic condition of an object. But if he dies in refusing to be enslaved, he reaffirms the existence of another kind of human nature which refuses to be classified as an object."
Not everyone has the courage to stand against the modern society that easily commodifies people as objects. The situation has worsen in recent years as greed and nostalgia has plagued the world. South Korea was no exception. But after a decade of greed and nostalgia, Koreans have come to understand that humanity matters more than anything. Therefore, they refused to continue living 'enslaved' under individuals like Park.
It is still too early to be certain whether the people will remain vigil and Moon will be able to accomplish what he promised. But the regime change in South Korea carries a greater significance. For it may be the beginning of a fundamental shift in world politics -- from politics of greed and nostalgia to politics that puts humanity above all else.
Follow HuffPost Canada Blogs on Facebook