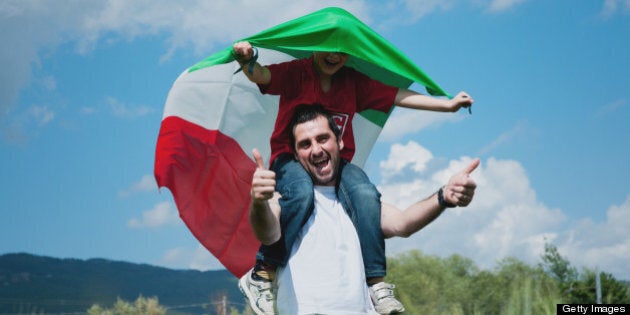 For Italians in Canada, family composition and cultural identity have tended to go hand in hand. But times may be changing for a community whose benchmark of identity has historically been the traditional nuclear family. According to the latest Statistics Canada report on household demographics (2012), the nuclear family is no longer the norm. But are Italians, one of the country's largest ethnic groups, rethinking family composition in step with other Canadians? If so, how do these changes interplay with cultural identity?
The size of the Canadian family has been steadily declining since the baby boom days -- from 3.9 people in 1961 to 2.9 in 2011. Although there is still a strong presence of nuclear families, trends point to more single-parent families, individuals living alone, remarriages, multiple family households, common-law couples and same-sex couples. The biggest change was a 42 per cent increase in same-sex unions; Quebec reported the highest number of step-families.
Are these social changes also reflected in the Italian-Canadian population -- some1.5 million strong? According to the latest Census that recorded demographics by ethnicity (2006), about half of reported Italian-Canadians are from mixed cultural origins. In fact, York University Associate Professor Franc Sturino points out that thanks to intermarriage, multiple origin Italian Canadians have tripled in the last 30 years.
Sturino says that changes in the Italian family have been decades in the making as second generation Italian-Canadians have pushed the envelope of traditional gender roles "while maintaining an emphasis on family cohesion, respect and loyalty."
Isa Truglia was not married when she had a child in her early forties -- a first in the family. She was surprised and comforted by her parents' reaction. "My mother was very happy when I told her that I was pregnant. My father was worried about my age, but was never angry or disappointed in me for having a child as a single woman," says Truglia.
Now 52, she is a single mother living with her son, brother and her (long-time separated) mother in a cross generational household. Truglia acknowledges that living with her mother "is very traditional" but "didn't think twice about it" despite criticism from non-Italian friends.
At 50, Francesca L'Orfano adopted a Vietnamese child and became a single mother. "I think being single has received less acceptance more than adopting a child has... [Being single], you don't get the same respect as someone who is married because your life does not include the responsibility of a 'family.'" However, L'Orfano feels she now has more respect from society since she adopted her son.
Proud of her decision to adopt, L'Orfano makes a point of reinforcing cultural values. "I try to nurture my son's Vietnamese heritage while also nurturing the Italian heritage he has acquired through adoption." These are only some of the factors that will play a role in shaping "who he is and who he becomes," says Francesca who recognizes that identity is fluid, just like the new Canadian family.
Yet, all of these examples of fluid families have children at the centre, not a far cry from accepted social norms.
Being in a same-sex relationship is still largely taboo for Canadians of Italian heritage, so how does the rise in same sex couples play out in a culture of "don't tell"?
"Maria" identifies as a bi-sexual Italian-Canadian woman currently in a lesbian relationship. She lives alone and has lots of family and friends. She has "come out" to her sister and mother, but her identity is largely a secret to her family.
"It is difficult for me around holidays with family or birthday dinners when all my family is around with their partners and children," she admits. Maria explains that going home alone is part of what makes it difficult. It's also hard because family is still very important to her and not being able to share her life openly is a burden.
Maria struggles to reconcile her two identities, "I feel guilty at times as I feel that I am not making my mother happy and I know she would like to see me living with a man and in a perfect world for her, I would have a child. I remind myself that my mom's feelings come from her Roman Catholic Italian cultural heritage and I am also part of that. But it is OK for me to be different and still love my Italian culture and continue to embrace all that I get from it, and not judge myself."
While the make-up of Italian-Canadian families may have changed over decades and in line with national trends, the recent report on household demographics in Canada has put those changes in the spotlight, and maybe, around the kitchen table.