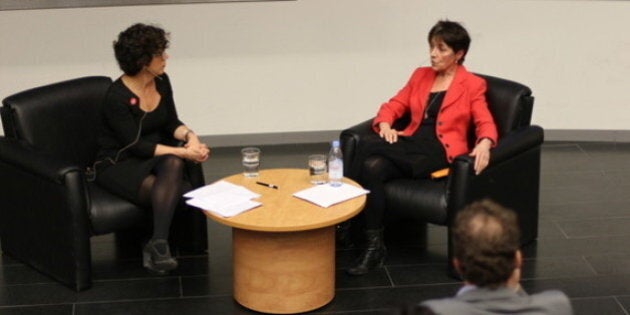 There is still a lot of bad news for women since the Montreal Massacre, according to investigative journalist, feminist and filmmaker, Francine Pelletier. But there is also some good news: as a social struggle and in the media, feminism is making a comeback.
She reminded the audience that shooter Marc Lépine actually told men to get out of the way as he shot and killed 14 women at the engineering school, while screaming that he hated feminists. Yet not even one headline about the 1989 Montreal Massacre called out an "attack on feminists" or "assault on women or equal rights," she said.
Media coverage of the massacre on December 6, 1989, especially in Quebec, initially focused on the "crazed gunman." "People needed to believe it had nothing to do with women," Pelletier said, because the idea that women could be singled out in an act of terrorism was unimaginable!
The massacre took place on the eve of a new decade. Pelletier spoke about the 1990s as the age of individualism. People were too busy working out at the gym to think about social movements.
In fact, feminism had become an "f-word." Women's equality would just take care of itself. But we haven't come such a long way, baby.
Fast forward 25 years and women still face gender inequality. Women work disproportionately in "female" jobs -- in services, health, education and administration. There is still a steep climb when it comes to women in decision-making roles in government, media, business, science, technology, engineering, math and other areas that shape society.
And let's not forget the wage gap. According to Statistics Canada, women make 64 per cent of what men earn, and two-thirds of minimum wage earners are women.
So what happened to women's liberation? According to Pelletier, women face two major obstacles: violence against women and hypersexualization.
The recent Jian Ghomeshi scandal is a perfect illustration of what women are up against. Pelletier says "Ghomeshi might prove to be the turning point because the scandal showed to what extent the violence women experience is in the grey zone."
Take the experience of Lucy DeCoutere, who came forward to say that things just went from "smooching to smacking" with Ghomeshi. Something just suddenly went wrong. Many women can relate to that. The high-profile Ghomeshi scandal may be just what it takes for women to speak out and to be heard, Pelletier said.
"Violence against women is the Western world's dirty little secret," pushing women to the margins in the face of constant intimidation. This intimidation creates fear that feeds into women's lack of confidence, what she calls the "inner jello" that holds women back.
That's why #BeenRapedNeverReported was a watershed. The hashtag that created a global conversation about sexual assault received eight million hits on Twitter. On social media, at least, the silence was broken, the wall of fear weakened. Pelletier gave kudos to Sue Montgomery, the former Montreal Gazette reporter who co-created the hashtag. (Montgomery was in the room waiting for her turn up on stage to moderate a conversation with Pelletier.)
The second major obstacle to gender equality, Pelletier says is hypersexualization. The women's liberation movement has been co-opted by the advertising industry, which portrays hypersexualized images of women in terms of empowerment.
"Women are not as free as they think," Pelletier said. There is a gap between what some women see as "girl power" and what some still label as "cheap," a conclusion she came to in 2004 when directing Sex, Truth and Videotape, a six-hour documentary series on women's sexuality. She also cited research indicating that scantily clad women are dehumanized.
So, what's the good news? There are signs that feminism is no longer a dirty word. In fact it's becoming mainstream.
Pelletier highlights feminist stories in the news in the last six months:
#BeenRapedNeverReported became a global movement;
Patricia Arquette spoke out against women's inequality at the Oscars;
Emma Watson spoke to the United Nations about the HeforShe Campaign inviting men to join the struggle for gender equality;
The talk segued into many subjects as it ended. The need to bring back sex-education into the Quebec curriculum -- is the new Ontario sex-ed curriculum a potential model? How do we bring men into the conversation about gender inequality and violence against women? Is Beyoncé perpetuating the hypersexualization of women or is she expressing "girl power." How do we fill the need for female role models in positions of power? Are there ways to address the differences in privilege among women (for example, should Patricia Arquette have referred to race when calling out gender inequality)?
There were many more questions than answers, all signs that: "We're not there yet, much more needs to be done and hell yes, we're willing to go the extra mile!" concluded Pelletier.
This is a revised version of an article that originally appeared on rabble.ca on March 31.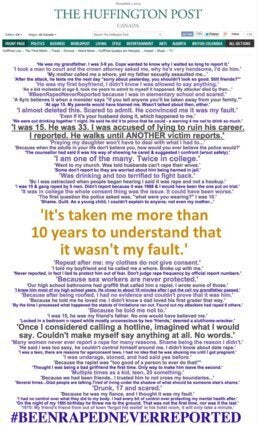 Great Moments For Feminism In 2014