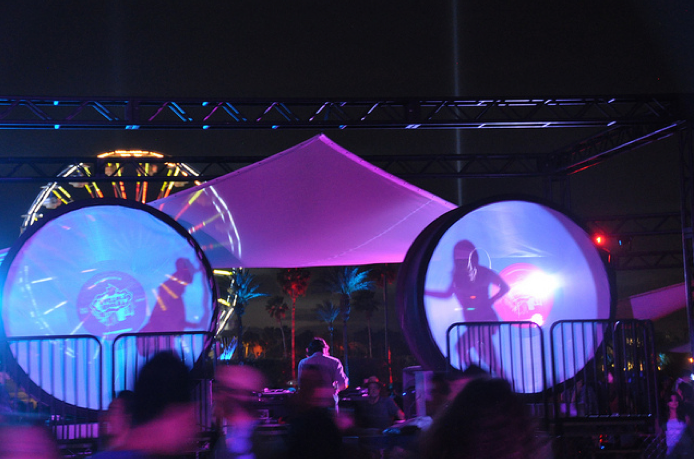 It's probably the most you'll spend on any bracelet, particularly one that doesn't even have any semi-precious stones, not to mention it's only in style for 10 days max. It's the Coachella Music and Arts Festival wristband, and it's one of the most expensive music festival tickets in North America. This year, the festival spans two weekends, making the cost of attending even higher.
So, for all you festival goers making the leap into debt valley this weekend, here's an altruistic parachute to ease your fall: Your Coachella Music and Arts Festival ticket supports local charities.
It's a little-known fact that Goldenvoice (Coachella's organizer) supports a handful of charities via the festival.
One of these charities is the Indio Youth Task Force (IYTF), which offers grants and scholarships to high school students and partners with community organizations for youth. Through the IYTF, a trickle of money is also received by the Indio Teen Center, which fittingly added a recording studio to their facility that already includes such awesome after-school activities as a boxing gym and Internet café for teens in grades 8-12.
"[T]he positive impact of the festival grows exponentially every year," says Eric Ritz, executive director of another Coachella-supported charity, Global Inheritance. If you attended Coachella last year, you might remember Global Inheritance's seven-foot-tall hamster wheels that had festival goers powering DJs' turntables and soundsystems. This year, Global Inheritance hopes to encourage attendees to recycle via works of art disguised as recycling bins, their signature TRASHed recycling store, and a new (and huge) intimidation method: a giant robotic dinosaur known as Recyclosaurus Rex. Recyclosaurus will roam the grounds for empties, and if that weren't enough planet-saving fun, there's a contest seeking creative ideas on how to reuse T-Rex's droppings.
As Ritz points out, the festival's assistance goes beyond the cheque book: "Funding is always great, but the support Coachella provides us to launch new programs, educate festival goers and push the needle forward is far more important to the organization."
Global Inheritance isn't the only charity to receive more than just financial support from the festival. "Goldenvoice is a very very large company, and to have them support us in that way is a big deal," says Jennifer Rey, managing director of the Silverlake Conservatory of Music in L.A. "We have been very fortunate to be able to use different venues that Goldenvoice manages and we've had help with our fundraising efforts," Rey tells me over the phone. The Conservatory, co-founded by Flea of the Red Hot Chili Peppers, facilitates hundreds of lessons a week, including free music education to kids who otherwise couldn't afford it. "I really feel it's full-circle," says Rey of being supported by the music festival, "you're creating musicians for the future by supporting music schools like ours... It's one of our big connections that we've been so fortunate to have."
Why Goldenvoice keeps the music loud, but donations quiet, remains a mystery. None of the charities I spoke to knew exactly how much of the ticket price is donated, and Golden Voice wasn't available for comment. But with positive responses like Rey's, you can probably assume it's a Rex-sized amount.
The Coachella Music and Arts Festival also supports the Indio Senior Center, the Painted Turtle, the Desert Resource Center and Martha's Village.