If you trace your finger along the invisible line of the Arctic Circle located at 66º, 30'N latitude, your finger will arrive at the Inuk hamlet of Naujaat, or Repulse Bay, Nunavut. The tiny community is home to bird species, caribou, seals, walrus, whales and polar bears. This time of year, the sun sets by 2:30pm, and in mid November, polar bears lurk the hamlet for food to fill their bellies before the freeze-up.
"It's a good thing you didn't call yesterday because I was just recovering from running away from a polar bear," Sarah Williams tells me. She ran for her life when one of Repulse Bay's roaming bears approached to snag food left out for a dog team.
Originally from Vancouver Island, Williams isn't necessarily accustomed to polar bear run-ins. But two and a half years ago, her family relocated to Nunavut after her husband took a job with Parks Canada. Now she works as a grade 4 teacher with students learning English for the first time.
Legend has it Naujaat (ᓇᐅᔮᑦ) earned its English name, the "Bay of Repulse", after an early explorer found it was a dead-end, when searching for the Northwest Passage. Now it's the place Williams calls home, and from the sounds of it, her time there has been profound and life-changing. For one, both of her daughters (8 and 12) have been to school in the Inuit language of Inuktitut (ᐃᓄᒃᑎᑐᑦ), and her youngest completed her first two years of school entirely in Inuktitut.
Of the Arctic Williams says, "It's pretty wild. It's like living in a completely different country compared to anything I've ever experienced. I've lived in different places in the world and this is definitely as different as it gets. To think that we're still in Canada kind of boggles the mind."
Arctic communities like the one Williams lives in could be among the worst impacted by climate change.
"Things are changing," says Williams. "Things are more unpredictable in terms of the temperatures. This week, we're going up to -7 and we were at -30 all weekend. So just to have those crazy variations when we should be in the cold spell now, to have this fluctuation in temperature, I think is more unusual. It makes things more unpredictable."
"All of the hunters around here for hundreds and thousands of years have known that each month is a different season for everything. They don't know it as well because of the changes. It changes the migration patterns of the animals, it changes their behaviours -- they are noticing subtle changes," says Williams.
One change that has been noticeable are the storms. "There have been more blizzards from what I've heard just because of the changes in temperatures, so for people who are out hunting on the land there are more reports of people going missing and getting lost and getting themselves in trouble."
Williams says that only elders can know for sure how the climate is changing, but delivers a sobering reality: "They're already talking about ice-free days through the Northwest Passage. I don't think anyone would have ever thought that would have occurred in our lifetime. It is happening. And it will have a huge impact."
Another profound shift that has happened in this community and in the Arctic is southern influence. "A lot of changes have come about because of southern influence that aren't that positive and really impact the culture -- and it ends up impacting the climate," says Williams.
Sixty years ago, people in this community lived in igloos. Now, community members are being forced to go and get jobs to pay for the expensive grocery store food shipped in from across the globe. In Williams' view, food from the land keeps the community strong and is much healthier.
"If you're not getting your food from the land, it's all being sent up from every corner of the globe, and the fossil fuel impact of shipping food up is mind-boggling. The cost is mind-boggling" says Williams.
The local dump is piled with cans of coke as high as the fence. "Right now everything gets trucked to the local dump," she adds. "And it will be there forever."
One message Williams wants to make sure folks down south learn is that there are ways of existing that are good for the climate and those are the traditional ways. "Living off the land is the best thing for the climate," she says.
Part of the solution? Local food production. "There's a greenhouse society in Iqaluit that's starting to grow lots of food. Yellowknife has turned its old airport hangar into a greenhouse with community plots."
"When you think the greatest contributions to climate change are fossil fuels and how much food has to be shipped up here -- well if you start to look at some of the ways we can alleviate that -- we should be growing food."
Williams notes that the Arctic growing season is ideal. From April to August, there are 24 hours of daylight. "There are only 25 communities up here. It's not an inconceivable concept to build a greenhouse in each community."
They'd need teachers, Williams notes, because "people up here have never gardened. A lot of my students don't even know what a garden is."
Williams feels hopeful for this community. "I see resiliency. I see adaptability, and I see people who do care about the land that sustains them. I see that they would first and foremost put that as their number one priority. There is still that passion to ensure that the land is kept healthy, that the ocean is kept healthy."
"Up here I have hope. I think that anything's possible. I see people who have created their own territory. The Inuit formed this entire territory here 12 years ago. If they can do that and they can run their own government and keep their language alive when aboriginal languages are dying around the world, I think there is still a lot of chance for hope."
Williams notes her community might be in the Arctic Circle and might feel a world apart, but she has a message for folks participating in the over 130 actions across the country this weekend: "Just because we live in the middle of nowhere on the Arctic Circle, doesn't mean people aren't willing to take notice. Anyone can step up."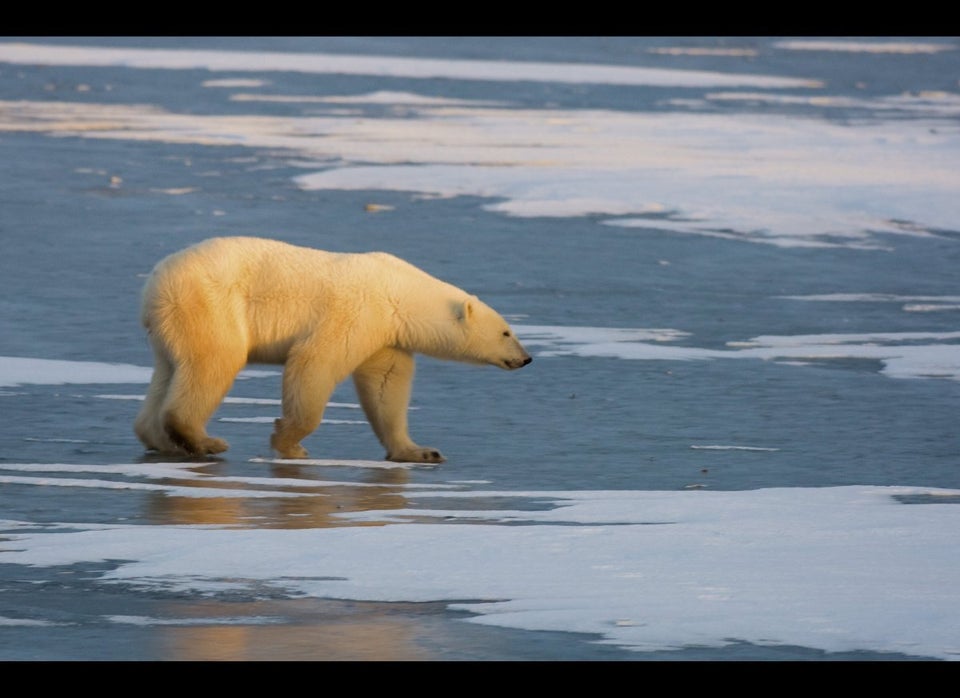 POSSIBLE CLIMATE CHANGE IMPACTS ON CANADA: