I like to think that I get the whole Miley Cyrus thing. I admire her savviness, and I applaud her ability to grip our attention. She even calls herself a feminist and tells Justin Bieber to keep the party at home. I get the feeling that she may be smarter than her dad.
I even kind of like how she plays with sexuality which isn't really sexy.
But as sexually liberal as I am, I just don't want to turn on the radio with the kids in the car and hear about how she put someone's thong in her mouth. And I don't want to explain blow jobs and Bill Clinton on the school commute. Or really, anytime. (I've got enough to handle with Rob Ford's idiocy.) I can change the radio station but with a 13-year-old at home I can't mute out all of pop culture.
I'm on Miley's side but that doesn't mean I like everything about her. Is Miley Cyrus what third wave feminism looks like? Is choosing to be overtly sexual the same thing as owning your sexuality? To Miley Cyrus it is. I would disagree. Normally, I would bore you with a treatise on the patriarchy and how playing within the limits of the the patriarchy is not liberating, but instead shows that she is a commodity. But yawn...
I sat through countless Hannah Montana shows, and even cried at the end when she chose to go to university instead of filming the movie in France. So I feel invested and I can't stop watching her. I want to, but I can't. And neither can anyone else.
But I would like to march in and be the absent mother from the Hannah days and tell her: Enough! Surprise me. Impress me. Do something new. Don't play with sexual boundaries because you can. Do something that shows the world that you are smart, in control and here for the long haul. Use your power for good. Don't alienate me, I may be the last mother in the universe defending you.
You are more than a foam finger and a tongue.
So while my kids and I can talk about Miley and what she is doing and even theorize why she is doing it, and how that plays into her need to sell albums and be defined by something other than Disney, you won't see me and my kids at her concert.
And yet, there are lots of tweens who are buying tickets. Would you?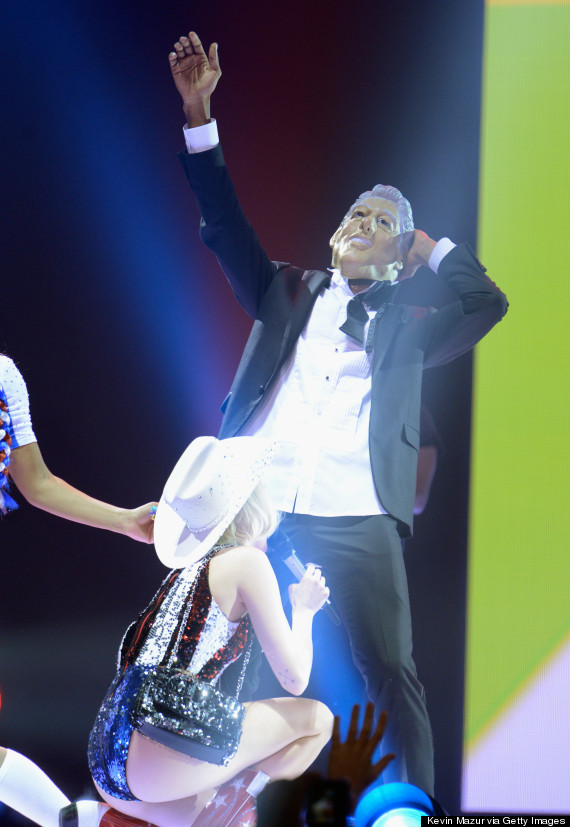 Read more of Emma's thoughts at Embracethechaos.ca
ALSO ON HUFFPOST: