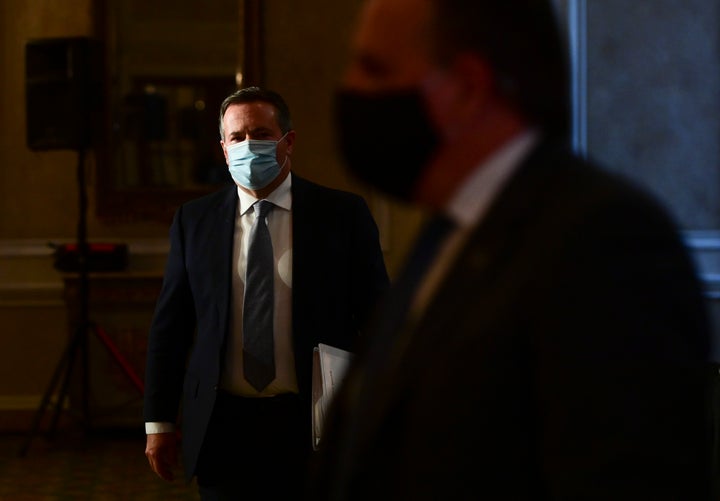 EDMONTON — Alberta Premier Jason Kenney has introduced new restrictions, including a two-week ban on indoor group sports and fitness classes, to address a spike in COVID-19 cases.
Kenney also says restaurants, pubs, and bars won't be allowed to serve liquor after 10 p.m. and must close at 11 in areas with high case counts because too many are transforming into late-night-party COVID spreader zones.
He also renewed a call for people to not host gatherings in their homes in high case count areas and says if they don't, the government may have to step in with enforcement and fines.
"This two-week push is, I believe, our last chance to avoid more restrictive measures that I and most Albertans desperately want to avoid," Kenney said Thursday.
He said 40 per cent of cases can be traced to transmission at home and social gatherings.
"I don't think it's unreasonable for people to suspend these kinds of gatherings for the time being," he said. "No one wants to have a government tell us how many people we can have in our homes.
"COVID is starting to win and we can't let that happen."
"Today the premier says the virus is starting to win. That's because he has been refusing to put up a fight."
Kenney also announced he is isolating for a second time in the last month after coming in close contact with someone who had contracted COVID-19. He said he had been tested and was waiting for the result.
Alberta has been seeing 600 or more new COVID cases a day for more than a week. On Thursday, Kenney announced 860 new cases for a total active case count of 8,300. There are 225 people in hospital, including 51 in intensive care. There have been 393 deaths.
The premier noted that daily cases, hospitalizations and COVID-19 patients receiving intensive care are all more than double what they were at the height of the first wave of the pandemic last spring.
"We can't afford to wait," he said.
"It's almost certain that we've not yet seen the peak of the current increase."
The new measures begin Friday and run until Nov. 27. They apply to Edmonton, Calgary, Grande Prairie, Lethbridge, Fort McMurray and Red Deer.
Singing, dancing and theatre groups will also have to take a break.
In high contact zones, a maximum of 50 people can attend wedding or funeral ceremonies. All faith-based activities are asked to limit attendance to one-third capacity.
Employers in office settings are asked to implement rules where they can to keep employees working at home.
Opposition NDP Leader Rachel Notley said Kenney is continuing to fail Albertans on COVID-19.
Notley cited the failure to adequately ramp up COVID-19 contact tracers and not giving enough data for Albertans to gain a true picture of what's happening.
"This government has blown past its previously stated [health directive] triggers by 50 per cent and only now are we getting the most limited of actions," said Notley. "We have no way of knowing if that will be enough given that we don't have all the information," the former premier continued.
"Today the premier says the virus is starting to win. That's because he has been refusing to put up a fight."
Virus spreading in many provinces
The coronavirus situation also continues to spiral in many parts of the country as provinces struggle to deal with rising case counts and quickly filling hospitals.
In Ontario, the latest modelling suggests that a five per cent virus growth rate, which is seen as a "slightly optimistic" scenario, would put Ontario on track for 6,500 new cases a day by mid-December. Under a three per cent growth rate, it would be 2,500 cases daily.
The numbers mean Ontario might have to start cancelling planned surgeries.
Ontario reported 1,396 new coronavirus cases on Friday. More than 90,000 coronavirus cases have been reported in the province since March.
In Quebec, officials said there were 1,301 new infections Friday, bringing the province-wide total above 120,000 since the start of the pandemic.
Quebec Premier Francois Legault says he was considering temporarily closing schools to reduce COVID-19 transmission.
Legault says 1,174 classrooms across the province are currently closed, but most alarming was that 324 of them had been shut in the last two days.
"It remains the last solution, but currently, when one looks at the situation, we should not exclude any solution," Legault said in Quebec City.
On Thursday, Manitoba entered the first day of widespread restrictions, which are meant to stem steadily increasing COVID-19 cases.
That province has the biggest per-capita caseload of active infections in Canada and reported nine new deaths on Thursday, matching the record for fatalities set only a day earlier.
Gatherings are now limited to five people, in-person religious services are cancelled and non-essential stores and restaurants can only offer curbside pickup or delivery. Bars, museums and theatres are closed and recreational activities are suspended. Schools remain open.
Kelly O'Leary, co-owner of the Sapphire Hair Lounge in Winnipeg, had hoped salons would be spared restrictions because of the expensive precautions already taken since the spring.
"When the news of the shutdown came, it was definitely a punch in the stomach," she said.
Saskatchewan reported 111 new COVID-19 infections on Thursday, the sixth day in a row the province recorded more than 100 new cases. The provincial government said new public health measures were to be announced Friday.
Watch: Kenney has been urging Albertans to end house parties during the pandemic. Story continues below.
Earlier Thursday, more than 430 Alberta doctors and three major health unions urged Kenney to introduce more stringent, short-term measures to reduce the effect on the health system.
The physicians, in a public letter, urged a shutdown of indoor dining, bars, theatres and religious services.
Kenney has resisted calls to shutter businesses, particularly retailers and restaurants, saying that getting Alberta through the crisis and beyond means balancing health, the economy and the community.
Susan Slade, vice-president of the Alberta Union of Provincial Employees, said there are COVID-19 outbreaks at 38 sites where her members work, and that concerns for their health and safety are growing.
There are outbreaks in nine acute-care hospitals and at least 20 long-term care homes and supportive living facilities, including the South Terrace Continuing Care Centre in Edmonton.
Alberta Health Services has reported 72 active cases and 11 deaths among residents and 68 active cases among staff at South Terrace.
With files from HuffPost Canada
This report by The Canadian Press was first published Nov. 12, 2020.