A change.org petition to fine people who call 911 to complain about Amber Alerts has exceeded 100,000 signatures.
The petition, which has over 101,000 signatures on Monday, is directed at Ontario Premier Doug Ford and Doug Downey, the province's attorney general.
Creator Dalia Monacelli said Amber Alerts have woken her up, but all she remembered about them "was being worried about the girl and praying she would be found safe."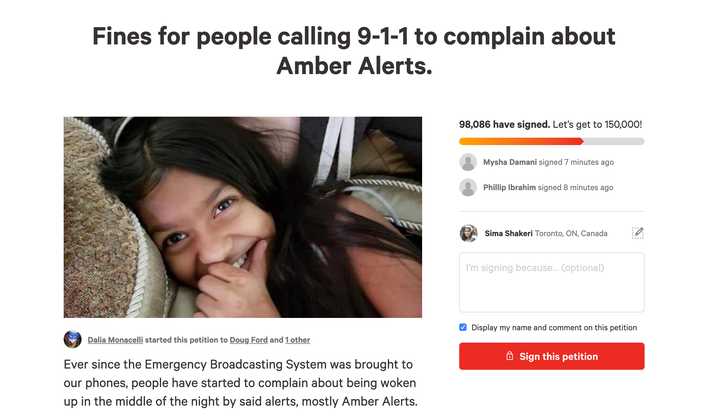 The petition picked up steam on Thursday after an Amber Alert was sent out in the middle of the night to help locate a two-year-old girl who had allegedly been abducted by her father. Police eventually found the girl and arrested her father along with three others.
"The Brantford Police Service has been inundated by numerous phone calls to our Communications Section, 9-1-1, and to our public email account. One person has called and complained 11 times; this is being investigated," the force said in a statement Thursday.
"[We] would like to remind the public that contacting the police service to complain takes resources away from legitimate police investigations. When a child is abducted, it is our duty to utilize any and all resources available to facilitate a lawful investigation, and to locate the child as soon as possible."
Complaints common after alerts
Ever since the AlertReady emergency broadcast system was implemented earlier this year, there has been an influx of people calling 911 to complain about the loud notification waking them up when they're sent in the middle of the night.
Many complainants also said the alerts were unnecessary because they couldn't do anything to help or were located too far from where the child was last seen.
Monacelli said she started the petition because the 911 line is meant for emergencies — other police matters should be directed to a station's number. She said it's why she proposed fining people tying up the emergency line to complain — keeping dispatchers from helping people in urgent situations.
"People have to understand that when they dial 911, they are taking time and personnel away from actual emergencies and that these actions could COST LIVES!" Monacelli wrote in the petition, which was launched two weeks ago.
"Make sure these non-emergency callers get fined for their crime!"
Two-minute disruption
"I can't even begin to describe how disappointing and upsetting it is to read the comments, emails and calls to our communications bureau complaining about receiving an Amber Alert late at night," Akhil Mooken, a Peel police media relations officer, tweeted in February after an Amber Alert went out.
The alert was for 11-year-old Riya Rajkumar, who was found dead a few hours later. The alert helped police find her dad, who had allegedly abducted and killed her.
In the petition, Monacelli wrote that the girl's death impacted her deeply.
"These people went on living their lives which were disrupted for all of two minutes, while the little girl was no more."
In May, an Amber Alert for a missing boy in Greater Sudbury, Ont. also spurred a series of complaints to police, leading authorities to issue a statement reminding the public that 911 is for emergencies only.
Some opponents of the current system think the alerts should be more geo-targeted.
Social media posts from people griped about being disturbed for a case believed to be unfolding in a different province. When the boy was found unharmed about 400 kilometres away in Toronto, however, many experts reaffirmed the effectiveness of Amber Alerts and the national AlertReady system that blasts alerts across a wide geographical area.
But the woman who spotted the missing boy and his mother, who had abducted him in May, disagrees with complainers.
"My phone number is a Timmins number. What if they had only done Sudbury and Toronto area? I wouldn't have gotten it," Maria St. Aubin told 680 NEWS at the time. "Really anyone can go anywhere – you take a bus, you take a train. I think that's just important to know."
People who had signed the petition seem to agree.
"If it was your child you would want the world to stop," one petitioner commented. "I cannot believe people are so self-involved."
It sounds like province may take action.
"When a child is missing, we all have a role to play as members of our community. Many children have been located as a direct result of Amber Alerts – but it only works if everyone receives these alerts. The bottom line is simple: a missing child is an emergency," Ontario Solicitor General Sylvia Jones said on Monday.
"We are considering all options to ensure people are not wasting critical emergency resources."
Monacelli, who is the mom of a two-year-old, told the Canadian Press: "If people can be really that selfish to call to complain about a service that saves children's lives, and also to occupy the 911 line for this kind of thing, then they do deserve to be fined."
"If anything like that were ever to happen to my son, knock on wood, I want the whole world to move and do whatever they can to find him."
People who do want to make serious complaints or suggest improvements to the emergency alert system should contact the CRTC, not police.
With a file from The Canadian Press