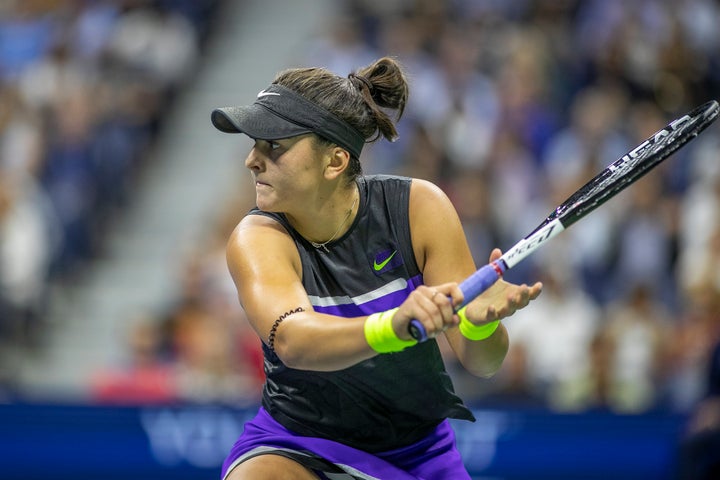 The 19-year-old tennis phenom from Mississauga, Ont. has captured the hearts and minds of Canada in 2019 (#SheTheNorth!) as she's skyrocketed up the international tennis rankings. Andreescu took a shocking win at the Rogers Cup after tennis icon Serena Williams retired from the final because of an injury.
She's powerful. She's mentally tough. And did I mention she's really, really good at tennis?
And now Andreescu is set to bring her bold confidence, killer stroke and skill to a rematch against Williams in the U.S. Open Final Saturday. The match is a meeting of two big personalities, and the confidence, drive and pure power of female athletes like Andreescu and Williams deserves to be celebrated.
The boss
There's something about watching Andreescu play that screams "power." When she looks down the court, I feel like she's looking into my soul. Like she's going to smash a tennis ball through the TV screen and into my face, killing me instantly, then immediately plant her feet and ready for the return shot. It's breathtaking.
WATCH: Bianca Andreescu emerges as Canada's brightest tennis star. Story continues below.
And here's the thing: Bianca backs it up. The teen is in the middle of an unprecedented run of excellence. She's 44-4 on the season. She just crushed her way into the U.S. Open Finals. Earlier this year, she was the youngest player to win Indian Wells since Williams in 1999 — the year before Andreescu was born.
After winning the tournament, Andreescu's comment was equal parts disbelief and blunt.
"I'm the effing champion of Indian Wells," she told reporters.
Is it bold to hear something like that from a 19-year-old upstart? Yes. Is it inaccurate? Not one bit.
In an article for Deadspin earlier this week, Laura Wagner outlines Andreescu's intoxicating swagger with the headline: "Bianca Andreescu Might Just Boss Her Way To A U.S. Open Title."
"She doesn't just yell, 'Come on!' and fist pump when she wins a big point; she'll stare straight across the net at her opponent while she does it. She'll toss her racket when she loses a point and impatiently smash the ball away when she wins a point. Her body language isn't positive or negative so much as a relentless show of force."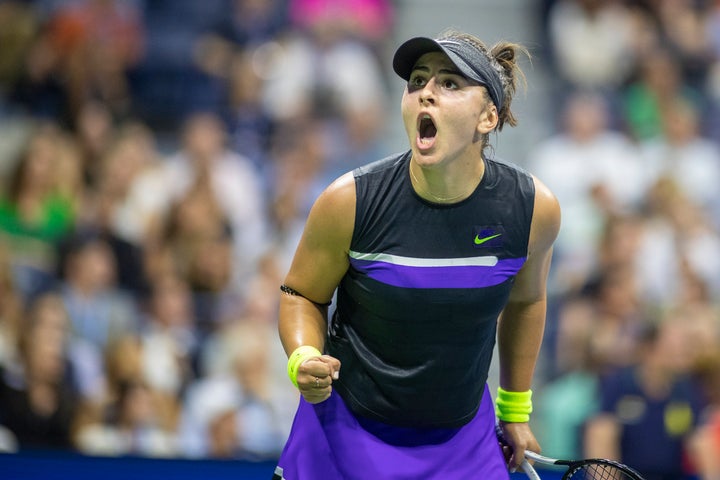 In a February interview with Toronto Life, Andreescu said confidence isn't a problem for her.
"I don't want to come off as cocky or anything, but I really do believe I can do great things," she said.
But scan some online forums, and you'll find people who disagree with Andreescu's confidence.
"She always rubbed me the wrong way for being just so trashy, entitled and arrogant," one user wrote.
But here's the thing — she's really good. And when you're that good, heck yes you get to celebrate, yell, grunt and be as unladylike as you want. We let men in sports do it all of the time — women should get that space, too.
Celebrate the loud as well as the tender
Two of the most celebrated moments in women's tennis recently have been moments of support.
At the Rogers Cup Final — a preview of this U.S. Open Final between Williams and Andreescu — Williams was forced to retire due to back spasms, resulting in Andreescu taking the victory. In a touching moment, Andreescu went up to Williams on the bench and hugged her, telling the veteran how much she admires her.
Similarly, during an early round of the U.S. Open, number-one ranked Naomi Osaka defeated 15-year-old phenom Coco Gauff. But Osaka invited Gauff to join her for the victory interview, acknowledging the moment.
WATCH: Coco Gauff, Naomi Osaka share encouraging words after heated US Open match. Story continues below.
While it's great that these moments got the attention they did, so often women's sports in the media are reduced to society's constructions of what women should be — language around girl-power, sisterhood and maternal instincts. Don't get me wrong, I love seeing images of the team hugging and supporting each other — shaking hands after matches, coaching young girls. But we should celebrate the raw — and sometimes cocky — power of female athletes as well.
We see men celebrated for knowing they've got it going on — Kawhi Leonard parading around proclaiming that "board man gets paid" and Tom Brady talking about being the greatest football player of all time.
It's amazing when we get to see those displays of dominance from women celebrated, too. But we often see the opposite.
In a 13-0 dismantling of the Thai national team at this year's FIFA Women's World Cup, the U.S. women were criticized for celebrating their goals. Later, forward Alex Morgan drew headlines for a celebration miming sipping tea following a goal against the English squad. And after co-captain Megan Rapinoe talked up the team's skill ahead of the World Cup, U.S. President Donald Trump tweeted "Megan should WIN before she TALKS!"
WATCH: Megan Rapinoe has a message for Trump. Story continues below.
These moments drew critiques, but these women are the best at what they do — they're allowed to act like it. Carli Lloyd kicked a 55-yard field goal and is pushing to get into the NFL, for goodness' sake! Female athletes get less press coverage, and are paid overwhelmingly less than men. If grandstanding, yelling and celebrating gets them the attention they deserve, bring it on.
Serena Williams
Arguably no single player in any sport represents the sort of athletic dominance Serena Williams has displayed in women's tennis for the past two decades. She is literally the best of the best. But she's been facing criticism for her confidence and behaviour for years.
Her all-black "catsuit" at last year's French Open prompted a change of the rules to ban the outfit, with French Tennis Federation President Bernard Giudicelli saying that players "must respect the game and the place."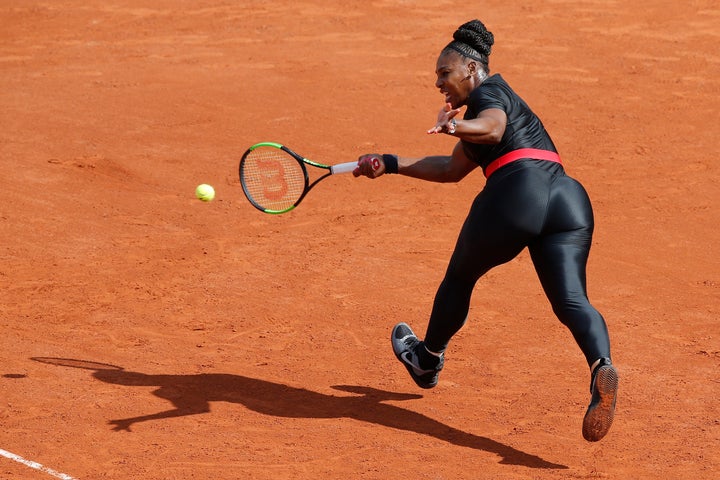 Williams has also been the target of violent racist and misogynistic comments and body-shaming.
Last year, she was heavily criticized for bickering with the umpire during her U.S. Open Finals loss to Naomi Osaka. Of the incident, Williams later said she was fighting for the next woman who wants to be strong, adding, "Maybe it didn't work out for me, but it might for the next person."
But Serena has also inspired countless girls — including Andreescu — to pick up and move forward in the game. And to not only pick it up, but to be unapologetically fierce in it and proud of their dominance.
We should celebrate strong, powerful and confident women. The U.S. Women's National Team, Serena Williams and now Bianca Andreescu represent that. They know how good they are and aren't afraid to show it. So we should let them.
During the U.S. Open Final on Saturday, Williams and Andreescu are set to meet again. It's going to be a meeting of the old guard and the new. But, most importantly, it's going to be the meeting of two exceptional athletes on one of the sport's biggest stages.
It's a great story no matter who wins. But one thing is certain — I'm ready for them to yell their lungs out at each other. They deserve it.