The fact that this is a trend is utterly heartbreaking.
Bulletproof backpacks are in high demand as parents buy their kids back-to-school supplies. Yes. Bulletproof backpacks. For children. Let that sink in.
Newsweek reports that one Texas company that sells the gear saw massive sales over the weekend, with people from California, New York, and Florida scrambling for the items. Twitter is also full of people discussing the backpacks, and Google Trends shows that searches for "bulletproof backpack" in the U.S. have skyrocketed since Aug. 4.
Searches in Canada, while comparatively low, still surged over the weekend, with most searches for "bulletproof backpacks" coming from B.C., Alberta, and Ontario.
A popular pink bulletproof backpack was completely sold out on the U.S. Walmart website Tuesday morning (10 minutes later, the website re-stocked and had one left).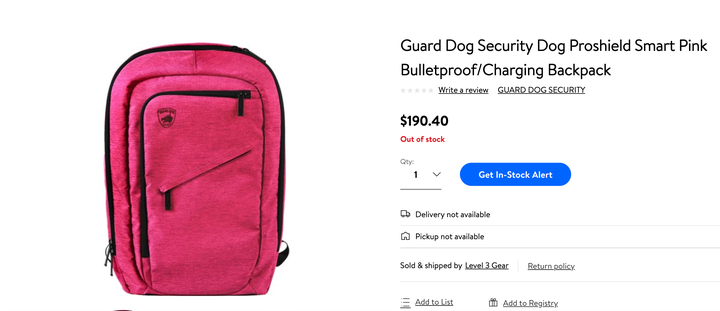 Imagine how terrified parents in the U.S. must be, now that bulletproof backpacks are on their shopping lists, right next to spiffy new shoes and a cool new lunchbox.
"It's incredibly depressing," Igor Volsky, the director of Guns Down America, a gun-control advocacy group, told the New York Times. "The market is trying to solve for a problem that our politicians have refused to solve."
A deadly weekend in the U.S.
A pair of horrific mass shootings in the U.S. left 31 people dead this weekend.
In El Paso, Texas, the death toll creeped upward to 22 Monday from the shooting two days earlier at a Walmart store, with two additional victims succumbing to injuries. Police zeroed in on a racist screed posted online before the shooting to try to link it to the suspect. In Dayton, Ohio, even more questions remained about what spurred the suspected shooter to target a popular nightlife stretch in an attack that left the suspect's sister among the dead.
The shootings have left parents in a panic as kids are set to return to school in September.
"I shouldn't be afraid to send my child to school. My boy starts kindergarten and the first thing in my mind is should I buy a bulletproof backpack ... I'm so sad," one person wrote on Twitter.
Are bulletproof backpacks effective?
Well, that's the thing. Not really.
WATCH: Experts put bulletproof backpacks to the test. Story continues below.
"We're not saying, 'Buy a backpack, it'll solve everything," Guard Dog Security founder Yashi Sheikh told CBS.
"We're saying this will put you in a better position in the case of a school shooting than someone who doesn't have a bulletproof backpack."
So, the world is horrifying, but what can we say to our kids?
While mass killings are much more common in the U.S., Canada is not immune (the Toronto Danforth shooting and Quebec City mosque shooting being two recent examples), and kids do get frightened. The effect can be especially heightened when children are involved.
Ponti encourages parents to express some of their own emotions to their kids, reassure them, and let them know you're going to get through it together. But parents should also be careful not to over-dramatize the events above and beyond their child's developmental level, Ponti said. Takes cues from your children, she added, and determine if you think they're ready to talk about what happened.
"Parents are the number-one source of providing reassurance for their children, because they know their kids the best."
With files from The Associated Press.