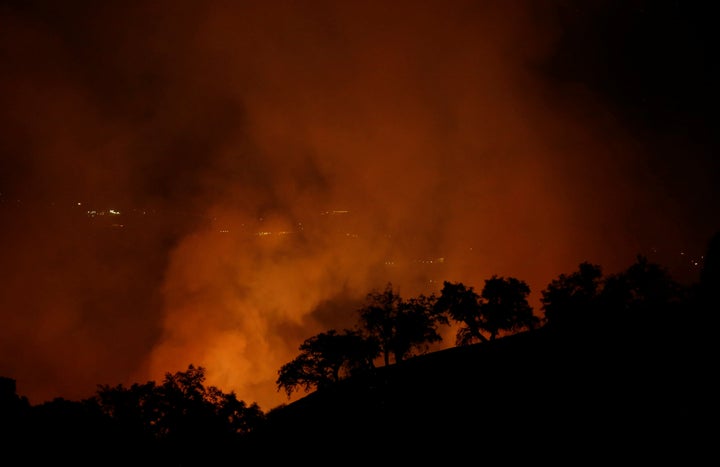 A dozen blazes in the swarm of deadly fires north of San Francisco last fall were ignited by power lines coming into contact with trees and other utility system malfunctions, California authorities announced Friday.
The report released by the California Department of Forestry and Fire Protection, also known as Cal Fire, reveals investigators' findings on the cause of 12 of the 170 fires in the state last October.
The most destructive fire included in the report is Napa County's Atlas fire, which burned more than 50,000 acres and destroyed nearly 800 structures.
"At one location, it was determined a large limb broke from a tree and came into contact with a [Pacific Gas & Electric] power line," the report said of how the Atlas fire ignited. "At the second location, investigators determined a tree fell into the same line."
The majority of the other fires on the list also included tree limbs coming into contact with power lines.
Cal Fire has referred eight of the 12 investigations ― including the one into the Atlas fire ― to county district attorney offices "due to evidence of alleged violations of state law," the report concluded.
The Tubbs Fire, October's deadliest blaze with 24 fatalities, was not included in Friday's report. PG&E, the regional utility company, has argued that that blaze was ignited by wires belonging to a private homeowner, which, if true, would likely significantly lower the amount of money the utility company would need to pay out in lawsuits.
Meanwhile, California lawmakers are floating legislation to block utility companies responsible for wildfires from passing on the cost of damages to their customers.