By now, you've likely embraced the emoji.
And who can blame you? You can say far more with that little character than with a whole slew of words, plus you can put your own spin on, say, reminding your partner it's time to clean out the fridge. 🥚💩
And that's why Kayak, the travel search engine, decided to add emoji search to their options for looking up cities. We have to admit, however, that we can see this creating all sorts of confusion.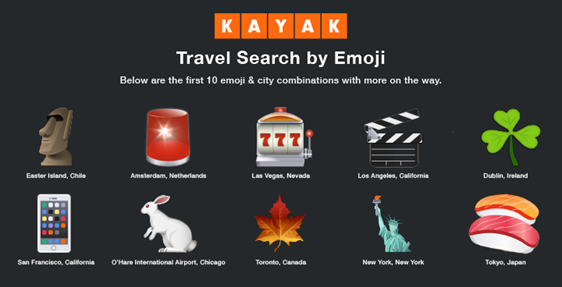 We mean, 🎰 = Las Vegas is an easy one, and we'll even concede to 🎬 = Los Angeles. But when it comes to Canadian cities, we run into some problems.
Right now, they're holding a contest to determine which city will "win" certain emojis. Toronto and Montreal are up for 🏒, while 🎿 could go to Vancouver (if Salt Lake City, Denver and Geneva lose). Toronto is also on the roster for 🏳️‍🌈, against New York, San Francisco and Portland (though we'd bet Amsterdam and Berlin might have something to say about that).
But the biggest bone of contention has to do with our flag. Right now, the site has concluded that Toronto is 🍁 — and that just feels unfair. Not only is Toronto not the capital of Canada, it's also not even where you can find the best maple leaves in the fall (shoutout to pretty much anywhere in Quebec).
There's also some serious neglect of our other national treasures.
Let's talk about ⛵ for Halifax, 🍟 for Montreal, ⛪ for Quebec City, 🏌️ for Sydney, N.S., 🤠 for Calgary, 🌠 for Whitehorse... the list goes on.
Of course, we understand that not every city can have one emoji dedicated to it.