Do you have a travel bucket list? If you do, you're not alone. There are so many places to go that making a list of everywhere we want to travel is understandable. But lists are one thing. Making those trips a reality is entirely another. So where do you want to go and how can you make it happen? We're here to help.
The travel experts at Cheapflights.ca polled more than 1,000 Canadians to determine their top bucket list travel goals. We took the 15 most popular results from our bucket list survey, and then we crunched the data and did the research to figure out the best way to make those goals a reality, taking a look at when the best flight prices are available, when the weather is best, when the crowds are at their smallest and more. From diving the Great Barrier Reef to eating your way through Rome, here's how to knock some of the top travel destinations off your bucket list.
1. Visit the Blue Lagoon, Iceland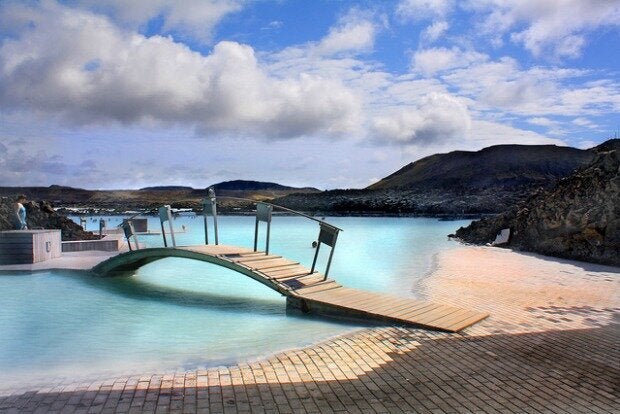 Otherworldly Iceland is a bucket list-worthy destination in its own right, but it's the beautiful Blue Lagoon that's a major draw for many visitors. The sprawling natural geothermal spa near Reykjavík was named one of National Geographic's 25 Wonders of the World in 2012 and makes for an ultra-relaxing getaway. In addition to soaking your stress away in geothermal seawater, the lagoon offers a sauna, steam room, waterfall, luxury lounge, a cafe, an in-­water silica bar (to get some skin-soothing silica mud) and an in-water beverage bar when you need some refreshments. You can also opt for in-­water massage and other spa treatments.
When to buy: End of September.
When to fly: End of January.
Tips: Note that while January is one of the most affordable times to fly to Iceland to visit the Blue Lagoon, most museums and attractions are only open from late May to early September. It's also mandatory to book your Blue Lagoon ticketin advance of arrival, and the earlier the better, as tickets for specific days can and do run out.
2. Visit Banff National Park, Alberta, Canada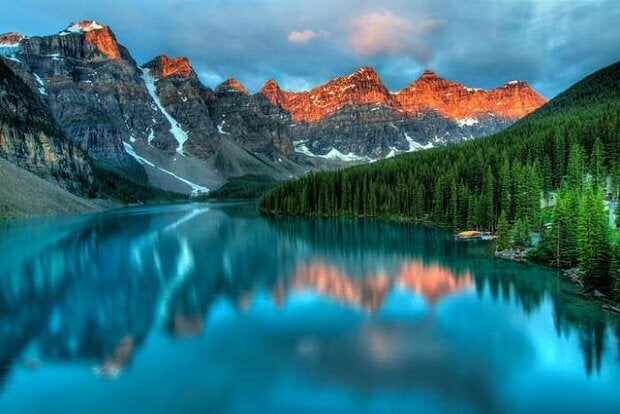 Banff National Park, located in the Rocky Mountains of southwest Alberta, has the distinction of being Canada's first national park as well as the flagship of Canada's extensive park system. Banff National Park is also part of the Canadian Rocky Mountain Parks UNESCO World Heritage Site, so you know you'll be in for a treat no matter which parts of the park you visit.
Explore more than 190 kilometres of mountain bike trails, hike 1,600 kilometres of maintained trails, take a canoe ride, do some bird watching and, if you want to get the full park experience, sleep under the stars while you're there. Choose from thousands of campsites at 13 campgrounds or, if you prefer, stay in the town of Banff or charming village of Lake Louise. Add Banff Upper Hot Springs to your park visit as a relaxing stop amid all the hiking and outdoor activity you might be doing. They're the highest hot springs in Canada at 1,585 metres in elevation and make for a serene experience while in Banff.
Best airport: Calgary International Airport.
When to buy: Late December, or between late January and early February.
When to fly: Late May or early June.
Tip: Once you get to Calgary International Airport you can utilize the Banff Airporter, a shuttle offering service between the airport and Banff starting at 5 a.m. from Banff and departing as late as 10:30 p.m. from Calgary International. The trip is around two hours, and you'll find the departure point between exit doors five and six at area "B" of the main arrivals level of YYC.
3. Visit Santorini, Greece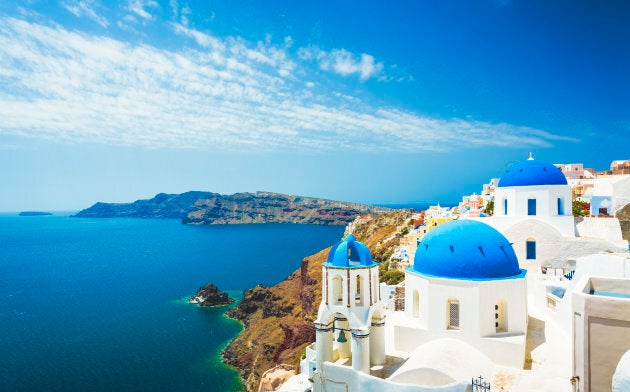 Considered one of the most romantic destinations in Greece, it's understandable that Santorini would find itself on quite a few travellers' bucket lists. But romance certainly isn't the only draw. Beautiful beaches, eye-catching whitewashed buildings, temperate turquoise water, jaw-dropping sunsets, well-preserved historic sites and a steady supply of fresh seafood and local wine help seal the deal for anyone interested in the trip of a lifetime.
When to buy: Early February.
When to fly: The first week of June.
Tip: It can be slightly less crowded and more affordable to base yourself on the island's east coast since it's less elevated than the west. If that appeals to you, think about setting up shop in either Kamari or Perissa.
4. See the Northern Lights over Yellowknife, Northwest Territories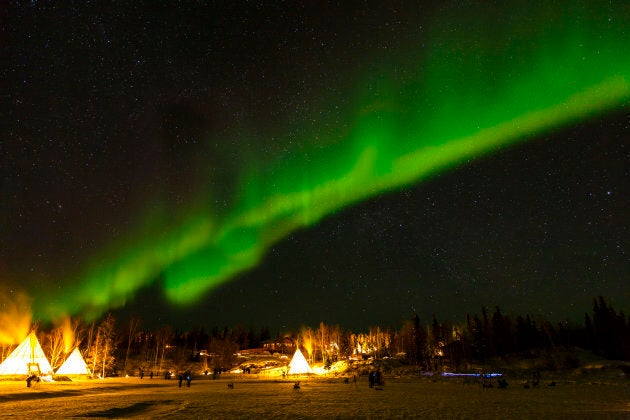 Yellowknife is one of the best locations in the world for viewing the Northern Lights (also called aurora borealis). The capital of the Northwest Territories is a fascinating place to visit any time, but, if you can get there to see the Northern Lights, it'll be a trip etched in your memory (and hopefully captured in photos) as you watch the sky light up like a technicolour abstract painting.
Best airport: Yellowknife Airport.
When to buy: Mid-January and early February.
When to fly: Mid-to-late April or early May.
Tips: If you're visiting Yellowknife after mid-April, it's often too bright to see the Northern Lights thanks to the Midnight Sun (which lasts until around mid-August). The best way to see the lights is via a tour and there are many tour companies to choose from.
To get the details on the other 11 experiences that are tops on Canadians' travel bucket lists (and advice for planning your own visit to each), go here.