Dior is pulling a Johnny Depp-focussed ad campaign for one of its fragrances, after facing Internet backlash for appropriating Native American imagery and culture.
The fragrance in question is called "Sauvage," which literally means "savage" in French. While its been out for a few years, the Native American-themed ad campaign is relatively new.
At best, "Sauvage" a pretty cheesy name for a men's cologne — right up there with "Timber," which is the name of the men's deodorant I unashamedly use because I like to smell like trees. But at worst, especially when paired with Native American imagery and explicit references, it's not good.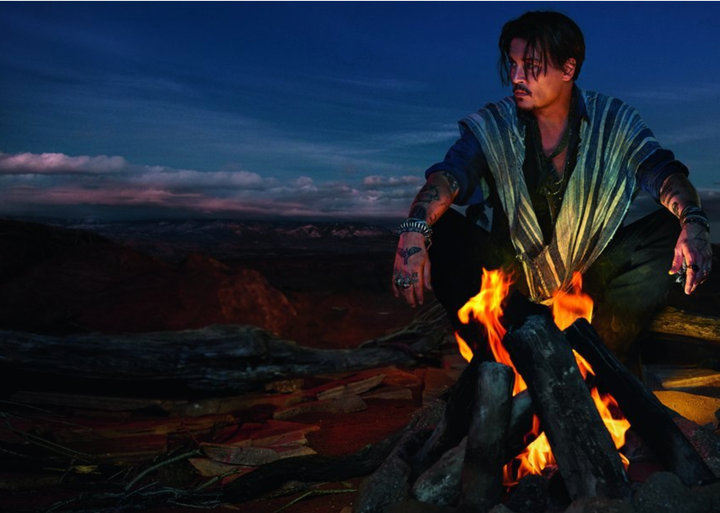 In its most recent campaign, the company pairs actor Johnny Depp with stereotypical Native American imagery. In a since-deleted tweet, Dior promotes the campaign with the caption "an authentic journey deep into the Native American soul in a sacred, founding and secular territory."
The full-length ad features Depp walking through a red rock canyon, picking up a guitar from under a Native American blanket and with his narration, saying "We are the land."
The ad also features Canku One Star, a Rosebud Sioux member dancing on top of a cliff, and a young woman played by Tanaya Beatty, an actress who is descended from the Da'Naxda'xw Nation in British Columbia, who follows Depp from a distance.
The fragrance's name and marketing campaign faced immediate backlash as Twitter users came out in full force to decry the brand and the fragrance's name in particular.
There's also been a call to boycott the fragrance and the company as a whole, using the hashtag #boycottdior.
In a behind-the-scenes video for the ad — Depp says that "everything [in the ad] has some symbolic reference […] It's almost like you can hear the land."
In a press release, nonprofit Americans for Indian Opportunity said it collaborated with Dior to provide advice on "authentic inclusion of Native American images in the film." The release also said the group had made Depp an honorary citizen of the Comanche Nation in 2012.
Dior has not responded publicly to the criticism. The company has since deleted all of the videos from social media.
Depp has a less-than-savoury history with Indigenous issues. The actor previously faced accusations of cultural appropriation and "redface" for playing the Comanche character Tonto in the 2013 film The Lone Ranger.
"They are exploiting Indigenous people to make money."
Sage Paul is the artistic director of Indigenous Fashion Week Toronto. Paul, who is Dene, says that products like "Sauvage" are appropriative and dangerous when it comes to representation of Indigenous people.
"This is a campaign. They're using it to make money," she told HuffPost Canada. "They are capitalizing off of and exploiting Indigenous people make money."
She said using a word like "Sauvage" for a product explicitly marketed with Indigenous imagery ignores centuries of colonial violence and oppression. The French word sauvage in particular was used by French-Canadian settlers to refer to Indigenous people in a derogatory way during colonization.
"It comes from a history through colonization, and how Indigenous people were perceived at the time," she said. "It perpetuates a stereotype and a potentially dangerous stereotype at that."
Paul says that the name alone is proof that no Indigenous person was involved at the high level of decision-making in the campaign.
"I don't believe that an Indigenous person at an executive level of this project would've allowed a traditional men's fancy dancer to be doing this dance beside the word 'sauvage'," she said.
WATCH: Indigenous fashion week Toronto hopes to create more visibility for designers. Story continues below.
Paul said that while large brands like Dior are failing to properly incorporate and listen to Indigenous perspectives, there is a lot of innovation happening at the local level in terms of representation in fashion and beauty.
"It's clear that corporations are not going to work with us in a good way," she said. "But things like Indigenous Fashion Week Toronto have really opened the door to show that we are going to present ourselves and how to represent yourself. And I've seen the impact that it's had not just for the community, but also for the industry itself."