Perhaps you've heard of Post Secret? The Website--part art show, part therapy session--asks people to mail in their anonymous secrets on postcards. The result is an often brutally-honest--and compulsively readable--glimpse into strangers' secret lives.
Postcards From Splitsville takes the concept one step further, using postcards as tools for children of divorce to express the anger, hurt, frustration, and sadness surrounding their parents' splits. "Drawing is a way they can express themselves, and to vent," says Postcards From Splitsville founder Kara Bishop.
While the site was inspired by PostSecret (Bishop even contacted creator Frank Warren "to get his blessing"), and features many cards mailed in anonymously (kids can print off a pre-addressed 4"x 6" postcard from the site), most were created during a Tuscon, Arizona-based class Bishop leads for kids of divorce and their parents called Children of Divorce and Changing Families--a program not unlike the San Francisco-based Kids' Turn.
All the images here were created by kids ages 10 to 12, though the site features work by kids of all ages. "These tiny little beings have their world rocked and their whole idea of what family is shatters," says Bishop. "You see that in the pictures."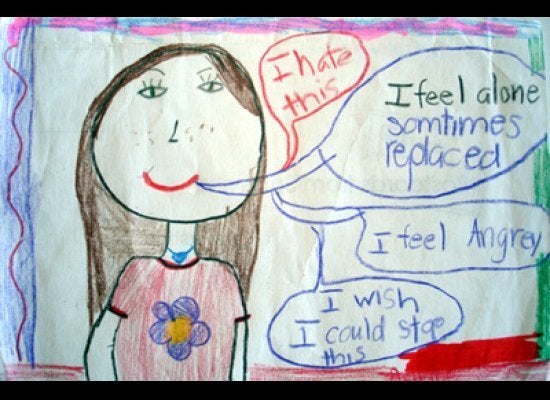 Postcards From Children Of Divorce