Don Cherry, one of Canada's longest running sports commentators and host of "Coach's Corner," has been fired by Sportsnet after he zeroed in on immigrants during a rant about Remembrance Day poppies.
Sportsnet, which produces the segment for "Hockey Night in Canada," put out a statement Monday afternoon saying it has decided that Cherry should "immediately step down."
"During the broadcast, he made divisive remarks that do not represent our values or what we stand for," it said.
CBC, which broadcasts "Hockey Night In Canada," said they stood with Sportsnet on the decision to axe Cherry.
″[His] remarks on Saturday night were divisive, discriminatory and offensive and we respect Sportsnet's decision that this is the right time for Don to step down," said Chuck Thompson, head of CBC public affairs, in a statement to HuffPost Canada.
The Royal Canadian Legion also spoke out against Cherry's comments, calling them "hurtful, divisive and in no way condoned by the legion."
"We know many new Canadians understand and welcome the tradition of the red poppy," said legion president Thomas Irvine in a statement.
"For our part, we will continue to do our best to educate all citizens about the significance of this powerful symbol, and the meaning of Remembrance."
'You people'
On Friday night, Cherry claimed that "nobody" wears poppies in his hometown of Mississauga, Ont., and in Toronto.
He then started referring to immigrants as "you people," specifically berating them for apparently not wearing poppies.
"Now you go to the small cities, and you know, the rows and rows ... you people love ... they come here, whatever it is, you love our way of life, you love our milk and honey, at least you can pay a couple bucks for a poppy or something like that. These guys paid for your way of life that you enjoy in Canada, these guys paid the biggest price."
Cherry faced swift criticism for his comment, which Sportsnet apologized for the next morning.
Ron MacLean, his "Coach's Corner" co-host, then also apologized, for himself and on Cherry's behalf during his own show, "Hometown Hockey," on Sunday.
He said Cherry's statements were "hurtful, discriminatory" and "flat-out wrong."
"We were wrong and I sincerely apologize and I wanted to thank you for calling me and Don on that last night," he said.
On Monday, Cherry stood by his comment that led to his dismissal.
"I know what I said and I meant it. Still do. Everybody in Canada should wear a poppy to honour our fallen soldiers," Cherry told The Canadian Press.
"I did not say minorities, I did not say immigrants ... I said 'everybody.' And I said 'you people.'"
The 85-year-old former NHL coach also denied specifically calling out visible minorities.
"I did not say minorities, I did not say immigrants. If you watch 'Coach's Corner,' I did not say that. I said 'everybody.' And I said 'you people,'" Cherry said.
"Irish, Scotch, anybody that's newcomers to Canada, and they should wear a poppy to honour our dead from the past, whether they're Scotch or Irish or English, or where they come from."
Cherry added that he could have stayed on "if I had turned into a tame robot who nobody would recognize."
"I can't do that after 38 years," he said.
With files from Samantha Beattie and The Canadian Press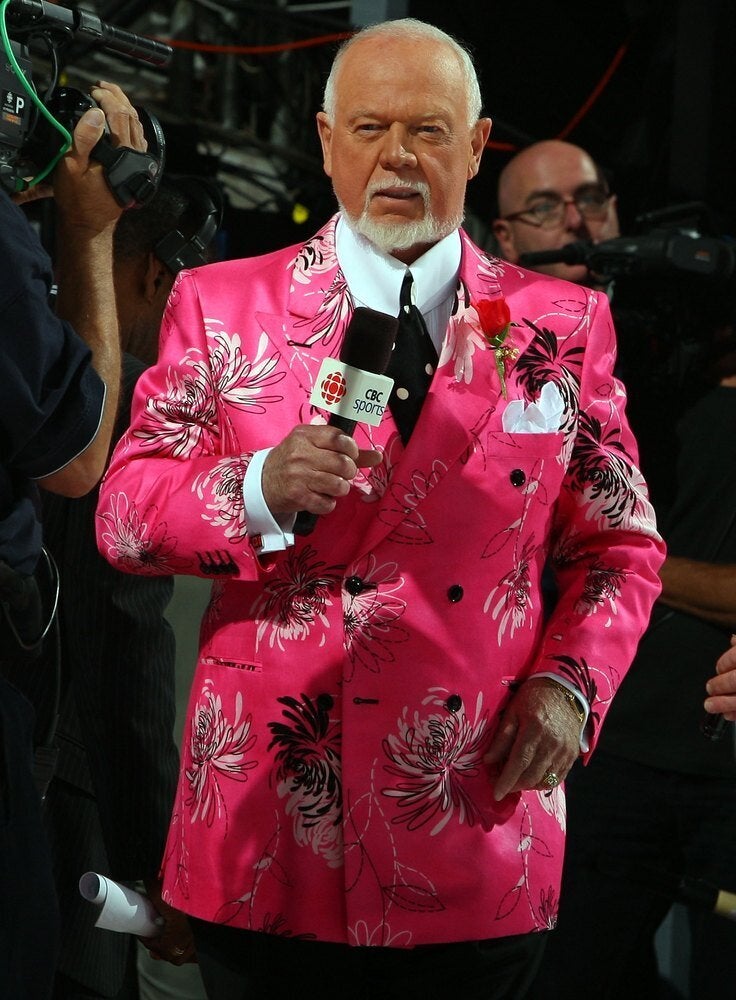 Don Cherry's Most Outrageous Suits