Britain's next prime minister has a friend in Toronto.
Ontario Premier Doug Ford told reporters Tuesday that he's "always liked" Boris Johnson, the incoming U.K. prime minister who has promised to take his country out of the European Union no matter what it takes.
"You know something, I like that Boris Johnson," Ford said at a press conference in Lucan, Ont. "I've always liked him … He's a no-nonsense type of person."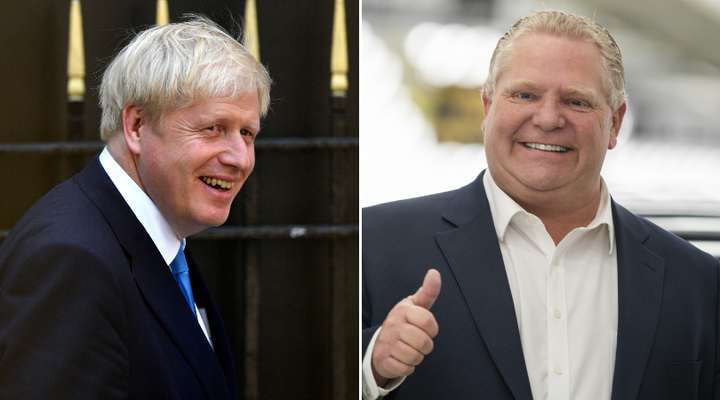 The premier said Johnson has a "big job" ahead of him to turn around the Brexit "nightmare."
"I think he's gonna do great ... I think the people of the U.K. are gonna support him."
Johnson won a contest to take over leadership of Britain's Conservative party Tuesday. He is expected to take over the country's top office from Theresa May on Wednesday.
Economists say a Brexit with Johnson in charge could be rocky. He vows to take the country out of the 28-nation bloc by Oct. 31, even if he can't reach a deal with the EU.
A "no-deal" Brexit is expected to plunge the U.K. into recession because the country would suddenly be excluded from free trade deals the EU has negotiated over the years — including the deal with Canada — and tariffs would be slapped on goods moving between the U.K. and EU countries.
May negotiated a deal with the European Union to remove the U.K. but the agreement was repeatedly rejected by British lawmakers.
Prime Minister Justin Trudeau thanked May for her "partnership & friendship" on Twitter Tuesday and congratulated Johnson on his win.
"I look forward to working with you to keep the close friendship between Canada & the UK strong and to increase trade and create more jobs for people in both our countries," Trudeau said.
Conservative Leader Andrew Scheer congratulated Johnson in a tweet Tuesday, saying he hopes Canada and the United Kingdom will "work together to increase trade and create opportunity."
Scheer came out in favour of Brexit in 2016, just ahead of the referendum vote. In a column for the National Post, Scheer wrote that "as a democrat, a conservative and an admirer of the British political traditions, it's difficult not to see the case for leaving the EU."
Last November, Scheer told reporters he remains supportive of the U.K. leaving the EU, despite the political gridlock over the issue.
During a fiery question period in January, Trudeau called out Scheer for coming down "on one side of the most divisive, destructive debate to happen in the U.K. for an awfully long time."
Scheer fired back by saying the prime minister "came down on the losing side of that debate in the United Kingdom."
With files from Ryan Maloney and the Associated Press