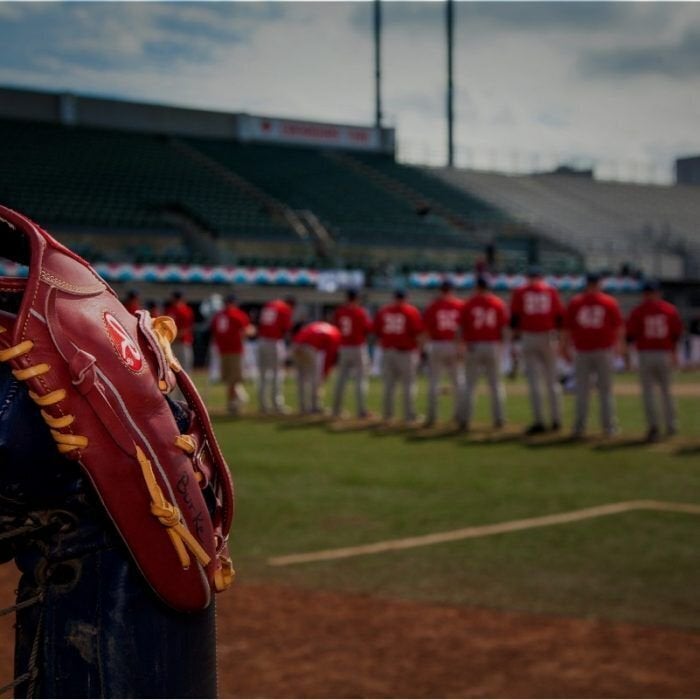 UPDATE: The world's longest baseball game in Edmonton concluded Sunday evening with a new record.
An 85-hour baseball game is underway in Edmonton as 56 players slug it out for the fight to cure cancer.
It's a solid effort to raise $250,000 for cancer research, and break a Guinness World Record for the longest baseball game ever played. And every dollar raised will be matched by The Dianne and Irving Kipnes Foundation, which supports community organizations and health research in Alberta.
"Cancer patients aren't quitting so we're not quitting," said Bobbi Wolbeck, an organizer with World's Longest Game and director of development at the University of Alberta. As of Friday afternoon, the organization had raised more than $110,000.
The donation will help the university launch a new, promising clinical drug trial at the Cross Cancer Institute in Edmonton. The drug, PCLX-001, targets and kills cancer cells, while leaving healthy ones intact, and is based on a University of Alberta discovery, said John Mackey, an oncologist and clinical trials director.
"We need to get it into human beings to really know how well it's going to work and how safe it's going to be, but all of the stars are aligning so far and it looks like it's going to be a really important new drug," MacKey said in a video.
The players are on the field for four to eight hour shifts, and no one will leave the ballpark for the entirety of the game until it wraps up Sunday in order to meet Guinness's requirements, said Wolbeck. They experience aches, pains and exhaustion, but are motivated by the passion and dedication of loved ones who've experienced cancer, their community and each other.
"Once you're part of the games, you can't walk away," said Wolbeck. "You live out here with these people for days on end. Their passion and spirit touches you."
World's Longest Game began in 2003, when Brent Saik organized an 80-hour hockey game that raised $150,000 to support a gene-analyzer now used in pediatric cancer research. His wife died shortly after that game and he has continued hosting hockey games every year since. This is the organization's second baseball game — they set a world record in 2016 at 72 hours that was subsequently broken.
In total, World's Longest Game has raised close to $5 million for the Cross Cancer Institute.