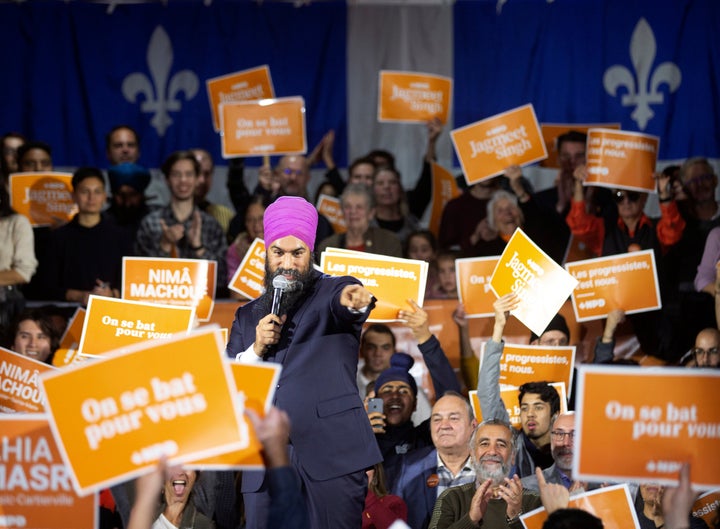 WHITBY, Ont. — Should the Liberals form a minority government Monday, NDP Leader Jagmeet Singh will have to decide whether he abides by party policy or ditches the New Democrats' commitment to electoral reform to work with Justin Trudeau.
Last February, New Democrat members voted to recommend that proportional representation — the idea that a party should have the same proportion of seats in the House of Commons as its percentage of support — be a condition of a minority government.
The resolution 5-28-18, was sponsored by 15 riding associations from B.C., Ontario, New Brunswick and Newfoundland and Labrador. It called on an NDP majority government to bring in proportional representation in time for the next election and stated that "the NDP would make proportional representation a condition for any potential alliance, or for support for any minority government."
Kelowna–Lake Country candidate Justin Kulik told HuffPost Canada that he expects the NDP to ensure electoral reform is a condition of working with the Grits.
"As part of NDP policy, in the event of supporting a minority government, electoral reform must be implemented," he said. "And if that is not something the Liberals are willing to do, the NDP won't form an agreement with them."
Watch: What is a coalition government? Story continues below video.
Singh has not said he would make proportional representation a condition of working with the Liberals. He has declined to use the word "condition" when speaking about what he'd bargain for, should voters elect a minority government on Oct. 21.
Last week, the NDP leader laid out what he called his priorities: money to tackle affordable housing, universal pharmacare and dental care, assistance with student loans, climate change measures and adjustments for workers and cheaper cellphone plans. When pressed by reporters, he also said electoral reform was a priority, but suggested it was a less "urgent" priority than the others.
NDP spokeswoman Melanie Richer told HuffPost that Singh has been "clear that changing our electoral system is something that we think needs to happen and what he'll push for in any role Canadians give us."
The Liberals had campaigned in 2015 on an often repeated promise to ensure that every vote counted in the next — the 2019 — federal election. After striking an all-party committee that recommended a type of proportional system be suggested to the electorate in a national referendum, the Liberal government said it had concluded there was no public will for electoral reform. They broke their promise and kept the status quo.
Months later in explaining his decision, Trudeau told reporters that he preferred a preferential system — a ranked ballot where voters could choose what parties they support and in what order — but none of the other parties wanted it. The Liberals had not campaigned on a specific electoral change, and after winning the 2015 election they did not champion the preferential system.
Opposition parties argued that a ranked ballot — which is used to select the leaders of most Canadian political parties — would overly benefit the Liberals.
Asked Friday if the Liberal leader would review or accept working with the NDP on the condition of proportional representation, Liberal spokesman Cameron Ahmad offered this comment: "As Justin Trudeau said today, we are working hard to elect a progressive government that will make life more affordable, fight climate change, get guns off our streets and stop Conservative cuts."