OTTAWA — Jagmeet Singh says he doesn't believe Canada's political environment has wholly embraced the polarizing tactics seen on the level of U.S. elections.
The NDP leader made the comment in Toronto during a campaign stop Tuesday in a federal riding formerly held by Jack Layton. He was asked by a reporter to comment on elements of hate and racism, almost parallel to an "American-style election," that have flared up during the last five weeks of the campaign.
"I would say we're pretty far from an American-style election still. I think we're not there," Singh said outside a subway station in the city's east end. "I think we should all be proud of that."
There are still "a lot" of problems in Canada, he explained, citing systemic racism as an example. Singh said differing opinions need to be expressed in a respectful and safe way. He referenced the need for Liberal Leader Justin Trudeau to wear a bulletproof vest at a Toronto rally over the weekend as a point of concern.
"While I disagree with Mr. Trudeau's policies, I absolutely think it's wrong that he should be faced with any threat to his security. And we should have a climate in Canada where we can have respectful discussions and disagreements."
Canadians head to the polls in less than a week.
At a Fredericton campaign stop on Tuesday, Trudeau repeatedly railed against "Conservative cuts" and brought up the names of Alberta Premier Jason Kenney and Ontario Premier Doug Ford to galvanize Liberal support.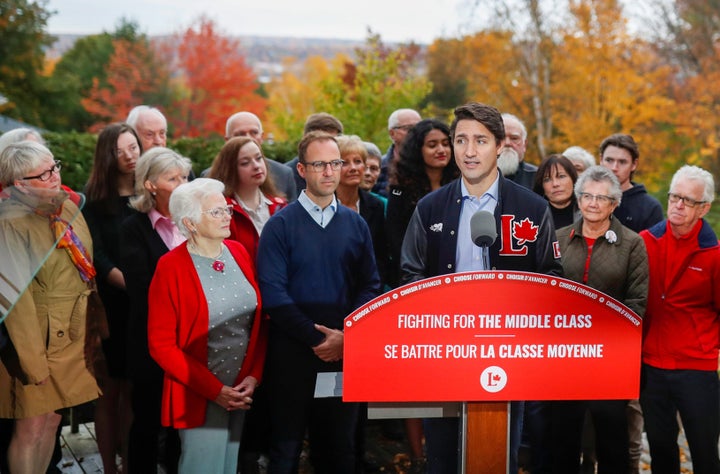 He said despite his government's efforts to pull the country together over the past four years, "We find ourselves now in a more polarized, more divisive election than even the 2015 one."
This past weekend, the start of a Liberal rally in Mississauga, Ont. that drew approximately 2,000 people was delayed by 90 minutes because of a security threat. The nature of the threat is unknown. An RCMP spokeswoman told The Canadian Press that they do not comment on safety measures provided to the prime minister for security reasons.
Social media has 'very limited' impact on polarization, researchers say
A survey conducted by the Pew Research Centre this spring concluded 85 per cent of respondents agree that U.S. political debate has become less respectful and more negative. Fifty-five per cent of people surveyed said President Donald Trump made political discourse worse; while 24 per cent of respondents said he made it better.
In recent years, some academics have noticed polarizing trends in Canada's political system.
"Polarization does not appear to be linked to media consumption" in Canada, according to findings in a recent Digital Democracy Project report. It also found that partisan chatter on social media has "very limited" impact offline.
People "dislike of parties or their supporters on the other end of the political spectrum simply because they belong to an opposing group," according to researchers with Ottawa-based think tank Public Policy Forum and McGill University.
"This is troubling because it shows that polarization may not just influence people's opinions about the parties, but also how they view ordinary Canadians," the report reads.
"Just yesterday, Justin Trudeau's top adviser tweeted out a picture of me shaking hands with a construction worker wearing a safety vest and making a link to racists. I mean, that's just despicable," Scheer said.
Earlier this year, the Conservative leader attended United We Roll rallies to support energy workers' demand for more help from Ottawa.
They were previously billed as Yellow Vest Convoy events before organizers changed the name because of negative connotations associated with the movement's propagation of hateful rhetoric about immigration, particularly toward Muslims.
Yellow vests have been adopted as an informal uniform for the movement, but its symbolism varies depending on which end of the political spectrum it's viewed from.
Scheer told reporters during a campaign stop in Quebec City on Tuesday that he has yet to receive an apology from Trudeau or Butts for the tweet mocking the Conservative leader for shaking the hand of someone wearing a yellow vest.
Butts "basically insulted everyone who has to wear a high-visibility safety vest to work," Scheer said.