If you're a kazillionaire musician marrying a model who's part of a dynastic acting family, why should you settle for just one wedding?
Justin and Hailey Bieber sure didn't. On Monday, just over a year after their official courthouse wedding, they held a giant wedding party in Bluffton, South Carolina with a price tag of more than $660,000, according to People.
It was likely a blow to the mayor of Stratford, Ont., Dan Mathieson, who had been lobbying for the couple to tie the knot in the singer's hometown.
But there was still a respectable level of CanCon in South Carolina. The couple chose Canadian singer Daniel Caesar to perform at the wedding. According to E!, he sang a mashup of his songs "Best Part" and "We Find Love/Blessed" while the Biebers were dancing.
And naturally, one of the guests was Bieber's infamous manager Scooter Braun, who brought his Canadian wife, Yael Cohen Braun.
"Thankful I got married already, because there will never be a more perfect bride than you," she wrote under an Instagram photo of her with Hailey. "Inside and out, you are magic ✨ You're the luckiest, @justinbieber."
She also posted a photo of the two couples, with the caption "We love you, The Biebers."
Some of the other guests: Usher, Jaden Smith, Kendall, Kylie and Kris Jenner, model Joan Smalls, Leonardo DiCaprio's girlfriend Camila Morrone, and country musicians Dan Smyers and Shay Mooney. Hailey's sister, Alaia Baldwin Aronow, and her cousin, Ireland Baldwin, were bridesmaids, although Ireland's famous father, Alec Baldwin, did not attend.
After Caesar's performance, a DJ played a lot of throwback songs from the 90s, as well as Justin's own music, E! reported. And during the ceremony, another band played gospel music.
In the lead-up to the (second) big day, Justin posted photos of his first meeting with Hailey, when they were still in their early teens. Their first meeting was in 2009, when he was 15 and she was 13, and her father Stephen Baldwin introduced them backstage at "The Today Show." She had long been a fan of his, and even tweeted in support of his relationship with Selena Gomez.
One recurring motif in a lot of the wedding pictures was diamonds. In a photo both parties posted to Instagram, in a carousel immediately following a tasteful black-and-white portrait of the two of them, Hailey pulled down on Justin's lip to reveal a diamond grill on his lower teeth. Youth!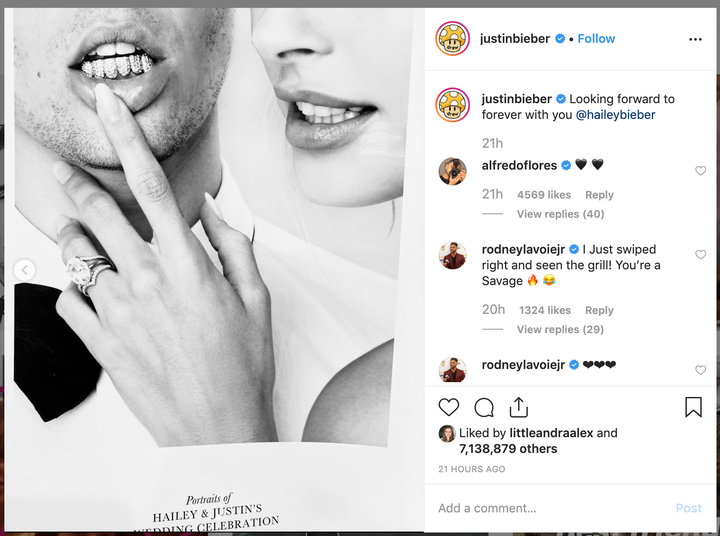 And a photo from Kylie Jenner's Instagram displayed a diamond-encrusted bottle of Möet featuring the date and the phrase "The Biebers" written out in Lucida Calligraphy, the preferred font of fancy people. According to E!, the custom-made bottles featured gold Swarovski crystals, because of course they did.