Disney and Pixar fans of all ages have got a few friends to catch up with this summer with the opening of Walt Disney World Resort's latest addition, the joy-filled Toy Story Land. Anyone that's ever daydreamed of palling around with Woody and Buzz Lightyear will need to stop by this larger-than-life, 11-acre outdoor wonderland, a re-creation of Andy's backyard.
Set to open June 30 at Disney's Hollywood Studios in Florida, Toy Story Land is full of attractions, games, and playfully-designed set pieces inspired by the movies we love. Before you get the chance to stand shoulder-to-shoulder with some of your favourite characters, these are just a few ways Toy Story Land will rocket your family's excitement levels to infinity and beyond.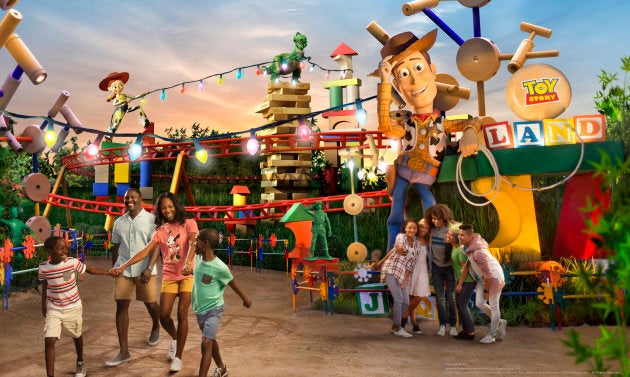 Marvel at Toy Story Land's wildly expressive play area
Can you imagine your family and friends shrinking down to the size of a toy? Well Toy Story Land takes the fun of the three Toy Story films off the screen and puts it into an expressive, real-world experience. Guests will feel nostalgic as they walk through a vivid, toy-filled landscape made up of giant building blocks and Tinkertoy lampposts. You never know who you'll run into either, so make sure you have your camera ready to snap a selfie with Green Army Men, Jessie or galaxy famous Space Ranger extraordinaire Buzz Lightyear.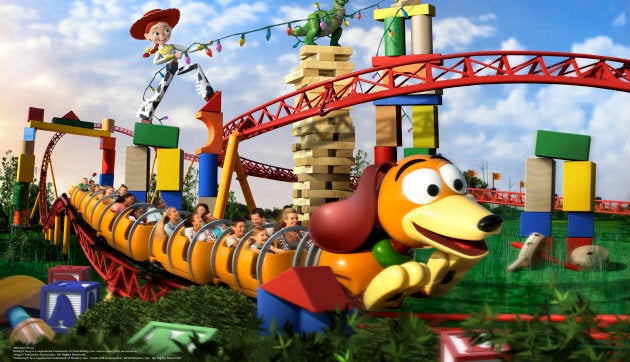 Andy has designed a family-friendly roller coaster to give you a speedy tour of Toy Story Land, and his floppy-eared pal Slinky Dog is going to help you get around. The Slinky Dog Dash lets you ride inside the adorable dachshund's coils as he zips across thrilling curves, bends and hills. The panoramic view of the land will take your breath away, that is if the big-gulp hill drops haven't already.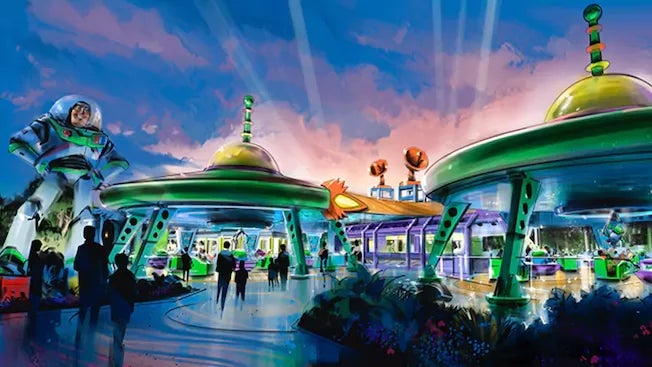 Ready to unleash your inner Buzz Lightyear? You and your family will get the chance to become Space Rangers too on the Alien Swirling Saucers. This intergalactic joy ride of epic proportions was modeled after a playset Andy won at Pizza Planet. Bathed in multi-coloured laser lights and blasting an out-of-this-world space music soundtrack, you'll want to hang on tight as you experience this rocket journey alongside strange little three-eyed Aliens in UFOs of their own.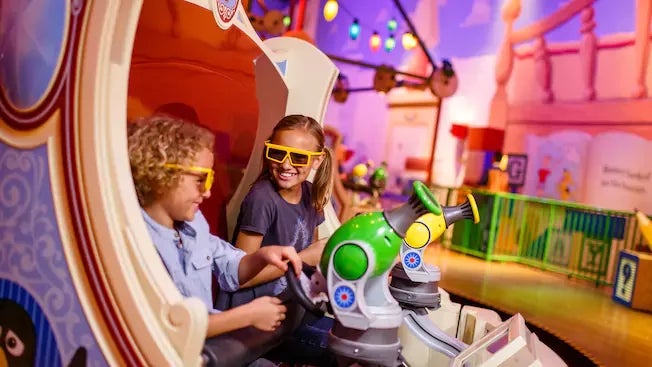 Try your luck with a treasure chest's-worth of Toy Story-themed games at Toy Story Mania. Here, you'll hop in a carnival tram and toss on a pair of 3D glasses to experience a virtual gallery of Midway games. You'll have a rootin' tootin' good time at a "shootin' gallery" inspired by Woody's Roundup, and roar with laughter while popping balloons above a bubbling volcano during Rex & Trixie's Dino Darts. Extra special 4D effects are built into the experience, so don't be surprised if popping a 3D balloon gives you an exciting, IRL splash!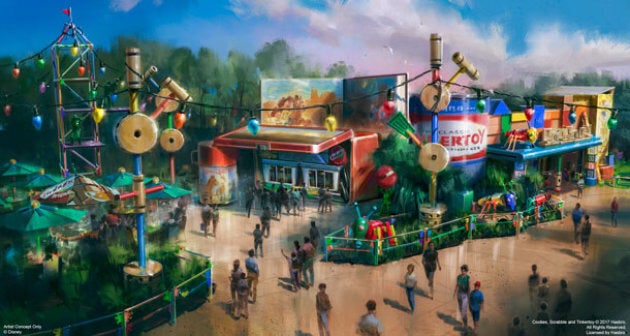 Exploring Toy Story Land and zooming around on rides can build up a Rex-sized appetite. Thankfully, you can pull up a seat at Woody's Lunch Box for breakfast, lunch or dinner. Whether you're looking for a quick snack or a full meal, you can rope up hearty, American-styled favourites like burgers, old-fashioned soda floats, or grab something to go from the walk-up window. Just look for the giant thermos whenever you get hungry.